Determining Liability for Passenger Injuries in PA
Can I Claim Compensation as a Passenger Injured in an Accident in Pennsylvania?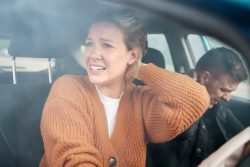 Each day in Pennsylvania, 286 traffic accidents occur, and 168 people are injured daily in reported crashes. Vehicle injury accidents can be catastrophic to all involved, especially to passengers who rely on drivers to transport them safely. Additionally, recuperating losses for passenger injuries can be sensitive, especially when the driver and passenger are relatives, friends, or acquaintances.
A passenger may feel uncomfortable claiming damages against a friend or relative. Still, the reason for automobile or motorcycle insurance is to safeguard anyone on the road against damages, including passengers. The insurance company pays the damages in most cases, not the friend or relative. And the extent of injuries often corresponds to the type of accident and vehicle.
Frequent Ways Passengers Get Injured in Pennsylvania
Being a Passenger in a Car Accident
Most automobile accidents occur when one car hits another one. The impact is usually to the side or rear of the vehicle, the most common site being the rear. Head-on collisions are less common. Drivers also collide with objects, such as trees, center dividers, and traffic signals, to name a few. And collisions occur just about everywhere, at intersections and on highways, interstates, residential streets, and rural roads.
Being a Passenger in a Motorcycle Accident
Motorcycle accidents occur either as a lone or multiple-vehicle crashes. For example, a motorcycle may hit an object like a guard rail or crash due to a defective bike. Two vehicle crashes occur from a car not seeing a motorcycle, driving distracted, or failing to yield the right of way and turning in front of a motorcycle. Sometimes, the passenger can cause a crash by making sudden movements or grabbing onto the driver's arms or waist.
Weather Conditions Cause Accidents Injuring Passengers
Other non-liability accidents include weather conditions that cause accidents, such as hurricanes, tornados, and windstorms that toss vehicles or cause trees to fall on cars.
Vehicle Manufacturing Defects
And vehicle manufacturers may be liable for faulty vehicles that fail and cause accidents resulting in passenger injuries.
Traffic Violations Leading to Passenger Injuries
Traffic violations, such as running stop signs, making lane changes without looking, speeding, and illegal U-turns, are the source of many accidents, some with fatalities. Not obeying the speed laws or following too closely can lead to rear-end collisions. However, a rear-end accident may also be the fault of the front vehicle of the rear-end collision. Drivers cut in front of others too closely, causing the rear car to slam on their brakes. Sometimes the front driver slams on their brakes and causes a rear-end accident. In that case, both drivers may be liable for damages.
Typical Passenger Injuries
Typical passenger injuries include head, brain, neck, spinal, and back injuries. They also include broken bones, bruises, cuts, and paralysis. In seeking compensation for their injuries, a passenger may claim damages for their medical bills, lost wages, pain and suffering. The extent of a motorcycle passenger's injuries may rely on whether they were wearing a helmet. In most instances, drivers and passengers must wear helmets by law. There are exceptions, however, based on age, length of motorcycle licensure, and completion of an approved motorcycle safety course. And a passenger in an enclosed three-wheeled motorcycle does not require a helmet.
Issues Impacting Who Covers Damages for Injured Passengers
Pennsylvania as a Comparative Negligence State
Since Pennsylvania is a comparative negligence state (modified), the court apportions fault, and so long as someone is 51% at fault, the other party may recover some damages. As a result, a plaintiff passenger recovers to the degree the other party or the driver of their car is liable. So, if the driver of the passenger's car is 40% responsible and the other driver is 60% liable, the passenger may recover their damages up to t 60% if they sue the other party. Unfortunately, passengers may have to sue both or all drivers to determine who is at fault and to what degree.
Pennsylvania as a No-Fault State
Pennsylvania is a no-fault state, meaning a driver's or passenger's vehicle insurance is their primary source of coverage, so a driver can get any damage to their car or motorcycle repaired through their coverage. And either the driver or passenger may recover lost wages due to the accident through their insurance. Thus, when two vehicles collide, it helps to know the type of insurance each driver carries. Two types are full or limited tort auto insurance, covering passenger injuries when the other vehicle caused the accident.
Passenger Injuries Covered Under Limited or Full Tort Insurance
Limited tort insurance covers only serious permanent injuries like lost limbs or organs and death. Thus, serious injuries not resulting in disfigurement may not be covered under limited tort insurance unless the passenger is a family member and the policy covers family relations injured in an accident. However, uninsured and underinsured motorist coverage are add-ons that may help cover accidents when the responsible driver is not insured (despite insurance being mandatory).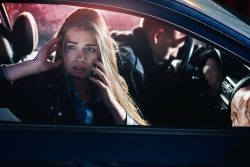 So, a passenger may rely on their own insurance to cover their damages and those of their family injured in an auto accident. Also, when a passenger does not have insurance, the driver's insurance may cover a passenger's injuries up to the limits of their policy. A passenger's health insurance may cover the rest, though probably with subrogation rights. Subrogation means the insurance company can get reimbursement payments from a passenger's settlement.
Seeking Compensation for Passenger Injuries
Injured passengers may recover their damages by filing a claim or a injury lawsuit. When an accident occurs due to vehicle defects, the passenger may have a product liability claim against the manufacturer. On the other hand, in a solo motorcycle or vehicle accident where the driver is negligent, a passenger can sue the driver for compensation for their injuries, including medical bills, ongoing treatment needs, lost wages, and future earnings losses. When another driver is to blame for a car or motorcycle accident, the passenger may claim compensation for their damages against the responsible driver. Establishing fault in a two-car or multiple-car accident is crucial to recovering damages due to physical harm.
Also, when insurance does not cover accident injuries to passengers or does not cover the total amount of losses to the passenger from the crash, they may have to sue the liable party or parties before the statute of limitations runs out. Pennsylvania's statute of limitations for negligence and automobile accident damages is two years from the date of injury. An injured party must file their lawsuit before that deadline or risk losing their claim unless they are a minor.
Have You Been Injured in an Accident as a Passenger? Contact our Personal Injury Lawyers for a Free Consultation
As a passenger in a motorcycle or car accident, you have multiple avenues to pursue depending on the circumstances. You should consider any and all of these legal options for obtaining compensation with the help of the experienced personal injury attorneys at Cohen & Riechelson. Often, a motorcycle accident with other vehicles requires an investigation to establish fault, which is why having a knowledgeable personal injury lawyer to investigate your case is critical. Our Bensalem attorneys can line up top-notch experts to support your claim, negotiate on your behalf, and fight for your compensation through litigation if a trial is necessary to recover your damages. Even before a trial, our lawyers are essential advocates when dealing with aggressive insurance companies whose interest is to pay out as little as possible on a claim.
If you are a passenger who has been injured in an accident in Fairless Hills, Bucks County, Jenkintown, Southampton, Croydon, or anywhere else in Northeast Philadelphia & Lower Bucks County, call (215) 337-4915 or complete our contact form today to consult with an attorney on our team about obtaining your personal injury damages so you can rest assured while you recover your health.