Permanent Disability
Permanent Disability Attorneys Bucks County PA
Serving Clients Across Northeast Philadelphia, Levittown, Millbrook, Feasterville, Bensalem,  Penndel, and Bucks County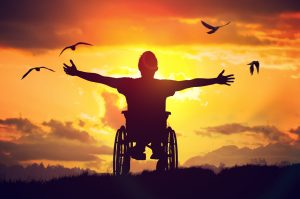 Permanent disability is defined as a situation where an individual is unable to perform substantial work due to a condition which is not reasonably expected to improve. In other words, those who have suffered from a severe injury leading to permanent disability may not ever be able to return to work. From a personal injury claims perspective, this can be an incredibly important distinction, as the compensation awarded will need to last you and your family for a lifetime.
The personal injury attorneys of Cohen & Riechelson have been assisting permanently disabled clients in getting the compensation they need and deserve since 1972. We understand complex Pennsylvania personal injury law and can draw on the experience we have built through serving clients across towns like Levittown, Northeast Philadelphia, Doylestown, Langhorne, Newtown, and all of Bucks County. Our firm believes in keeping clients informed and involved throughout the legal process while seeking to recover full and fair compensation.
Call our office for a free and confidential consultation today with one of our personal injury lawyers to discuss your accident leading to permanent disability and how we can best be of service.
Northeast Philadelphia Permanent Disability Compensation: Identify Your Options
For many individuals with a personal disability, filing a for Social Security Disability Benefits may be the best and only option moving forward. This option is open to disabled Americans regardless of the cause of your disability. There are strict guidelines which govern whether or not individuals qualify, for what level of compensation, and for what duration.
For those whose permanent disability was caused by an injurious accident, the possibility of filing a Personal Injury Claim is also on the table. In order to qualify for a personal injury claim, the accident must have been the direct result of the negligent or reckless actions by another party.
Accidents which can lead to successful personal injury claims can be the result of car accidents, construction accidents, slip and falls, negligent security, dram shop accidents, drunk driving, defective products, public transportation accidents, and many more.
Levittown PA Permanent Disability Attorneys: Common Permanent Injuries
While the legal definition of permanent disability can pertain to any injury, illness, or medical condition which will prevent that individual from working and is not excepted to improve over time, there are several common injuries which can lead to a strong claim of your disability being permanent.
Brain Injuries – blunt trauma, exposure to dangerous chemicals, and asphyxiation may all lead to severe and permanent brain damage. As the brain and nervous system are vital for virtually every bodily function, these injuries can be debilitating
Back and spinal injuries – spinal injuries are the most common form of physical injury which leads to missed work. Back and spinal injuries can result in loss of mobility, inability to sit or stand for extended periods of time, and are often the result of serious injury
Paralysis – some forms of paralysis are permanent, and can prevent individuals from controlling or feeling certain parts of their body. Paralysis can be caused by traumatic injuries due to nerve damage
Personal Injury Claim vs Social Security in Pennsylvania
As previously mentioned, many individuals who have permanent disabilities will receive some form of social security disability benefits. So why pursue a personal injury claim? The simple answer is that if your injuries were preventable, and due to the recklessness or negligence of another party, you are likely entitled to additional compensation for the damages incurred, including:
Medical Expenses – doctor's bills, physical therapy, rehabilitation, and more may be covered under the umbrella of medical expenses. For individuals with a permanent disability this is of particular importance because we may be able to forecast and cover future medical expenses as well
Lost wages – again, we will be looking to secure financial compensation for a lifetime of missed work. This is possible through successful personal injury claims
Physical Pain & Suffering – your accident leading to permanent disability was likely a traumatic and painful experience. Personal injury claims take this into account when awarding damages
Emotional Distress – in addition to physical pain, emotional distress is considered a coverable damage. This can include both the emotional pain felt throughout the recovery process and also compensate for the difficulties of adjusting to life with a permanent disability
Incidental Expenses – expenses to do with maintaining a normal life outside the bounds of medical expenses may be covered by incidental expenses, including altering living spaces to accommodate your disability, transportation to and from doctor's visits, household help and more
Contact our Bensalem PA Permanent Disability Injury Law Firm Today
At The Law Office of Cohen & Riechelson, our personal injury attorneys understand that injury claims for our clients with permanent disabilities are of the utmost importance. We seek to ensure the financial future of our clients in Pennsylvania towns like Northeast Philadelphia, Levittown, Quakerstown, Warminster, Warrington, Bensalem, and the greater Bucks County and Philadelphia County region. Lean on our 45 plus years of experience to protect your legal rights in the aftermath of an injurious accident leading to permanent disability.
Contact us online or call our Bensalem offices at (215) 337-4915 today for a free and confidential consultation regarding your accident, the related injuries, and to find out how we can best serve your needs.