Ladder and Scaffolding Accidents
Ladder and Scaffolding Injury Attorneys Northeast Philadelphia, PA
Serving Clients Across Bensalem, Northeast Philadelphia, Levittown, Feasterville, Millbrook, Penndel and Bucks County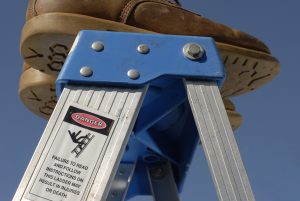 According to the US Department of Labor's Occupational Safety and Health Administration, scaffolding, ladder, and other fall protection safety regulations are amongst the most commonly violated. In addition, falls are the number one cause of construction site injuries and wrongful death in the US. If you or a loved one has been injured in an accident involving a ladder or scaffolding based on the negligence of an employer or other party, you may have a strong personal injury claim.
The personal injury lawyers of Cohen & Riechelson have been assisting clients with recovering full and fair compensation for their ladder and scaffolding accident injuries since 1972. We serve local Pennsylvania clients from towns like Northeast Philadelphia, Levittown, Bensalem, Millbrook, Penndel, Feasterville, and the greater Bucks County area. Lean on our extensive experience to seek a successful verdict or settlement in your ladder or scaffolding accident personal injury claim to help ensure your family's financial future.
Call our office today to speak with a member of our experienced legal team in a free and confidential consultation regarding your personal needs and concerns surrounding your ladder or scaffolding accident.
Common Causes of Ladder & Scaffolding Accident Injuries in Bucks County
Many causes of ladder or scaffolding accidents are avoidable. In terms of your personal injury claim, our Levittown lawyers will strive to show that they were not only avoidable, but also due to the negligent or reckless behavior of another party. Here are some frequent culprits:
Use of broken, worn down, or otherwise out of maintenance ladders or scaffolding. if you are on the job, it is likely the responsibility of your employer or other organization to maintain equipment, including ladders and scaffolding
Improper placement/usage of a ladder. It is vital to place the ladder in a safe and secure location before use. Uneven ground, slippery terrain, and in front of a door or other high traffic areas are all situations to avoid
Use of the wrong type of ladder. Ladders are made to carry a certain weight, reach a certain height, and be used for specific purposes. If those specifications are ignored, that can often be the cause of an injurious accident
Lack of fall protection for scaffolding in excess of ten (10) feet high
Unlawful gaps in scaffolding
Lack of guardrail, fall arrest system, foundations, base plates, mudsills, or other essential safety features for scaffolding
Levittown, PA Ladder & Scaffolding Accident Injury Attorneys Find Fault
The Occupational Safety and Health Administration has strict regulations governing proper use of both ladders and scaffolding for men and women on the job. If our Northeast Philadelphia attorneys are able to show that your injurious accident was caused by a violation of one of these regulations, that is a valid basis for a personal injury claim.
However, that is not the only recourse available to our clients. The negligent or reckless actions of a foreman, coworker, or other individual may be grounds for a personal injury claim as well. For example, if a foreman asks his or her employees to work unreasonable hours, leading to worker fatigue, which indirectly leads to a ladder or scaffolding accident, the foreman may be found at fault for endangering the workers.
You may also have a product liability claim if the ladder, scaffolding, or the associated components were defective or malfunctioning. In this case we may be able to find the manufacturer, assembler, wholesaler, or retailer of your equipment to be liable for your injuries.
Millbrook Personal Injury Lawyers Recover Compensation for Ladder and Scaffolding Accident Injuries
Our Millbrook personal injury lawyers will aim to show that the negligence or reckless actions of another party directly led to your injuries. If we are able to do so, the next step is determine the full and fair compensation to which you are entitled. In a successful verdict or settlement, we may recover compensation for the following expenses:
Lost Wages – including missed work in the past, present, and future
Medical Expenses – doctor's bills, hospital bills, physical therapy, rehabilitation and more
Incidental Expenses – housekeeping, maintenance, and other every day expenses which are no longer able to be handled by the injured party
Property Damage – construction equipment and tools are expensive. If any of your property was damaged as consequence of your injury, we can recover compensation for that expense
Pain and Suffering – you are eligible for financial consideration for the physical and/or emotional pain and suffering you may have had to endure. In personal injury claims, this often comprises a large chunk of the compensation package
Contact our Bucks County Ladder and Scaffolding Accident Injury Lawyers Today
At The Law Office of Cohen & Riechelson, our experienced personal injury attorneys strive to recover compensation which our clients need to move on with their lives in the aftermath of a ladder or scaffolding injury. Allow us to fight on your behalf as we have been doing for over four decades in local Pennsylvania towns like Northeast Philadelphia, Bensalem, Levittown, Penndel, Millbrook, Feasterville, and all of Bucks County.
Contact us online or through our Bensalem offices by calling (215) 337-4915 today to speak with a member of our legal team in a free and confidential consultation regarding your ladder or scaffolding personal injury claim.