Bicycle Accidents
Bicycle Accident Attorneys Bucks County, PA
Protecting Clients Across Levittown, Northeast Philadelphia, Feasterville, Bensalem, Millbrook, Penndel and Bucks County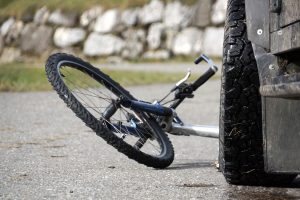 Bicycles are a great way to commute, exercise, and just enjoy a peaceful ride. However, cyclists also can be put in danger through no fault of their own due to heavy traffic, distracted drivers, and other dangerous conditions. Although infrastructure for cyclists is improving, there is still a risk of injury when riding a bicycle in Southeastern PA.
At The Law Office of Kamensky, Cohen & Riechelson, our personal injury attorneys help cyclists who have been injured in a bicycle accident recover compensation in Pennsylvania towns like Northeastern Philadelphia, Levittown, Feasterville, Penndel, Bensalem, Millbrook and the greater Bucks County Area. Our firm strives to show that our clients' bicycle accidents were caused by the negligence or reckless activity of another party. If this is the case, we are often able to win full and fair compensation for our clients through successful personal injury verdicts or settlements.
Call our office today in a free and confidential consultation regarding your bicycle accident, your injuries, and to learn how a personal injury claim can help secure your family's financial future.
Levittown, PA Cyclist Rights Lawyers Discuss PA Bicycle Laws
When filing a personal injury claim, finding fault is a critical factor. Pennsylvania has shared fault laws, otherwise known as "comparative negligence". What this means is that personal injury claims may still be filed if the injured party is found to be partially at fault. The main stipulation being that a party who is deemed to be greater than 50 percent responsible forfeits their right to seek compensation.
Our Levittown personal injury lawyers will seek to find fault in other parties, but we will also strive to show that you were obeying the law when the injury took place. Here are some noteworthy Pennsylvania bicycle laws from PennDOT:
Bikes are permitted to ride on the shoulder with the flow of traffic, but are not obligated to do so
Bikes are allowed to be ridden in the right lane of two-lane roads
Bicycles are permitted to temporarily occupy the left lane in order to make a left turn, to overtake a vehicle traveling in the same direction, or to get around an obstruction
Cyclists may not ride with more than two bicycles side-by-side
Motor vehicles are required to give cyclists a minimum of four (4) feet of clearance when passing. It is the responsibility of the motorist, not the cyclist, to maintain that minimum distance
Northeast Philadelphia Bicycle Accident Injury Attorneys Identify Common Causes
There are a litany of factors which can cause an injurious bicycle accident. Many of these causes involve simple accidents, but others also include avoidable situations due to the reckless or negligent behavior of another party. Some of the most common causes for bicycle accidents leading to injury are:
Cyclist hit by a moving vehicle
Cyclist fell off of his or her bike
Roadways in poor condition
Cyclist error
Bicycle collision with a stationary object
Driver of a stationary car opening door into traffic
Determining the cause of your bicycle accident plays a key part in your personal injury claim. For example, our Northeast Philadelphia attorneys may strive to show that your accident was due to poorly maintained roadways, while the insurance company may argue that it was due to cyclist error. By understanding Pennsylvania bicycle and roadway laws, we should be able to build a strong case for your personal injury claim.
Recovering Compensation for Bicycle Accident Injuries in Bucks County, PA
In order to recover full and fair compensation for you or your loved one's injuries sustained in a bicycle accident, our Bucks County personal injury lawyers will take the following steps:
Show cause of the accident – As mentioned above, this is the cornerstone of a strong personal injury claim. Proving the cause of accident and by extension the cause of your injuries is necessary to later show that you are entitled to compensation.
Prove negligence or recklessness of other parties – After determining the cause of the accident, we will then seek to show that it was the negligent or reckless actions or inactions of another party which led to the accident. This often includes premises liability against those responsible for maintaining safe conditions and/or finding the driver of a motor vehicle responsible for unlawful driving practices.
Seek financial compensation – The final step includes finding compensation for medical bills, lost wages, pain and suffering, property damage, and more. We will work with you to aggressively pursue what you and your family need and deserve.
Contact our Bensalem Bicycle Accident Injury Lawyers Today
At The Law Office of Kamensky, Cohen & Riechelson, our team of bicycle accident personal injury attorneys have been serving local clients for over 45 years. We have extensive experience assisting clients in the compensation recovery process across Pennsylvania towns like Northeast Philadelphia, Levittown, Bensalem, Feasterville, Millbrook, Penndel and all of Bucks County.
Contact us online or through our Bensalem offices by calling (215) 337-4915 today to speak with a member of our legal team in a free and confidential consultation regarding your bicycle accident and what we can do to best serve your individual needs.