Bone Fractures
Fractured and Broken Bone Injury Attorneys Bucks County, PA
Serving Clients Across Northeast Philadelphia, Levittown, Bensalem, Feasterville,  Penndel, Millbrook, and Bucks County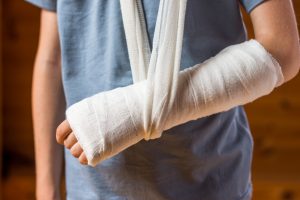 Fractures are very common injuries that stem from injurious accidents such as car accidents, motorcycle accidents, slip and falls, and many more. While some broken bones are simple fractures to extremities that require a few weeks in a cast, some fractures are severe and can lead to a long, painful, and expensive recovery process. If you or a loved one has sustained fractures or other serious injuries in an accident, you may be entitled to financial compensation.
The personal injury lawyers of Cohen & Riechelson represent clients suffering from all manner of traumatic injuries in Pennsylvania towns like Levittown, Northeast Philadelphia, Feasterville, Millbrook, Penndel, Bensalem, and the greater Bucks County area. We believe in protecting our clients' legal rights and keeping them informed and involved throughout the personal claims process. Lean on our 45 plus years of experience to seek full and fair compensation for your injuries while you focus on getting back to your usual, healthy self.
Call our office today to speak with a member of our legal team in a free and confidential consultation regarding your accident, your injuries, and to discuss your potential personal injury claim.
Northeast Philadelphia Broken Bone Injury Attorneys Discuss Types of Bone Fractures
Though the thought of broken bones may conjure an memory of our classmates gleefully asking their friends to sign their cast, there are many different forms of bone fractures that can be more serious and even life threatening The different types of bone injuries can include:
Transverse fractures – typical bone break where the fracture lays across the bone
Oblique fractures – the fracture travels across the bone at an angle
Spiral fractures – the break spirals down through the bone, often from one end to the other
Compound or "open" fractures – when a broken bone penetrates the skin
Comminuted fracture – multiple fractures affecting the same bone or bones
Compression fracture – many traumatic injuries place extreme strain on the spine through compression, sometimes resulting in broken vertebrae. Most common causes are motor vehicle accidents and falls
Skull and facial fractures – all fractures above the neck are potentially serious. Skull and facial fractures can lead to brain injury, eye injury, and other complications
Do I Have a Strong Personal Injury Claim for my Bone Fractures in Bucks County?
In order to successfully file and conclude a personal injury claim, our Bucks County attorneys will first need to show that your fractured bones and other injuries were the direct result of the negligent or reckless behavior by another party. Each case in unique, and finding fault in your accident is heavily dependent upon the circumstance surrounding your injurious accident.
For example, bone fractures are often the result of motorcycle accidents. This is partially due to the fact that motorcycles do not stand up naturally, and over the course of an accident will often fall on top of the rider, causing further injury. If we are able to show that your motorcycle accident was caused by a negligent driver, you may have a strong personal injury claim. This can include finding that other motorists were drunk, distracted, speeding, driving recklessly, or many other causes.
Another common example of accidents leading to broken bones are slip and fall accidents. Falls are often due to hazardous conditions on a commercial or private property. Property owners are responsible for maintaining safe and secure conditions for any guests, failure to do so may be considered negligence under premises liability statutes. This can range from the classic slippery floor all the way to insufficient security or inadequate lighting.
Levittown Bone Fracture Accident Lawyers Recover Compensation
Our Levittown personal injury lawyers understand that broken bones can lead to serious complications, physical pain, and a change in lifestyle. Not all bone fractures are easily treatable with many requiring multiple surgeries and long rehabilitation periods. Some fractures may even lead to permanent disability and other life long complications. We will strive to recover damages for the following as they apply to your claim:
Pain and suffering – particularly with bone fractures which are both painful and physically limiting, pain and suffering is often a large part of the compensation to which you are entitled
Medical bills – any past, present, and future medical bills relating to your broken bones may be covered by a successful personal injury claim
Lost wages – if your injury has kept you out of work for any period of time, we may be able to reclaim those lost wages
Loss of life's pleasures – bone fractures may lead to limited activities which previously gave you joy in life. This loss may lead to financial compensation
Many more
Contact our Bensalem Bone Fracture Personal Injury Attorneys Today
Bone fractures and breaks can lead to major life changes, incurred expenses, and both physical and emotional pain and suffering. Do not leave your family's financial future to fate when you can secure the legal counsel of an experienced personal injury firm. At Cohen & Riechelson, our personal injury attorneys have been recovering full and fair compensation for clients since 1972. Lean on the experience and knowledge we have built through successfully resolving personal injury claims for Pennsylvania clients across towns like Levittown, Northeast Philadelphia, Millbrook, Bensalem, Penndel, Feasterville, and all of Bucks County.
Contact us online or through our Bensalem offices by calling (215) 337-4915 today for a free and confidential consultation with a member of our legal team. We will be standing by to discuss your personal injury claim to potentially recover damages for your broken and/or fractured bones.