Car Accident Injuries
Buckingham PA Car Accident Injury Attorneys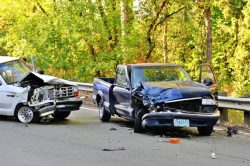 According to the most current data provided in the Pennsylvania Department of Transportation's Pennsylvania Crash Facts and Statistics Report, there were a total of 79,758 people injured during auto accidents in Pennsylvania in 2014. These injuries are classified on a spectrum ranging from major to moderate, to minor for the purposes of reporting; however, it is difficult to truly quantify the trauma associated with an injury, particularly because the long-term effects and emotional suffering that may result are left unaccounted for. "Pain" is perceived, and as such, is often measured on a scale of pain perception from 1 to 10. Unfortunately, the pain and suffering that may result from an accident is often dismissed due to its subjective nature. This is all-too-often utilized by insurance companies who would seek to deny the claims of injured victims seeking just compensation.
When faced with powerful corporations that may use intimidation tactics to serve their own interests, it is profoundly beneficial to have your own champions, advocating for you throughout the complex legal process of a personal injury case. At Cohen and Riechelson, our impassioned personal injury attorneys work to ensure that no one pressures you into abandoning your quest for compensation. Serving communities in Pennsylvania for over 40 years, we have successfully assisted countless injured victims and their families, recovering the financial resources that they need to move on with their lives. To discuss your case with a member of our seasoned personal injury team, contact our Bucks County offices anytime at (215) 337-4915. A free and comprehensive evaluation can provide you with the answers you are looking for.
Common Car Accident Injuries in Bucks County PA
Car accident injuries can range in severity from superficial to catastrophic, with a multitude of circumstances and intervening variables that effect the outcome, including the type of vehicle you are driving and those of the other drivers involved, your respective speeds, the trajectory and location of impact, weather and road conditions, whether or not you are wearing a seat belt, and the list goes on. However, there are a number of relatively common injuries sustained by car accident victims in Pennsylvania, which occur in distinct regions of the body, including:
Brain and Head Injuries: range in severity from mild concussions to traumatic brain injuries (TBI). Head injuries can be classified into two distinct categories:

Closed head injuries: internal head injuries, most commonly manifested in the form of concussions, but can also include intracranial (brain) bleeding. These injuries are extremely dangerous, as they often occur without observable symptoms.
Open head injuries: encompass a variety of skull fractures, including linear skull fractures, depressed skull fractures, diastatic skull fractures, and basilar skull fractures.

Neck Injuries: can involve soft-tissue injuries such as muscle strains, sprains, and pinched nerves, or "hard injuries" such as whiplash or cervical (neck) fractures
Back Injuries: can occur in any of the following regions: the cervical vertebrae (neck), thoracic vertebrae (upper back), or lumbar vertebrae (lower back), as well as the surrounding discs, muscles, tendons, ligaments, and nerves. Examples include sprains, strains, fractures, or herniated discs.
Facial Injuries: include bruises, lacerations, and fractures, as well as dental injuries and/or injuries to the jaw.
As mentioned previously, psychological injuries such as emotional distress, anxiety, depression, and post-traumatic stress disorder (PTSD) can be equally as detrimental to your health and well-being as the physical effects of an accident. With a full understanding of the hardship that psychological suffering can cause to you and those you love, we aggressively pursue compensation for pain and suffering, in addition to more concrete financial valuations such as medical expenses.
Contact our Northeast Philadelphia Car Accident Injury Lawyers for a Free Consultation
If you or someone you love has been injured in a car accident and you believe that another driver is at fault, you have limited time to file a claim. Consulting with a highly experienced team of personal injury attorneys can be the first step toward obtaining the compensation you deserve. To speak with one of our skilled lawyers free of charge, contact the Bucks County offices of Cohen and Riechelson at (215) 337-4915.