Crane Accidents
Crane Accident Injury Attorneys Bucks County, PA
Serving Clients Across Levittown, Northeast Philadelphia, Penndel, Bensalem, Feasterville, Millbrook, and Bucks County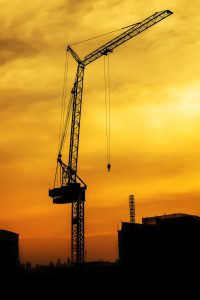 Cranes are pieces of heavy machinery which are primarily used for moving heavy and/or large objects on construction sites. This is done by using massive "arms" and a suspension system. Cranes are often essential for construction and other large jobs, but they also require expert and careful operation. Even then, cranes can be extremely dangerous and can lead to injuries or wrongful death.
At The Law Office of Cohen & Riechelson, our personal injury lawyers have extensive experience helping clients injured in crane accidents in Pennsylvania towns including Levittown, Northeast Philadelphia, Feasterville, Bensalem, Penndel, Millbrook, and the greater Bucks County region. We have been successfully recovering compensation through personal injury claims by reaching positive verdicts and settlements since 1972. If you have been injured in a crane accident, lean on our experience to protect your family's legal rights and help to ensure your financial future.
Call our office today for a free and confidential consultation with a member of our personal injury legal team regarding your crane accident, your injuries, and your potential personal injury claim.
Northeast Philadelphia Crane Accident Injury Lawyers Identify Common Causes
The United States Bureau of Labor Statistics published a study on crane injuries which identifies the following as the most common causes of fatal crane accidents:
Contact with other objects or machinery – This includes individuals being hit by a falling object from cranes and becoming trapped by machinery or other objects.
Contact with a live electric current – Electrocution injuries are common on construction sites and are especially common when operating cranes which can easily reach and come into contact with electrical wires
Falling accidents – much like the use of ladders or scaffolding on the job, the use of cranes is inherently dangerous due to the heights involved
Transportation accidents – cranes are massive pieces of equipment and their transportation or even movement can quickly lead to a dangerous situation
Levittown, PA Heavy Machinery Injury Attorneys Find Fault for Crane Accidents
When injured in a crane or other construction accident, personal injury claims may be filed if your accident was the result of the negligent or reckless actions of another party. In some cases, we may be able to refer to the US Department of Labor Occupational Health Administration's Regulations for Crane Use.
The OSHA has extensive guidelines for safe usage of overhead cranes, gantry cranes, and more. If any of these regulations have been violated, that is a great indicator that another party may be at fault. However, there are several different avenues our Levittown attorneys may choose to explore in order to find fault regarding your personal injury claim.
Depending on the cause of your injurious accident, we may be able to find the construction company, the property owners, the manufacturer of the machinery, and even possibly the organization that owns and/or leases the cranes themselves liable for your injuries.
For example, let's say that a worksite foreman orders an employee with insufficient training to operate a crane. The employee does not properly operate the crane according to OSHA guidelines and makes contact with an electrical pole. The electrical pole is knocked over and strikes you, causing injury.
In this case, we will strive to show that the foreman's actions were sufficiently negligent to cause your injuries. The construction company, organization who hired the construction company, and even the property owners could all potentially be held liable.
Recovering Compensation for Bucks County, PA Crane Accident Injuries
In order for our Bucks County attorneys to recover full and fair compensation for your crane accident injuries, we must successfully prove the following:
You were injured as a result of the accident in question. In order to show this part of your case, it is always a great idea to see a doctor as soon as possible after your accident. In addition to being important to your health and recovery, receiving an official diagnosis in the immediate aftermath of your accident is the best way of proving the connection between injury and incident
The accident which caused your injuries was a result of negligent or reckless actions of another party (as discussed in the previous section)
Your injuries are severe and have caused you physical pain and suffering, emotional distress, and/or expenses. This is a crucial part of the personal claims process as the compensation you may receive will be dependent on the damages to which you are legally entitled. Compensation can be used to cover past/present/future medical bills, lost wages due to missed work, essential everyday expenses, pain and suffering, and much more
Contact our Bensalem Crane Accident Injury Attorneys Today
The personal injury attorneys of Cohen & Riechelson have been recovering full and fair compensation for our clients for over four decades. We will work with the specifics of your crane accident personal injury claim in order to seek a successful verdict or settlement. Our firm takes pride in serving our local Pennsylvania clients across towns like Northeast Philadelphia, Levittown, Feasterville, Millbrook, Penndel, Bensalem and all of Bucks County.
Contact us online or call our Bensalem offices at (215) 337-4915 today for a free and confidential consultation with a member of our legal team regarding your crane accident personal injury claim.