Motorcycle Helmet Laws
Motorcycle Helmet Law Attorneys Bucks and Philadelphia County, PA
There are countless reasons why following state traffic laws support your body and mind while getting you safely to your destination.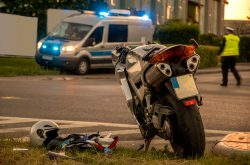 When a driver takes to the road, they take on inevitable risk. Recent statistics reveal the inherent risks of riding a motorcycle in certain regions. The National Highway Traffic Administration reports that motorcyclists face a far higher percentage of fatality risk than those in cars. The fatality risk is 27 times higher for motorcycles than other vehicles. It is not hard to imagine why given the lack of protection motorcycles provide compared to cars. They lack the safety features a vehicle can have, like airbags and metal enclosures. In Pennsylvania, specifically, 2020 statistics from the Pennsylvania Department of Transportation confirm 3,398 deaths by motorcycle accidents, comprising 20.3% of the total accident fatalities in the state, despite being only 3.3% of the state's total vehicular collisions. Of those fatalities, a little less than half wore helmets. There are countless reasons why following state traffic laws support your body and mind while getting you safely to your destination, including the physical and emotional repercussions of an accident, which the American Academy of Family Physicians lists as post-traumatic stressors such as anxiety, shock, fear, and irritability.
Particularly when driving or riding on a motorcycle, it is essential to take care, as the risks for motorcycles are higher than those for other motorists. The National Highway Traffic Safety Association states that motorcyclists are overrepresented in traffic fatalities, despite the fact that 2018 saw a nearly 5 percent decrease in motorists killed while riding on a motorcycle. There are simple precautions that motorists can take to protect themselves from injury on a motorcycle. The simplest of these is wearing a helmet. Fortunately, Pennsylvanians are wise motorcyclists and are wearing helmets more often, statistics show. Statistics also show that wearing a helmet is linked to a nearly 70 percent decrease in the risk of head injury when in a motorcycle accident. The use of a helmet also cuts your risk of death on a motorcycle in half. Such statistics make the use of a helmet an obvious choice when riding on a motorcycle around Pennsylvania.
What Cases are Enforced by the Law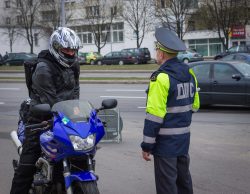 Pennsylvania law mandates that motorcycle riders and riders of three-wheeled autocycles wear helmets in certain cases. Again, while the following cases are the only ones enforced by state law, the use of a helmet regardless of whether you fall into the following categories is a potentially life-saving idea.
Thus, statistical proof supports wearing motorcycle helmets in Pennsylvania. However, helmet wearing is still optional to most riders, even though more than 50% of motorcyclists who survived crashes wore helmets. Despite that the Department reported 2020 as one of the lowest fatality numbers for crash fatalities overall, it was a peak year out of the prior five years for motorcycle crashes and deaths; thus, the urgency to wear helmets to bolster chances of survival is evident. However, some riders believe helmets obstruct their vision and hearing and increase the likelihood of spinal cord injury.
Currently, Pennsylvania requires all motorcyclists under 21 or those with motorcycle learner's permits to wear helmets. However, it is optional for those over 21 with two years' licensed motorcycle riding experience or those who passed a motorcycle rider safety course sanctioned by the Department of Motor Vehicles or other authorizing bodies. Passengers of an exempt rider are also not required to wear a helmet, nor are drivers of three-wheel motorcycles with enclosed rider cabs. And for those who are mandated to wear a helmet, the equipment must meet state requirements.
In addition to meeting the age requirement for non-use of protective headgear, a driver or rider must also have two years of motorcycle riding experience, or they have to have completed a motorcycle safety course provided by a Pennsylvania Department of Transportation or Motorcycle Safety Foundation approved entity. Not all courses are provided by an approved entity specific to Pennsylvania, so double-check that any motorcycle safety course you have taken is approved before thinking of hitting the road without a helmet. Also, if you have just gotten a new motorcycle, the National Highway Transit Safety Association recommends that you wear protective headgear while you get used to the balance and functions of the vehicle, regardless of whether or not you are legally required to do so, as many accidents occur when drivers are not used to the operation of a newly acquired vehicle.
So what is "protective headgear" according to Pennsylvania law?
Pennsylvania laws and regulations require motorcyclists to wear helmets approved by the nation's Department of Transportation (DOT), as evidenced by a DOT sticker. The Department lists approved motorcycle gear so that any rider can become compliant. Title 75, section 3525 of Pennsylvania General Assembly laws specifies that the helmet must meet specific requirements. Regulations require the helmet to clearly identify the manufacturer, model, size, and year. Additionally, the DOT sticker must be visible outside the helmet.
Pennsylvania law also states that riders must wear some sort of protective eyewear while riding on a motorcycle. Shatterproof eye gear such as the glass on the front of many helmet shields is not required, however; a simple pair of glasses will suffice to meet Pennsylvania safety standards.
Because motorcyclists are 28 times as likely to die in a traffic accident as those riding in a car, according to the National Highway Traffic Safety Administration, taking these simple precautions can mean the difference between life and death and are worth abiding by, even where the law doesn't require it. In 2018, over 70 percent of motorcycle riders were compliant with Pennsylvania law regarding the use of a helmet – you can help increase that statistic and protect your travels while you do so.
Contact our Bensalem Personal Injury Attorneys Today
At The Law Office of Cohen & Riechelson, our team of personal injury attorneys has experience serving clients in Southeastern Pennsylvania. We believe in keeping our clients informed and involved throughout the legal process as we have done across Northeast Philadelphia, Bensalem, Levittown, Millbrook, Penndel, Feasterville, and all of Bucks County. We are led by a Certified Civil Trial Attorney, an honor granted by the Supreme Court of New Jersey to only 2 percent of active NJ attorneys.
If you are ready to receive the fair and full compensation you and your family need to cover medical bills, lost wages, and the emotional trauma sustained from your injuries, contact us online or give us a call at our Bensalem offices at (215) 337-4915 for a free and confidential consultation today. We will be standing by to learn more about your drunk driving accident and how we may best serve your individual needs.