Nursing Home Abuse
Nursing Home Negligence Attorneys Bucks County, PA
Serving Clients Across Bensalem, Newton, Warminster, Northeast Philadelphia, Levittown, Feasterville, Millbrook, Penndel, and Bucks County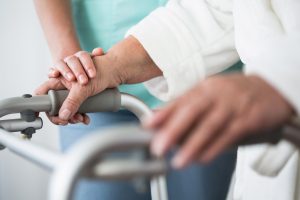 As our parents, grandparents, and other loved ones grow older, nursing homes and assisted living facilities can help them continue to live full and rewarding lives. As we become responsible for those who cared for us, we would like to think that we are placing them in good hands. Unfortunately, this is not always the case. About one in ten individuals living in nursing homes or assisted living facilities experience some kind of abuse during their stay.
At The Law Office of Cohen & Riechelson, our personal injury attorneys understand the feeling of helplessness that can accompany learning about a loved one's nursing home abuse. You have entrusted the well-being of a family member to this institution and sometimes that trust is exploited. Our experienced legal team have been protecting the legal rights of senior citizens for over four decades in local Pennsylvania towns including Northeast Philadelphia, Levittown, Doylestown, Quakertown, Langhorne, Warminster and the greater Bucks County area.
Call our office today to discuss your needs and concerns when it comes to nursing home neglect or abuse and the potential for a personal injury claim in a free and confidential consultation.
Warminster Nursing Home Abuse Lawyers Give Statistics
Nursing home neglect and abuse is one of the most underreported forms of physical, sexual, psychological and even financial abuse in the US. The National Center on Elder Abuse estimates that for every reported instance of nursing home abuse, another 24 are unknown to public agencies. Here are some additional figures regarding the severity of the problem:
For senior citizens living in nursing homes or assisted living facilities, about 10 percent experienced some form of abuse or neglect
Of those victims, less than 10 percent ever reported the abuse, including 9% who reported verbal abuse, 3.5% who reported financial abuse and less than 1% who reported physical abuse
Individuals with dementia are at a dramatically higher risk of abuse, with some studies showing up to 50% of dementia sufferers experiencing abuse in their later years
Women with disabilities have a 50% greater chance of experiencing physical abuse than their non-disabled counterparts
If your loved one has been a victim of direct and malicious abuse by a staff member, that may be a more legally complex manner than simply holding the institution responsible. Contact our Doylestown lawyers today to discuss the specifics of your case to learn more.
What Constitutes Nursing Home Negligence in Bucks County?
There are many forms of physical, sexual, and psychological abuse that may take place in nursing homes or assisted living facilities. Many times it is not a dramatic act of violence, but the negligence of the institution which can harm our loved ones.
Nursing homes and assisting living facilities are legally obligated to care for their tenants. Here are some examples of negligent activities which may lead to a strong personal injury claim:
Knowing and intentional physical, sexual, psychological, or financial abuse from staff members
Inadequate nutrition and water which may lead residents to become malnourished or dehydrated
Inadequate hygienic practices including providing clean, secure, and well maintaining living areas
Lack of protective supervision which can lead to injury or other forms of abuse
Improper distribution of medication or other medical care which may lead to health issues
Many more
Newton Retirement Community Injury Lawyers Recover Compensation
The good news is that reports of nursing home abuse are taken very seriously and are often followed up by formal investigations. If you suspect nursing home abuse in Pennsylvania, you can report it through the PA elder abuse hotline. Once reported, our Levittown personal injury claims lawyers will seek to recover full and fair compensation by proving the following:
Nursing Home abuse or neglect took place. This will likely tie into the findings of a formal investigation by authorities. We will strive to show that some form of physical, psychological, sexual, financial, or other form of abuse or neglect affected your loved one. Any failure to fully take care of and protect residents may be considered a form of negligence.
That abuse or neglect led to an injury. In order to file a personal injury claim, we will want to connect the physical injuries back to the incidents of nursing home abuse or neglect. This does not need to be as obvious as broken bones and black eyes, and can possibly include malnourishment, worsened condition due to improper medical treatment, and more.
The damages were significant enough to be awarded damages. Ultimately, we will strive to show that your loved one suffered injury or other damages which led to either expenses or undue pain and suffering. If we are able to show these three items, your family may be eligible for financial compensation through a personal injury claim.
Contact our Bensalem Nursing Home Abuse and Negligence Attorneys Today
Nursing home accidents and abuse can be the result of a variety of legally negligent behavior such as premises liability, negligent security, defective medical equipment, and even malicious abuse. The personal injury attorneys of Cohen & Riechelson will examine the details of your case and seek financial compensation as we have done for victims of nursing home neglect for clients across Pennsylvania towns like Northeast Philadelphia, Newtown, Levittown, Warrington, Bensalem, Langhorne, and all of Bucks County.
Contact us online or through our Bensalem offices by calling (215) 337-4915 today to speak with a member of our legal team in a free and confidential consultation regarding your needs and concerns when it comes to nursing home or assisted living abuse, neglect, and any injuries that may have been a result.