Loss of Limb
Loss of Limb (Amputation) Attorneys Bucks County, PA
Serving Clients Across Levittown, Bensalem, Northeast Philadelphia, Millbrook, Penndel, Feasterville and Bucks County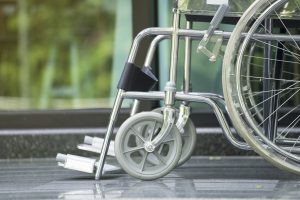 Losing a limb for any reason can be a devastating life event. When such a severe injury is suffered in an avoidable accident due to the negligent or reckless actions by another party, that pain can feel even worse. While victims of amputation will certainly have to adjust to their new reality, there are many ways for them to lead a functional and fulfilling life. If you or a loved one has been involved in a car accident, truck accident, motorcycle accident, construction accident, or any other accident leading to the loss of a limb, you may be entitled to financial compensation.
The personal injury attorneys of Cohen & Riechelson serve clients who have suffered amputations in Pennsylvania towns including Northeast Philadelphia, Levittown, Feasterville, Bensalem, Penndel, Millbrook and all of Bucks County. We have over 45 years of experience fighting for fair and full compensation for our injured clients. When your financial future is at stake, you can lean on our proven track record of success.
Call our office for a free and confidential consultation today regarding your accident, your amputation or other injuries, and your potential personal injury claim.
Levittown Loss of Limb Accident Lawyers Discuss Common Causes
There are a litany of reasons that a limb can become so injured or damaged that it becomes medically necessary to amputate. Some of these causes can include chronic diseases such as diabetes or gangrene. With victims of injurious accidents, most cases of amputation are due to extreme trauma, including:
Motor Vehicle Accidents – collisions involved in motor vehicle accidents are more than sufficient to cause severe bodily damage, including loss of limb and even wrongful death
Defective Products – malfunctioning or defective products can quickly and unexpectedly cause injury to extremities which may cause traumatic amputation
Construction Accidents – falling from heights, working with heavy machinery, and other dangerous situations all have the potential for traumatic injury
Violent Crimes – stab wounds, gunshot wounds, and other violent acts
Dog Bites – man's best friend have a shocking capability to inflict bodily harm on people
Northeast Philadelphia Injury Attorneys Discuss the Psychological Effects of Amputation
One of the primary differentiators when comparing losing a limb to other serious injuries are the long term psychological effects which may accompany the physical injury. Phantom limb syndrome is a fairly well known condition where victims of amputation can still "feel" their missing body parts even after they have been removed.
Additionally, victims are often traumatized by the gruesome nature of their injuries and can suffer post traumatic stress disorder in the aftermath. Even for those who do not develop PTSD, many sufferers find it difficult to return to normal behaviors when their injuries resulted from every day activities such as driving a vehicle, working their job, or even being near the family dog.
Penndel Personal Injury Attorneys Recover Compensation for Loss of Limb and Amputation Victims
Considering the severe physical, social, and psychological aspects of an injury leading to loss of limb, our Penndel personal injury lawyers understand the importance of recovering every possible dollar for our clients. Many individuals who have lost a limb are permanently disabled and may never be able to return to work. For this and many other reasons, our legal team will strive to recover full damages for the following:
Physical Pain and Suffering – amputation is certainly an extremely painful ordeal, even for those who undergo voluntary medical procedures. Pain and suffering damages can amount to five (5) times the total medical expenses and sometimes even higher
Emotional Distress – for individuals who have recently experienced such a violent accident, consideration is given to the many psychological effects that may be present
Lost Wages – past, present, and future missed work will be compensated for. In the case where the victim may be permanently unable to return to work, this must cover a lifetime of wages
Incidental Expenses – Traveling to medical specialists, equipment to make one's home accessible to new disabilities, household maintenance and more
Medical Expenses – bills from hospital, doctors, physical therapy, rehabilitation, and more
More – disfigurement, loss of life's pleasures, loss of consortium, and property damage may also be covered
Contact our Bensalem Loss of Limb Personal Injury Lawyers Today
It is difficult to imagine an accident so severe that it completely changes our lives, what we are capable of, and how we feel psychologically. It is hard to imagine, that is, until such an event takes place. Losing a limb in a single, traumatic accident can drastically alter the trajectory of our lives in an instant.
At The Law Office of Cohen & Riechelson, our experienced personal injury attorneys treat all of our clients with the empathy and compassion we would hope to receive when going through such a difficult time. Our legal team has been serving clients since 1972, and will fight for full and fair compensation as we have done for clients in our local Pennsylvania communities including Levittown, Northeast Philadelphia, Feasterville, Penndel, Millbrook, Bensalem and the greater Bucks County region.
Call our Bensalem offices by dialing (215) 337-4915 or contact us online today to speak with a member of our legal team in a free and confidential consultation regarding your amputation injuries and what we can do to best serve your individual needs.