Accidents and Injuries Caused by Speeding Drivers
There are several reasons why driving above the speed limit, and taking on the increased risk of being in a dangerous accident, is endemic in the United States—and Pennsylvania too.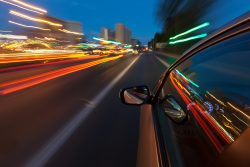 Americans in general, including Pennsylvanians, tend to overbook their lives with all kinds of activities and rush from place to place trying to meet their self-imposed, hectic schedules. There's a constant temptation to go faster to make up time. Also, people tend to drive just about as fast as the others on the road. They can adopt the "everyone's doing it" mind frame, ending up traveling considerably faster than the speed limit without even intending to. And as people pass police cars with radar guns and don't get stopped for doing 5 or 10 or 15 miles per hour faster than the speed limit, they begin to feel that it's sanctioned by the authorities. Also, don't forget the thrill factor—the adrenaline rush that some people become addicted to. In the cocoon of their cars, people can begin to drive in self-absorbed ways that endanger themselves and others.
Ultimately, 70 percent of cars on the nation's highways are traveling faster than the speed limit, according to a federal report in which 12 million vehicles' speed was studied. One-fifth of the speeding vehicles were clocked at speeds of 10 miles per hour or more above the speed limit. Unfortunately, many of these motorists who may or may not be caught speeding, cause car accidents that seriously injure or even kill others on the road. Even pedestrians, bicyclists, and other innocent bystanders may find themselves harmed by speeding drivers. If you or a loved one has been injured by a reckless person driving too fast in Pennsylvania, it is important to know that you have rights and legal options. Contact the skilled personal injury attorneys at our firm to discuss your speeding car accident injuries and how we can help you obtain the compensation you deserve. You can reach our office at (215) 337-4915  for a free consultation.
How does Speeding Cause Traffic Accidents?
This tendency toward speed raises the stakes when it comes to accidents. A speeding driver has less time to react to an animal stepping into the road or respond to a collision ahead of him or her. The faster a vehicle is traveling, the more distance it will cover before the driver can bring it to a controlled stop. These two factors work in tandem to increase significantly the risks involved with speeding.
The laws of physics govern the roads, if not the laws of individual states. Speed correlates exponentially to the forces of energy set loose in a collision. When driving speed increases 50 percent, from 40 to 60 mph, the energy released in a crash increase by 125 percent. The more energy in a collision, the greater the detrimental forces acting on people's bodies inside the car. Also, at greater speeds, a car's seat belts and airbags become less effective in preventing injury.
Speeding is a significant factor in 25% of all fatal traffic accidents, according to a 2019 report by the Governors Highway Safety Association (GHSA)
To bring this closer to home, a 2019 report by the Pennsylvania Department of Transportation states that, on average in Pennsylvania:
Daily, 343 traffic accidents occur that are big enough to be reported. This averages out to approximately 14 accidents per hour).
Daily, 3 persons incur fatal injuries in these crashes. This averages out to one death due to a traffic accident every 8 hours.
Daily, 209 persons incur injuries in these crashes. This averages out to approximately 9 injuries per hour.
Based on Pennsylvania's 2019 population (12.8 million people):
1 person in 45 was directly involved in a traffic accident.
1 person out of 12,089 died of injuries sustained in a traffic accident.
1 person in 168 was injured in a traffic accident.
These injuries and fatalities add up to an enormous loss of life, health, and human potential.
The Risks Involved in Speeding on Pennsylvania Roads
In Pennsylvania, as in any state, anyone who drives faster than the speed limit—or who drives faster than is prudent under road conditions— risks several very important things:
Their own life and those of others.
A lawsuit that could financially cripple them for life.
Damage to property, resulting in lawsuits.
Speeding ticket or a citation for careless or reckless driving. In Pennsylvania, you may have your license suspended for 15 days if you drove more than 31 mph faster than the posted limit. Also, you will have points added to your driving record, points that will increase the cost of your auto insurance.
Refresher on PA Speed Limits
These are the speed limits in various areas of Pennsylvania unless posted otherwise:
Residential areas: 25 mph
Urban settings: 35 mph
Freeways where 65 or 70 mph is posted: 65 or 70 mph
Other highways: 55 mph
And don't forget, drivers are obligated to reduce their speed if that would be prudent because of weather or road hazards.
Your Options when Injured by a Speeding Driver in PA
When a speeding driver causes an accident that costs the breadwinner of the family his or her life, or that costs a caregiver his or her life so that the family must now pay someone to fill that role, or that causes a debilitating injury, the speeding driver can be sued to fill that financial gap. To handle all of the steps in filing a personal injury claim and successfully obtain compensation for your injuries from an accident caused by someone else who was speeding, you would be wise to hire a law firm that is experienced in handling lawsuits against speeding drivers, like Cohen & Riechelson.
If you or someone you know needs to explore the possible of suing after being injured by a speeding driver, call us at (215) 337-4915  for a free consultation. We have the experience and knowledge to give you your best chance at a positive outcome. We serve clients in places like Jenkintown, Fairless Hills, Bryn Athyn, Southampton, Huntingdon Valley, Bucks County, Philadelphia, and surrounding areas throughout Pennsylvania.