What Happens When a Car Accident is Fatal in Pennsylvania
Accidents happen, unfortunately, some of them end up having fatal consequences.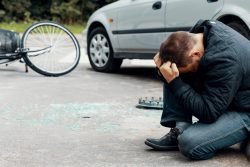 In Pennsylvania, during 2020, there were nearly 300 car accidents daily with 3 fatalities and 170 injuries, some of which were treated on-site and others that required emergency and/or trauma care.  Most drivers involved in accidents are between the ages of 16 and 30.
Every accident is composed of three key factors:  the driver, the road, and the vehicle.  That leaves a large margin for error for any factor, while a combination of these could easily result in a fatality.  Typically, more than 90% of accidents are caused by some level of driver error.
If you have lost a loved one in a car accident, you need a wrongful death attorney who is familiar with the procedures that need to be carried out and the processes which will help you to obtain the damages you are seeking.
Who Conducts the Investigation of a Crash Resulting in Death?
The police oversee the investigation and typically arrive on the scene almost immediately.  They take statements from those involved and anyone who witnessed the accident. The police also note the amount of damage to the vehicles involved, check for any telltale signs of how the accident might have occurred (skid marks, property damage in the area surrounding the scene, shredded tires, etc.) as well as traffic offenses such as running a stop sign, a red light, illegal passing, driving while distracted, making an illegal U-turn, excessive speeding and more.  They will also include any injuries to the drivers or other passengers.
Once the police report is complete, a police investigator will take the case. The officer's report is of great help to the investigator but not the only information contributing to a resolution. The investigation may result in an arrest of the perceived at-fault driver for more serious infractions such as driving while under the influence, reckless driving, and racing or speeding excessively.
Who can Prove a Claim for Fatal Car Accident Compensation?
To build a wrongful death case, blame must be placed and proven on the person who caused (either completely or partially) the tragic accident.  There must be someone from whom you can seek financial compensation.  A good wrongful death attorney will seek out as many parties as were responsible for causing the accident.
That investigation may include mechanical failures and driver fatigue regarding commercial drivers, having the wrong driver's license for the vehicle they are driving, or driving more hours than permitted. Their employer is liable for those reasons and should pay damages for their carelessness.
All drivers who drive excessively, especially in bad weather conditions such as rain and snow, can find themselves in trouble.  Eating or texting while driving can also make you liable for an accident.  Believe it or not, the local government can be liable for broken traffic lights, missing signs, or roads with potholes.
Your wrongful death attorney can decide against whom to file your claim after viewing the police report and further investigative evidence.  Sometimes your lawyer may conduct their own investigation with the assistant of their specialists and experts.  An experienced lawyer will look at your case from every angle until the right decision is reached.
Who is the Personal Representative for an accident fatality case?
Any wrongful death claim needs to be filed by the deceased person's legal representative.  Typically, this person is named in the will, but if not, the court will choose a suitable representative, usually a spouse, parents, or children (adults).
Unfortunately, neither process happens quickly.  The will has to go through probate court, but that is more expedient than the court having to name a representative.  The statute of limitations to seek a settlement for wrongful death is two years.  You cannot file the case until a representative has been named.
What Damages can I Seek on Behalf Someone who Died in an Auto Accident in PA?
Recoverable Damages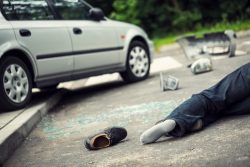 In wrongful death cases, the damages are related to the loved one who has passed.  They include medical expenses and lost wages, emotional distress, burial and funeral expenses, loss of consortium, etc.
Punitive Damages
These are sought to punish a driver who caused an accident that could have otherwise been prevented.  It was due to their negligence that a family lost a dear one, and part of the consequences is that they are obligated to pay that family.  Pennsylvania does not have a cap on punitive damages except in cases of malpractice and against government agencies.
Will Criminal Charges Be Filed in Bensalem?
The most common criminal charge related to these accidents is vehicular manslaughter, which carries heavy fines and could put the offender behind bars.  Just because the driver at fault is arrested does not mean they will be found guilty beyond a reasonable doubt; however, that does not mean you won't win your civil case.  Civil cases are won due to a preponderance of the evidence (meaning there is more than a 50% chance that the claim is true.
Losing a loved one is devastating and going through all of the legal complications makes it no easier. You need a practiced wrongful death attorney to take care of not just your case but the future for you and your family.
The personal injury attorneys at Cohen & Riechelson are ready to work for you in this time of hardship.  If you live in Bristol, Croydon, Doylestown, Fairless Hills, Feasterville-Trevose, and Yardley, call us today at (215) 337-4915 or fill out our online form to get started on your wrongful death suit right away.  You deserve comfort and peace of mind.