Auto Accident with an "at fault" and uninsured driver in Pennsylvania
At-Fault and Uninsured Motorist Accident Attorneys in Bucks County and Philadelphia Pennsylvania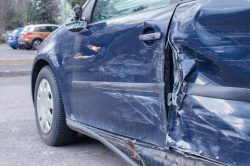 Any car accident can be a very scary experience. The effects of an accident can vary, however, there are many factors that can turn even a mildly damaging auto accident into a source of future issues. The common scene following an automobile accident usually involves each party is checking for injury, exchanging contact and insurance information, contacting authorities, and filing a police report. Additionally, you may need to seek medical attention and deal with the authorities. All of these stressful factors are compounded in cases where it is discovered that the at-fault driver does not have auto insurance to cover damages?
Pennsylvania law requires that all drivers carry automobile insurance. Driving without insurance is illegal and could result in legal fines, suspension of license and registration and in some cases jail time. In spite of this legal reality and the stiff consequences for breaking this law, there are many cases of drivers without automobile insurance taking to the roads, as well as causing accidents.
What is Uninsured Motorist Coverage, and am I required to have it in Philadelphia?
Not all Philadelphia auto insurance includes Uninsured Motorist Coverage, though it is an important addition that should be included in every Pennsylvania Standard Auto Insurance Policy. Through Uninsured Motorist Coverage, one can recover damages caused by an uninsured driver in an accident. In order to properly utilize this avenue, it is important that the victim has the legal representation of an auto accident attorney.
Uninsured Motorist Bodily Injury (UMBI)
Uninsured Motorist Coverage includes Uninsured Motorist Bodily Injury (UMBI) coverage, which will reimburse medical expenses that are incurred due to the accident, including symptoms that may show up in the days following the accident, when the stress hormones of cortisol have reduced, revealing injuries that were undetectable in the initial stress response of the traumatic impact. Uninsured Motorist Coverage also includes Uninsured Motorist Property Damage coverage, which will pay for damages to property incurred during an accident, most notably the victim's automobile. Whether the liable party in the accident does not have auto insurance or whether their insurance information is not available, as is the case in a hit-and-run, the victim can utilize both of these aspects of their own Uninsured Motorist Coverage to protect themselves medically and financially after an accident.
What is Pennsylvania, and does it include Uninsured Motorist Coverage?
According to the Pennsylvania Insurance Department, a basic policy should include:
Property Damage Liability – $5,000 per accident
Personal Injury Protection (PIP) – $15,000 per person, per accident; up to $250,000 for certain injuries such as permanent or significant brain or spinal cord injury
The following coverage is available as an additional but recommended option:
Bodily Injury Liability – coverage for claims by other involved drivers as a result of an accident for which you are liable
Collision – available as an option (see below)
Comprehensive – available as an option (see below)
Please note that Uninsured Motorist Coverage is not always an option with the Basic Plan.
What other types of coverage does my Philadelphia auto insurance policy likely have?
In addition to Uninsured Motorist Coverage, nearly all Pennsylvania auto insurance policies have the following three aspects:
Liability – the main part of automobile insurance policies. Pennsylvania requires this as the main means by which a liable party will cover damages to another party that is harmed by them due to their vehicle.
Personal Injury Protection (PIP) – the aspect of auto insurance that covers personal injury. This part of one's insurance covers them no matter who is at fault. Pennsylvania is a No-Fault state, which means that every driver must purchase PIP as part of their basic policy, and it will cover your medical bills when you are involved in an accident, no matter who was at fault.
Collision and Comprehensive – optional physical damage coverage. In many cases, this coverage is optional and covers payment for damages such as hitting or being hit by another car or object or being involved in a natural or other disaster such as a hurricane, fire, or vandalism.
Contact a Bucks County Pennsylvania Car Accident and Insurance Coverage Attorney
At Cohen & Riechelson, our attorneys have extensive experience helping parents across Bensalem, Bristol, Buckingham, Philadelphia and Bucks County in all auto insurance and accident matters, including supporting clients in the filing of auto accident claims in which they are victims of an uninsured driver.
Our unique approach focuses on finding solutions that ensure the maximum recovery of damages to our client's physical body and possessions as the result of an auto accident.
To speak with our firm today regarding your auto accident claim, please contact our Bensalem offices anytime at (215) 337-4915 or online to schedule a free of charge and confidential consultation.