Vehicle Collision in Fairmount Park Leads to Injuries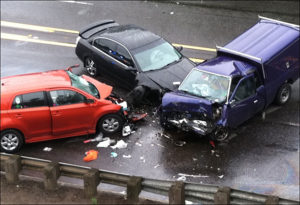 Philadelphia Authorities are currently investigating a Fairmount Park vehicular accident that resulted in multiple injuries.
At the start of rush hour on Wednesday the 13th of July, two vehicles collided on Martin Luther King Drive near The Strawberry Mansion Bridge. The crash resulted in six injuries. Among those reported as injured were three adults and three juveniles. Of those involved in the accident, local authorities have stated that three children received medical attention at Hahnemann University Hospital. The ages of the children were listed as six, nine, and fourteen.
In addition to the three children who were injured, another three individuals sought medical attention. Following the accident, a thirty-three year old women and thirty-six year old man were also rushed to Hahnemann University Hospital for care. The Hospital reported that the male was in stable condition, while the female was listed to be in critical condition. A fifty year old man involved in the wreck was taken to Penn Presbyterian Medical Center, for injuries sustain in the accident. He was later reported to be in stable condition.
The accident resulted in the closing of Martin Luther King Drive for roughly two hours on Wednesday evening as authorities investigated the scene. The exact cause of the accident is still unknown as police continue to investigate.
Following the completion of the investigation, those involved in the crash could be entitled to monetary compensation via a personal injury lawsuit depending on the authorities findings and extent of the damages withstood. The filing of a personal injury lawsuit is a complex legal process, therefore it is of the utmost importance to seek legal counsel.
If you or a loved one have been injured in a motor vehicle accident, pedestrian accident, slip and fall, or any premises liability related incident it is in your best interest to contact a law firm. Cohen & Riechelson have handled thousands of cases across Bucks County, Philadelphia, North East Philadelphia and surrounding cities such as Bensalem, Bristol, Levittown, and Doylestown. Call the firm today for your free initial consultation, 215-337-4915. Our reputation is our greatest asset, we guard it with your satisfaction.
For additional Information pertaining to this incident, access the following article 6 injured after 2 vehicles collide in Fairmount Park