Filing a Lawsuit for Fireworks Accident Injuries
Fireworks Accidents and Injuries Pose a Significant Risk, Especially During Holidays and Celebrations Where Fireworks Are Frequently Utilized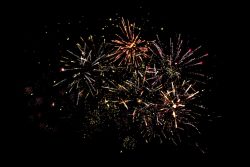 What's more fun than curling up on a big blanket on the grass to watch an impressive, professional display of fireworks on the 4th of July? Setting the fireworks off yourself! But enjoying the splendor of bright and colorful explosions lighting up the night sky also comes with some physical risks to both spectators and those igniting the fireworks. Last year, Josh Beal, a PA resident was severely injured when lighting fireworks for the 4th of July. The fireworks immediately exploded as soon as he lit them and the explosion took off the top of his hand. It also caused injury to his ear.
When someone is injured by fireworks, they may require medical care and, depending on the situation, may suffer permanent scarring or injuries. While firework accident deaths are rare, they can and have occurred. If you've been injured in a fireworks accident in Pennsylvania, you should know that you may be able to recover compensation for your injuries and related expenses if someone was negligent in causing the accident, the fireworks were defective, or the design of the fireworks was unreasonably dangerous. Contact our team of personal injury attorneys for immediate assistance in a free consultation at (215) 337-4915.
Understanding Fireworks Regulations in Pennsylvania
In Pennsylvania, it is legal to purchase Class C or consumer fireworks if you are 18 years of age or older. You can purchase many different kinds of fireworks in brick and mortar stores, including bottle rockets, sparklers, Roman candles, firecrackers, and reloadable aerial shells. Fireworks can also be sold in temporary structures within 20 days of their opening, but these temporary stores are more limited in the type of fireworks they are allowed to sell. Display fireworks, which include multi-break shells, pyrotechnic devices, and massive aerial shells, can only be used by licensed professionals and are not available to the public for purchase. Consumers are allowed to set fireworks off on private property, with the permission of the property owner, but not within 150 feet of a structure that is occupied.
Improper Use and Negligence Among the Leading Causes of Fireworks Accidents
Firearm accidents can occur through improper use or negligence by those handling and igniting the fireworks, but they can also be caused by a problem with the product. If a firework is improperly assembled during the manufacturing process or is designed in a way that is likely to cause danger, even if it is otherwise handled properly, then those errors can result in an unexpected accident. Defective fireworks can present a serious danger even to firework professionals. They can go off prematurely or fail to go off for a delayed period of time, causing those handling the fireworks to believe the firework will not ignite and then get dangerously close to it when it does.
Other accidents may be caused through poor judgment, carelessness, or even recklessness of those handling the fireworks. If proper safety precautions are not followed and the fireworks are set off too closely to people, a building, or flammable material, the handler, spectators, or bystanders can be seriously injured.
Dealing with the Severe Consequences of Fireworks Injuries
Due to the inherently explosive nature of fireworks, the injuries caused by firework accidents tend to be significant and often scarring or deforming. One of the most common types of fireworks accident injuries is burns, which can range from minor burns to permanent scars. Being involved in a fireworks accident also presents a significant risk to the eyes, which are vulnerable to injury from flying sparks or debris flying in the air. Other firework injuries may include lacerations, severe tissue damage, fractures, and even amputations, especially of the fingers.
Identifying Liability for Fireworks Accident Injury in PA
If you are the victim of a firework accident, then you may be able to recover damages from the individual handling the fireworks if they were negligent, the property owner of the place where the fireworks were set off, and/or the manufacturer of the fireworks. Even if you were the person setting off the fireworks, you may still be able to recover damages from the fireworks manufacturer if the product was defective.
Additionally, Pennsylvania follows the legal rule of modified comparative negligence, which means that even if you contributed to causing your own injuries, you can still recover damages from another party that was negligent in causing the accident that resulted in your injuries, so long as you were less than 51% responsible for the accident. The amount of damages you can recover will be proportionate to the other party's contribution in causing the accident. However, if you are 51% or more responsible for causing the accident, then you cannot recover any compensation from another party.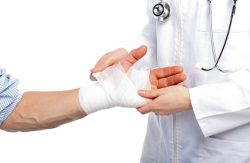 Property owners may also be liable for firework accidents that occur on their property. If the fireworks show was held by a town, government, or school and they hired a firework company, it is important to examine the contract that existed between the public entity and the firework company to determine liability.
Finally, many firework accidents result from a defective product. If a firework did not work properly or if its design renders it unreasonably dangerous even when used properly, then the firework manufacturer may be subject to strict liability under products liability law. Strict liability means that the injured plaintiff need not prove that the manufacturer breached a duty of care in order to establish liability. If the product was defective and the defect caused the plaintiff's injury, then the manufacturer will be responsible for the resulting damages, which may include medical bills, physical therapy, compensation for lost wages, and more.
Injured by Fireworks? Contact a Bensalem Personal Injury Lawyer for Help Getting Compensation
Injuries caused by firework accidents are often complex personal injury cases because the cause of an accident is not always immediately apparent. Particularly in the case of a defective product, once a firework explodes, evidence of the product's construction is often destroyed. Furthermore, injury claims based on a theory of products liability are generally far more complex in nature than a negligence claim.
Securing the counsel of a personal injury lawyer who is highly experienced in both negligence and product liability claims is very important if you have been injured in a fireworks accident. Our team of professionals at Cohen and Riechelson will examine all of the available evidence to reconstruct the events leading to your injuries and determine who was liable for causing them. No one expects to get hurt when they go to enjoy a fireworks display, but when you do, you deserve to be properly compensated for your injuries. For a complimentary consultation of your fireworks accident case in Bensalem, Croydon, Levittown, Fairless Hills, Langhorne, Northeast Philadelphia, Philadelphia, Doylestown, Bucks County, or elsewhere in Pennsylvania, contact us. Get a free case review by calling (215) 337-4915 or contacting us online. We can help you seek compensation for injuries related to fireworks.