Eye Injuries Affecting Work and Daily Activities
Few Injuries are as Distressing as Those Affecting the Eyes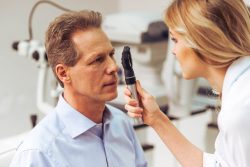 We often take our senses for granted until something happens that affects them.  One of the senses we use the most is our eyesight because it plays a vital role in our everyday lives.  It isn't just about seeing the world around us; it is how we relate to others, and communication is made clearer when we look at someone.  Our eyesight helps us go about our day, driving to work, getting on the bus, going to the grocery store, etc.  Most of our learning happens through our eyesight, and person-to-person communication requires good eyesight.  Reading facial expressions and social cues prevents miscommunication.  Most professions require precise visual skills, as do learning and education.  Leisure activities such as movies, theater, museums, and sports add to the richness of life.  Independence and emotional well-being are linked to our eyesight.  The ability to take care of oneself by cooking meals, dressing appropriately, cleaning, and other household activities are influenced by our ability to see.
Learning How to Identify an Eye Injury in Pennsylvania
The symptoms of an eye injury are blurred or double vision, full or partial vision loss, damage to the retina or cornea, sensitivity to light, diminished peripheral vision, and traumatic brain injuries with vision problems.
Prevalent Reasons for Eye Injuries and Vision Loss in the Workplace
The most common causes of eye injuries and vision loss in a work environment are related to construction and heavy labor occupations such as factories.  Dust, metal slivers, marble chips, and other materials can penetrate the eyeball causing devastating damage.  Penetrating objects, nails, tools, staples, and screws can cause blunt-force trauma or penetrate the eye.  Industrial chemicals such as bleach and industrial cleaning solvents can splash into the eyes.  Healthcare workers must watch out for bloodborne pathogens from blood and other bodily fluids, which can cause vision-damaging infections.  Thermal burns occur in manufacturing plants where workers face a hot environment with materials that can burn them instantly if mishandled.  Radiation burns can damage the entire eye the infrared radiation, lasers, and ultraviolet radiation.
How Can Daily Activities Cause Eye Injuries?
Slips and falls are the second most common cause of eye injuries, either because of brain trauma or because of a foreign object in the eye during the fall.  The most common cause is fighting.  A broken or cracked orbital bone cannot protect the eye as it was meant to and can result in the loss of an eye.  Fourth of July fireworks cause thousands of severe eye accidents a year.  Bicycle and quadricycle accidents are less common but usually occur when the rider isn't using a helmet.
Various Types of Eye Injuries That Can Occur While Working
Injuries such as eye or eyelid lacerations, chemical burns, orbital bone fractures, penetration of the eye by a foreign object, corneal abrasion, eye infections caused by debris or liquids, hyphemia (blood between the cornea and iris), subconjunctival hemorrhage, and inflamed iris.
The most common injury in the workplace is corneal abrasion. Because pieces of dust or flakes of some material can enter the eye, irritating it.  The debris can scratch the cornea when the injured person rubs their eye. Minor scratches can ulcerate and lead to partial or complete vision loss.
If exposed to toxic chemicals, fumes, or extreme heat, industrial workers can suffer eye damage.  The damage can occur in an instant and may be impossible to repair.
Possible Eye Injuries in Everyday Activities
Summertime is when ocular accidents happen the most.  Corneal flash burns can cause permanent damage to your cornea.  You can get it while in a tanning salon, the reflection of the sun off the water, looking at the sun, looking directly at a photographer's lamp or other very bright lights.  Other injuries are blows to the eye, abrasions or scratches to the eyeball due to a foreign body that can occur at any moment,  projectiles that enter the eye directly, such as paintball pellets, and chemical burns from housing products.
Safety Precautions to Avoid Eye Injuries in a Work Environment
Using eye coverings such as goggles and glasses can prevent eye injuries at work. Protective eyewear should fit properly to give the full benefit of the protection you need while not affecting your peripheral vision.  You should be aware of your surroundings at all times.  Sometimes, we have the tendency to zone out, becoming distracted. Proper training of employees also prevents accidents, as do safety checks, close supervision, and posted security precautions to contribute to a safer work environment.
Does Worker's Compensation Cover Eye Injuries in PA?
Thousands of workers suffer from work-related injuries yearly; nearly 24% are eye injuries. Of those, about 35% require emergency medical treatment.  Of that 35%, approximately 20% will result in temporary or permanent vision loss.  That indicates that worker's compensation is a vital system of comprehension to sustain the injured worker economically.
Quick Actions After Sustaining An Eye Injury in Pennsylvania
If you injure your eye, you should seek medical attention immediately.  If you rub your eye when there is a foreign body in it, you could scratch or perforate your cornea, causing permanent damage and partial or total eye loss.  If you are hit by something in the eye, you should cover your eye with a soft cloth and go to the ER.  An orbital fracture or chemical burns require special attention, so call 911 and wait for an ambulance to take you to the hospital.  You shouldn't ever attempt to remove something from your eye without medical supervision.
Contact Bensalem Eye Injury Lawyers for an Initial Consultation
Having an eye injury can be terrifying. We are not talking about a sprained ankle or a broken finger.  Losing your eyesight is one of most people's worst nightmares. Your attorney can help you with your worker's compensation claim if you are injured at work.  If your injury was due to someone's negligence outside of work, you could have a personal injury claim and will need legal assistance with your lawsuit. Fortunately, our vision loss lawyers can help you seek damages for eye injuries in Pennsylvania.
At Cohen and Riechelson, our priority is to get you the settlement you deserve so you can heal and move on after your accident in Bensalem, Morrisville, Warminster, Buckingham, Levittown, and throughout Northeast Philadelphia & Lower Bucks County, Pennsylvania.  We have the resources and talent to fight for you.  If you have sustained an injury to your eyes, you could be entitled to monetary compensation for your injuries.  Let our seasoned attorneys represent you with skill, compassion, and dedication, confronting any and all legal challenges that you may face in pursuit of justice and a financial recovery.
Call our team members today at (215) 337-4915 or complete our online form. The sooner we get started, the faster we can resolve your case for you.