Work-Related Diseases and Illnesses in Bucks and Philadelphia County Workplaces
Workers' Compensation is Required by Law for Employers Bensalem, Philadelphia, Feasterville, Bristol, and Levittown PA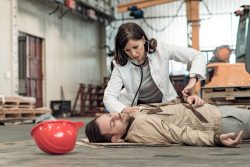 Many people are sensitive to an understanding of people who suffer work-related injuries. Less well understood are those who suffer from illnesses and diseases contracting through their jobs or work-related activities. However, under Pennsylvania's Workers' Compensation Act, "injury" has a detailed and broad definition that covers a wide variety of ailments and conditions including diseases and illnesses that a Philadelphia employees could suffer due to their job.
If you or a loved one suffered an illness due to the work-related activities, talk to an experienced attorney about a possible financial compensation, you might be entitled to. Our work compensation attorneys have been serving clients across Bucks County towns including Bensalem, Northeast Philadelphia, Levittown, Feasterville, Millbrook, Penndel, and all of Southeastern Pennsylvania for many years. Please contact us online or through our Bensalem, PA office today by calling (215) 337-4915 for a free and confidential consultation.
Types of Occupational Diseases
Possible work-related illnesses include:
Certain types of chemical poisoning, such as lead, arsenic, asbestos, mercury as well as others. (common for workers who have occupational exposure in construction or chemistry)
Working for years in poorly ventilated areas that can cause lung cancer (common for office workers as well as many other types of employees)
Cancers caused by repeated exposure to cancer-causing fibers (asbestos) or cancer-causing chemicals
Any repetitive action that results in disability, such as carpal tunnel syndrome or serious wear to the joints
Previous or pre-existing illnesses or conditions being worsened by workplace conditions such as asthma
Working in a high-stress environment that can cause mental illnesses and stress-related disorders
Diseases spread by blood, such as tuberculosis or hepatitis. (Nurses, lab personnel, and other medical employees are usually more at risk)
Diseases of the heart or lungs (firemen working four or more years)
Pneumoconiosis and silicosis (workers who have direct exposure to coal dust)
Occupational diseases fall under the Workers' Compensation Act, but they are considered separate from injuries. Work-place illnesses are considered to be diseases that the employee contracted or was worsened due to workplace conditions. Proving that the disease was due to the workplace or industry, may allow the sick employee to file a workers' compensation claim.
OSHA Classifications
The Occupational Safety and Health Administration (OSHA) oversees monitoring work conditions for employees in Pennsylvania. Most workplace illnesses are caused by OSHA code violations that are completely preventable. As in the case of easy-to-detect toxic substances that workers can be exposed to.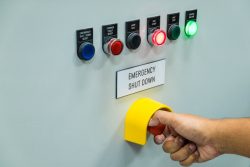 The types of OSHA Violations are as follows:
Serious: A workplace hazard that could cause an illness or disease that would most likely result in death or serious physical harm, such as a respiratory affliction, poisonings, and cancers in addition to many other serious illnesses. This standard is applicable if an employer did not or could not know of the violation.
Willful: In such cases, the employer either knowingly failed to comply with a legal health or safety code or showed a clear indifference to employee safety in the workplace.
Repeat: This occurs when an employer has been cited previously for the same or similar conditions within the last five years.
Workers' Compensation Claims based on Illness or Disease for Philadelphia Employees
Workers' compensation insurance is required by law for employers in Philadelphia and elsewhere in PA. It is meant to cover any serious injuries or contracted illnesses that occur on the job. Under such insurance policies an employee made sick on the job can file a claim under workers' compensation, which will usually cover any necessary medical treatment and a portion of the individual's lost wages.
Traditionally, illnesses that are caused at work have been some of the most hotly contested types of workplace injury claims. Employers and insurance companies tend to fight these claims tooth and nail because of the implications for other workers. If there is one person who was made ill by their activities or environment at work then there will tend to be more. However, the truth is that for most employees getting seriously sick on the job can have serious consequences for their future and overall well-being. The result is often expensive and can include major medical costs, lost wages, lost future career opportunities, pain, and suffering as well as much more. Furthermore, proving such a claim is often very difficult and will need the skills of an experienced and skilled worker's compensation attorney.
Contact Our Northeast Philadelphia Worker's Compensation Attorneys
If you were injured at work or got a disease through your work activities, you need to address this serious matter by talking to a trusted work injury attorney. Cohen & Riechelson have extensive experience representing the victims of work injuries in Philadelphia, Bucks County, Bensalem, and across Pennsylvania. We can help with your worker's compensation claim and even if for any reason you have been denied, we will assist you with the appeal.
Contact us today for a free initial consultation by dialing (215) 337-4915 or visit our website to fill out an online form.