Burn Injury Accidents and Painful Consequences for Pennsylvania Victims
There are a Variety of Burn Accidents That Can Leave You with Severe Physical and Emotional Ramifications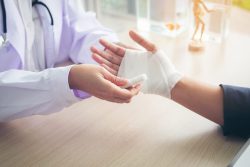 Burn injuries leave more than just scars. Accidents that cause burns can take years to physically recover from and even more to emotionally heal from. If you have been injured in an accident that has caused burns to any part of your body due to someone else's negligence, it is imperative that you seek the support of an accident injury lawyer to recover full damages for your injury and its physical and emotional repercussions. Read on to learn more about Pennsylvania burn accidents and how you can obtain full financial support for your road to recovery after being injured in one of these devastating incidents.
Common Types of Burn Injuries
According to the John's Hopkins Medical Center, burns are those injuries that are caused by thermal, radiation (including the sun), electrical or chemical contact, and damage to the tissue of the skin. Common types of burn injuries include those caused by contact with fire, burning liquids, steam, chemicals touching bare skin, and hot surfaces. Symptoms depend on the degree of the burn and can include pain, inflammation, change in color of the skin from red for mild burns to black for severe burns, and blistering.
Burn Degrees and Their Meaning
Burns are classified as a first, second, or third degree. Degrees show the damage to the skin tissue that has occurred by a burn based on the depth of the burn and the amount of skin affected.
First-degree burns affect the top layer of skin, the epidermis. Examples of first-degree burns are sunburns. These types of burns are the least severe, and while they may cause pain and mild inflammation, they usually do not form a blister.
Second-degree burns affect both the top layer of skin and lower layers, the epidermis, and dermis. Such burns create pain, inflammation, and blistering.
Third-degree burns are the most penetrative of the skin tissues and also damage nerves, and as such, are the most severe. They affect all skin layers: the epidermis, dermis, and fat. Such injuries cause pain in the surrounding areas (no pain is caused to the area of the third-degree burn itself because nerve endings registering pain have been damaged) and create a dark, leathery look to the skin.
Common Circumstances and Accidents Leading to Burn Injuries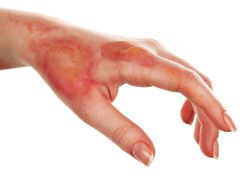 There are a number of accidents caused by someone's negligence that can lead to a burn injury and result in a personal injury case. Automobile accidents involving cars or motorcycles can often cause burn injuries. While any type of automobile accident that affects the gas tank or electrical wiring and involves an explosion or fire could cause serious burns, motorcyclists run a particularly large risk because they are exposed to skin tissue damage caused by friction with the pavement.
On the job, there are a number of dangerous professions and workplace environments that can lead to a burn injury. Electricians and construction site workers that install electrical lines run the risk of sustaining electrical burns. Cooks in the food service industry may sustain injury due to a hot surface, exploding hot oil, or other heat-related injury. Employees could sustain burns by handling improperly-stored chemicals for cleaning or other use. And poorly-laid electrical wiring could lead to any number of burn injuries for any number of private or professional victims.
Property owners may also neglect the properties they have a duty to maintain for the safety of customers, visitors, or residents. When apartment owners, rental home owners, business owners, landlords of commercial buildings, and similar parties responsible for safety precautions and property maintenance fail to uphold there legal responsibilities causing burn injuries, this can be grounds for a premises liability claim against them by injured victims.
Recovering Damages for Burn Injury Caused by Someone Else's Negligence in PA
If you've sustained a burn injury due to someone else's negligence, you may be entitled to recover damages. A personal injury lawsuit facilitated by an experienced burn accident lawyer can help you recover full financial damages for:
Medical expenses
Rehabilitative therapies
Lost wages
Out-of-pocket expenses related to your injury
Emotional and physical pain and suffering
Often, burn injury financial recoveries are uniquely determined to account for the psychological support needed to recover from the trauma, which can be a serious part of any burn injury sufferer's life moving forward.
Contact Bensalem Burn Injury Lawyers for Help Suing for Compensation after a Pennsylvania Burn Incident
Have you been injured in an accident caused by someone else's negligence and have sustained burn injuries? Our team can help.  Cohen & Riechelson represents clients affected by burn injuries in Yardley, Fairless Hills, Doylestown, Croydon, Levittown, and places nearby Northeast Philadelphia & Lower Bucks County, Pennsylvania. At our firm, we work towards fully recovering damages to ensure that their rights are protected, and they are completely supported on their road to recovery. We hold your health and capacity to maintain it to be our highest priority. Contact us at (215) 337-4915 or fill out the easy-to-use intake form for a free consultation today.