Damages Caps and Injury Lawsuits in PA
Knowing what a Damages Cap is and How it Can Apply to Your Case is Imperative to Manage Expectations when Suing Another Party for Injuries in Pennsylvania
Are There Damages Caps in Pennsylvania Personal Injury Cases?
For particular situations, states only allow a certain amount of monetary relief to be awarded by a court due to what's called a damages cap.  When suing the Commonwealth of Pennsylvania, a damages cap certainly exists because of the concept of Sovereign Immunity. Sovereign Immunity as it relates to a damages cap, is the idea that if the government is sued and found guilty of negligence, the damages awarded to the plaintiff will be paid by the taxpayers of the Commonwealth. Since the source of the awarded damages is the taxpayers, there is a cap on what can be awarded.
What Types of Damages Can Be Awarded when Suing the PA Government for Injuries?
PCS 8528 limits you in what specific damages can be recovered in a suit against the government. These damages include any loss of earnings and earning capacity, any pain and suffering as a result of the act, any medical expenses that were necessary for the recovery of the plaintiff, loss of consortium or the damage done to family or marriage, and any property loss except property loss excluded in Pennsylvania Consolidated Statute 8522.
Damages Limitations for Claims Against the Pennsylvania Commonwealth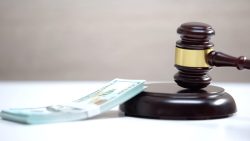 Pennsylvania Consolidated Statute 8528, the damages cap in a liability suit against the Commonwealth is $250,000 per claimant and $1,000,000 per incident. The $1,000,000 applies to any incident that include multiple plaintiffs or injured parties who put forth claims arising out of the same transaction and/or occurrence. The damages cap also limits any punitive damages in your case. Punitive damages are awarded to plaintiff in an effort to punish the defendant and to deter any similar actions in the future. There cannot be any punitive damages awarded to plaintiff who is taking on the Commonwealth of Pennsylvania.
What is the Limit on Damages in Claims Against Local Governments in PA?
Pennsylvania Consolidated Statute 8553 limits the amount of damages awarded in a case against any local governments in Pennsylvania to $500,000. This includes any aggregate claims arising out of the same transaction or occurrence, or the same incident even if there are multiple parties. Much like statute 8528, 8553 limits the plaintiff(s) in what specific damages are recoverable as well. These include all loss of earnings and earning capacity, pain and suffering such as permanent loss of body function or death, disfigurement, dismemberment, required medical expenses (including dental) loss of consortium or support, and property losses.
Cap on Damages in PA Medical Malpractice Claims
If the case is for medical malpractice in Pennsylvania and it involves a negligent party outside of the purview of the government, punitive damages can be awarded in the amount of double whatever the compensatory damages may be. For example, twice the amount of $250,000 would be $500,000 in punitive damages. Furthermore, there is a fund where 25% of the all punitive damages must be paid (Medical Care Availability and Reduction of Error Fund). Essentially, this is a fund that completely undermines the purpose of punitive damages by allowing medical professionals to rely on the fund in order to ensure punitive damages can be paid out to those they injure.
How Long do You Have to File an Injury Claim Against the Pennsylvania Commonwealth?
When someone wants to sue the Commonwealth of Pennsylvania they must do so within six months of the date of injury and submit, in writing, to the office of the Attorney General the name and residence of the plaintiff, the name and residence of the injured, the exact hour and date of the injury, the location, and the name and office location of any treating physicians. If this is not done within six months of the injury, the action is dismissed, unless a reasonable excuse is given.
What is the Time Limit to File a Claim Against a Local Government or Agency in PA?
When someone wants to sue any government agency or part of the government other than the Commonwealth, the six month time limit does not include any time that the injured person is physically incapacitated or unable to perform the requirements as they are set forth in Pennsylvania Consolidated Statute 5522. This time cannot be more than 90 days though. However, if the injury resulted in death, the time clock starts at the time of death.
Seek Experienced Counsel Regarding a Potential Cap on Your Injury Claim Damages in Pennsylvania
Hiring an experienced personal injury attorney at Cohen & Riechelson to handle your case against a person or entity that injured you is extremely important, especially if your case is against the Commonwealth of Pennsylvania, as you are taking on an entire State government. The Commonwealth has virtually endless resources and will do everything in their power not to look bad in the press and not to pay out any money even though it may be justified. They will fight you with any and all attorneys available to them, and you need to put your best foot forward by hiring an experienced attorney who knows the ins and outs of what it takes to file a claim against the Commonwealth of Pennsylvania or a government unit in Pennsylvania. Being injured can leave you feeling vulnerable and overwhelmed as it is.
No matter who caused your injuries, our Pennsylvania personal injury lawyers will take on the burden of the legal process, and we do not back down in the face of aggressive defense attorneys or seemingly overwhelming odds when advocating for our clients. If you are interested in pursuing compensation for damages that you or a loved one suffered in an accident, such as a slip and fall, motorcycle accident or car accident on a dangerous road, an injury due to construction or another governmental project, medical malpractice, or another incident involving negligence by another party, contact us at (215) 337-4915 or fill out our online form to start working on your injury case as soon as possible. We serve injured victims and their families in Bucks County, Fairless Hills, Doylestown, Croydon, Horsham, Newtown, Langhorne, and towns throughout Northeast Philadelphia and Pennsylvania.