What to Do if You are Injured in a Workplace Slip and Fall in Pennsylvania
Providing Support to Injured Victims Due to Slip and Falls in the Workplace in Pennsylvania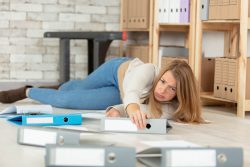 Employees are frequently at risk for accidents in the workplace due to no fault of their own.  Anything from a leaky pipe that leaves a puddle on the floor in the restroom to an icy warehouse platform where the trucks are loaded can cause you to slip and fall, leaving you with a severe injury and unable to work.  One-third of all workplace injuries are attributed to trips, slips, and falls. A personal injury attorney can help you obtain possible benefits from workers' compensation that could provide you with the money you need for lost wages while you recover from your injuries.
How Prevalent Are Workplace Slip and Fall Deaths in Pennsylvania?
In a comparative study by the U.S. Bureau of Labor and Statistics, between 2011 and 2020, the number of work accident fatalities has shown a downward trend. Looking specifically at 2020, there were almost 4,800 fatal accidents at work, the lowest number in the past decade. In Pennsylvania, workplace fatalities went from 175 in 2018 to 154 in 2019 and 147 in 2020.  The number of deaths attributed to slips and falls was 16 in 2019, which unfortunately went against the downward trend as in 2020, there were 28 slip and fall fatalities.  Pennsylvania's average number of deaths from slips and falls is slightly above the national average.
Leading Causes of Slips and Falls in Dangerous Work Environments
The most apparent cause of slips and falls is wet or oily floors.  Restaurants, factories, and even schools are familiar places where spills are left unattended until someone has an accident.  Winter weather brings snow and ice, making for slippery steps and pathways.  You can't keep the snow from falling, but you can treat stairs, sidewalks, and employee parking areas with salt and snowblowers. Gravel or potholes in walking areas are also a problem. Frequently umbrellas are left to dry on the floor beside the entrance making it wet and slippery, so even when it isn't snowing, the weather can still cause problems.  Broken pipes that leak water or other substances can cause a serious hazard.
Any spillage from an accidentally opened material can cause immediate danger when working in manufacturing or a warehouse.  Bags of flour, grains, small objects such as marbles, and a plethora of other items, can cause you to slip and fall.  Broken stairs or handrails can cause a slip and fall accident. Loose carpeting or entrance and exit mats and loose or broken floor tiles that are falling apart can also cause a hazard.  Light bulbs that are burned out or dark areas that need more lighting can instigate an accident.  Whether in the office or on the factory floor, cables for extension cords or power tools have to be taped to the ground and secured so as not to cause someone to trip.
Typical Workplace Slip and Fall Injuries
Many people think that a slip and fall injury isn't much to worry about but nationwide, approximately 15% of all workplace accident fatalities are from slip and fall accidents.  Severe neck injuries, cracked cervical bones, herniated discs, spinal contusions, and spinal cord injuries.  Any of these injuries can cause partial or complete paralysis.  A Traumatic Brain Injury (TBI) can lead to convulsions, amnesia, neurological damage, coma, and possible death.   Torn tendons, ruptured ligaments, broken bones, contusions, and abrasions can also occur, as can joint injuries, facial injuries, and lacerations. Broken hips and pelvis injuries can require multiple surgeries and painful recuperation. Less serious but just as painful are sprains, strains, and dislocations.
Can I Sue My Employer For My Fall?
If your employer has workers' compensation insurance, you will receive benefits.  You must file a personal injury lawsuit in court if your employer does not have it.
If you file for workers' compensation and your claim is accepted, you cannot sue your employer.  Workers' compensation is a no-fault situation where you get the benefits from workers' compensation in return for your employer's immunity from litigation, even if your employer's negligence was a factor in your fall. If your workers' compensation application is denied, you can appeal with the Bureau of Workers' Compensation.  They will approve or deny your request.
Pursuing a workers' compensation claim that has been denied is no walk in the park. According to the Pennsylvania Department of Labor, claimants are encouraged to seek legal representation to handle the complex process.  The other side will have several lawyers, and you shouldn't go into this alone.
How Should I Proceed After a Workplace Slip and Fall Incident?
First, you should get medical attention.  It is essential to get a diagnosis and receive a prognosis, follow-up treatment, and begin a medical record that can demonstrate your progress. Second, you must contact your employer and report the accident.  If you were working off-site, you should notify your employer and the property owner of where you were hurt. If possible, take photos of the accident scene or have a coworker do it for you if you are too injured.  It is helpful to have visual proof of the accident site.  Next, if anyone saw the accident, get their contact information, as they can be used as witnesses if needed.  Also, save any evidence.  If you slip on oil, keep your shoes and clothes if they have traces of liquid on them. The last and probably most important thing you can do is hire an attorney.  It would be best if you had someone to protect your rights and investigate every angle of your case.
Handling Slip and Fall Accident Claims in Pennsylvania Under Workers' Compensation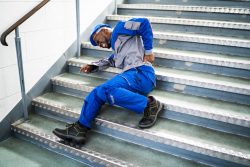 Suppose you are receiving benefits from your employer's workers' compensation insurance. In that case, you could receive payment for past, present, and future medical costs, lost income and lost future potential income, and physical and occupational therapy.
After the accident, your employer must be notified.  A report will be sent to the Bureau of Workers' Compensation. Medical expenses such as medicine, hospital treatment, surgeries, physical therapy, and doctor or specialist appointments are covered.  Your employer may require you to use the healthcare provider associated with their workers' compensation program, but only if they give you a list of six or more providers or doctors.  You have to use a provider on that list, but your employer cannot force you to use one particular healthcare provider from the list.  Your medical costs will be paid according to a fee schedule rate.  It is illegal for the healthcare provider to charge you the difference between their costs and what the insurance pays.
Total disability benefits kick in after the employee has missed a work week. After 104 weeks of benefits, the insurance company or the employer can request a medical examination.  If the employee is at least 35% impaired, they will continue to receive assistance.  If the 35% point is not reached, the employee will be moved to partial disability. Partial disability status is applicable for a total of 500 weeks (approx. nine years and three weeks). If it is determined that the employee has an impairment equal to or greater than 35%, they may be transferred to total disability.
Call Today for a Free Consultation with Our Workplace Slip and Fall Accident Attorneys in Bensalem, PA
Mild injuries such as a twisted ankle or a bruised arm may not demand an attorney to help you with your workers' compensation case. Still, you shouldn't think twice about hiring a workers' compensation and personal injury lawyer if you are seriously injured.  You have 120 days to report your injury to your employer, although it is recommended not to wait as it could affect your prognosis.  Your employer may be more reticent to accept your claim if you don't report it soon after it happened.
Cohen & Riechelson is a highly respected personal injury firm with seasoned attorneys knowledgeable about workers' compensation. We know the difficulties insurance companies can cause when your injury costs them money.  We will defend your rights as we meet with your doctors and map out a plan of action for a workers' compensation or personal injury claim in Levittown, Yardley, Fairless Hills, Doylestown, Bristol, and towns in Northeast Philadelphia, Philadelphia, and Bucks County, Pennsylvania.  You need to focus on getting well and let us handle the rest.
For your free consultation, call our offices at (215) 337-4915 or look us up online to coordinate a free consultation. We are accomplished slip and fall lawyers handling workplace accidents and injuries for injured workers throughout Pennsylvania. If you want to know how we can assist you, contact us today.