What Injuries Qualify for Workers' Compensation vs Personal Injury Claims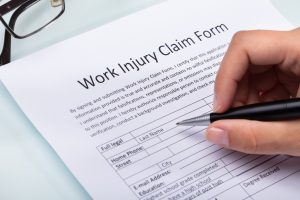 Accidents and the worsening of pre-existing medical conditions in the workplace are an unfortunate everyday occurrence for many Americans. Such events, however, do not have to affect your financial situation as you may qualify to receive workers' compensation benefits. There are many types of incidents that can take place at work such as crane accidents, forklift accidents, scaffolding accidents, defective product injuries and even motor vehicle accidents to name but a few. In many cases where someone has been injured or is continually injuring themselves on the job, those injuries that arise while at work are covered exclusively by workers' compensation benefits.  However, there are also instances in which you may also file a personal injury claim, to recuperate financially from individuals or parties who are determined to be responsible in some way for your injury due to neglect or negligence.
Cohen & Riechelson, are experienced legal advocates skilled in safeguarding impartial compensation for our clients. With a collective 40 + years experience in Bensalem, Levittown, Feasterville, Millbrook, Penndel all over Bucks County the countless successful cases that we have successfully navigated for those injured at their workplace have earned the trust of a wide array of clients. Our extensive and evidence-based method involves cooperation among our highly-accredited attorneys. To discuss your exclusive circumstances with a member of our personal injury team free of charge, contact us online or at our Bensalem offices anytime at (215) 337-4915. An honest and complete case evaluation is the first step toward obtaining a desirable outcome.
Bucks County Work-Related Injuries Under Workers' Compensation
There are a number of injuries, illnesses and diseases that are covered under Workers' Compensation (WC). It is important to note however that no compensation can be awarded when the injury/death is intentional, self-inflicted, or is the result of an employee's violation of the law. Those entitling you to a specific loss award in addition to payment for lost wages and medical care benefits that may be available are as follows;
Concussions – This distressing brain injury is unfortunately prevalent, and it can still from time to time transpire even with the use of protective equipment. Even if you are the at-fault party, workers' compensation may offer you some financial aid for the treatment of your injuries. Moreover, if someone else was at fault, you may have a third party claim against the person who caused the accident in addition to a claim.
Knee Surgery – These injuries are especially common in physical labor jobs that are strenuous. Such as lifting heavy objects and tools or simply being on your feet for many hours each day. Equally, if you're suffering from enduring knee pain and you believe your job is the cause of your problem, you should consider filing a claim.
Back and Neck Injuries – These types of musculoskeletal injuries plague manual laborers usually due to physically challenging work, but they are also surprisingly typical amongst office employees. Talk to your employer about the importance of ergonomics in your office and how it may reduce workers' compensation claims. If you're already suffering, let your employer know as soon as possible.
Head, Face, and Neck Scars – These injuries are considered differently and should provide you with what is known as a "specific loss" award. These specific loss benefits, which also apply to a relatively short list of other injuries, guarantee that you receive the maximum benefits allowed, but also have defined limits as to how long you can obtain benefits.
Types of Benefits in Your North East Philadelphia Workers Comp Claim
Swift notification is crucial. Be sure to report any injury or work-related illness to your employer or supervisor immediately. You must tell your employer that you were injured during hours of employment and give the date and place of injury. Here are just some of the benefits that you may be entitled to;
Payments For Lost Wages – Total and Partial Disability Benefits Status can provide further information on disability status.
Death Benefits – If the grievance results in death, remaining dependents may be eligible for benefits.
Specific Loss Benefits – If you have lost the permanent function of all or part of your thumb, finger, hand, arm, leg, foot, toe, sight, hearing or have a permanent disfigurement on your head, face or neck, you may be authorized for a specific loss award.
Medical Care – In the event of a work-related illness or injury, you are entitled to the payment of related reasonable surgical and medical services rendered by a physician or other health care provider.
Contact our Bucks County Workers Comp and Personal Injury Lawyers
At The Law Office of Cohen & Riechelson, our skilled personal injury attorneys endeavor to recover compensation for the aftermath of a personal injury that occurred at work or while completing work related tasks. Let us fight for your case as we have been doing for over four decades in local Pennsylvania towns like Northeast Philadelphia, Bensalem, Levittown, Penndel, Millbrook, Feasterville, and all of Bucks County. Contact us online or at our Bensalem offices by calling (215) 337-4915 today to speak with a member of our legal team in a free and personal consultation regarding your workers' compensation personal injury claim.