Herniated Disk Injuries in Pennsylvania
Herniated Disk Attorneys in Northeast Philadelphia, Bucks County and across Pennsylvania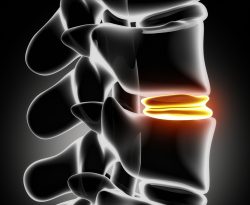 Regardless of how careful and aware we are as drivers, workers, and citizens of Pennsylvania, accidents happen. We do our best to ensure that, even when accidents do occur, the results are minor, and injuries are kept at bay. There are, however, instances in which we are injured as the result of an accident. One common and potentially debilitating effect of an injury is a herniated disk. Read on to learn more about how herniated disks affect those who are injured in this way, and why it is important to seek the support of a skilled personal injury attorney to help you file a lawsuit to recover damages caused by the accident, especially since the effects of a herniated disk injury can be long-standing.
What is a herniated disk?
According to the Mayo Clinic, a herniated disk is an injury to one or more of the 33 disks that rest in between the bony vertebrae that, together, constitute the spine. When the center of any of these disks – called the nucleus, which is soft and pliable – is pushed through a small tear in the outer casing of the disk – called the annulus – the disk is referred to as ruptured, slipped, or herniated. Depending on which of the vertebral disks is herniated, it can affect various areas of the spine, extremities, or nearby nerves.
So what causes a herniated disk? While a blunt injury such as an automobile accident can cause a disk to tear and slip, herniated disks are often caused by gradual wear and tear. This slow wearing-out process is called degeneration. Some of the factors associated with this degeneration are age, weight, genetic disposition, and occupations that put increased pressure on disks.
What are some effects of a herniated disc injury in Yardley?
The symptoms of a herniated disk can appear initially mild, with severity showing itself over time. Some of the common symptoms of a herniated disk are consistent, throbbing or stabbing pain; weakness in the lower limbs; numbness and/or a tingling sensation in and around the area of the injured disk; nerve injury and pain such as sciatica; and even incontinence or other bowel control issues. In rarer cases, people with a herniated disk do not experience any symptoms. With or without symptoms, the tear usually repairs itself, not requiring surgery.
What compensation can be recovered for herniated discs in Pennsylvania?
If you've herniated a disk in an abrupt accident that wasn't your fault, or you've been working in a job that has caused gradual degeneration that has led to injury, you have the legal right to seek compensation for these injuries. In order to ensure that you receive your fair share, it is essential that you have the support of a skilled personal injury lawyer.
It is important to know that Pennsylvania uses a modified comparative negligence approach, which factors in any fault your own actions may have contributed to your injuries. Under this approach, you can still bring a claim as long as you are 50% or less at fault and you can recover damages in proportion to your percentage of fault. There are several factors that must be reviewed to determine if the defendant was responsible for the injury, and how much the plaintiff can recover in damages. The factors include
medical expenses: How much has the victim had to pay in medical expenses related to the accident or injury, and what estimated outstanding medical expenses exist?
out-of-pocket costs: In addition to doctors' bills and medical expenses, what additional costs have the victim had to foot that hasn't been immediately covered by insurance? For example, are there pharmacy expenses and other over-the-counter health supports that the victim has had to pay for?
lost wages: Did the victim face time away from work in order to recuperate? If so, what wages were lost during the healing process, immediate and ongoing? Did the injury cause a long-standing injury that prevents the victim from working to their full capacity in the near and far future?
pain and suffering: In addition to the finite costs associated with the injury and recovery, did the victim suffer emotional and psychological injury as a result of the accident? What ongoing therapeutic and psychological support may be necessary to address such issues as Post Traumatic Stress Disorder (PTSD) or other non-physical traumas?
Contact our PA Back Injury Lawyer for a free consultation at our Bensalem office.
If you slipped a disk due to an accident or work-related injury, it is imperative to have legal help to recover maximum compensation. To ensure you are fully compensated for your herniated disk injury, you are well-advised to have a personal injury attorney working for you.
At Cohen & Riechelson our team of personal injury attorneys is ready to listen to your case and propose a working plan to go over your needs and present the most compelling claim on your behalf.  If you reside or have been injured in or near Levittown, Bristol, Croydon, Willow Groove, Horsham, or Yardley, do not hesitate to give us a call today at (215) 337-4915 or feel free to fill out our online form to schedule a free and initial consultation.