What is Hospital Negligence:  When Should You File a Lawsuit? 
For most, visiting a hospital for an emergency illness or injury is a routine experience.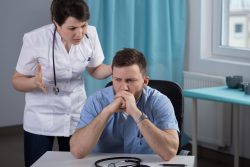 The care is sufficient, and the professionals treat you with a great deal of concern, making you their top priority.  Being in a hospital is never easy, but when treatment is needed, you want and deserve to feel comfortable with the individuals that step in to get you back on the road to recovery.
Unfortunately, sometimes things do not go as planned. The impact of a medical mistake can be huge, often leaving you with life-altering injuries and losses that cannot be fixed with a simple apology.  If errors are made at any point in the process, whether that is a misdiagnosis, a missed opportunity to treat a serious injury or illness poorly performed surgery, or a delay in treatment that makes your condition worse, you or a loved one may be entitled to make a hospital negligence claim.
The legal concept of medical malpractice is not limited to the conduct of medical doctors but applies also to anyone in the scope of employment, such as nurses, anesthesiologists, health care facilities, pharmaceutical companies, and others that provide health care services. The main thrust of a medical malpractice suit is proving fault that leads to personal injury often by the employer's liability to their employee's actions, such as a doctor or someone else directly related to medical care making a poor decision.
What is Hospital Negligence?
A hospital's medical staff consists of licensed physicians and other licensed health care providers, such as nurses, physician's assistants, and nurse practitioners. In hiring its medical staff, a hospital must make reasonable inquiries into an applicant's education, training, and licensing. If a hospital fails to make reasonable inquiries regarding a member of its medical staff, it might be held liable under the "corporate negligence" doctrine for negligent supervision or retention, if the staff member's negligent care injures a patient. A hospital might be held liable for its own negligence where, for example, it fails to investigate the credentials of an attending physician before granting him/her privileges at the hospital, or where it allows a physician whom it knew, or should have known, was incompetent, to treat patients at the hospital.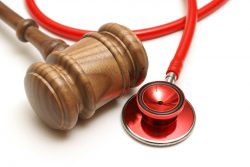 Hospitals are also required to ensure that there is a sufficient number of registered nurses on duty at all times to maintain quality patient care. A hospital that fails to do so may be held liable for injuries to patients resulting from a nursing shortage. Another area of potential liability arises when a hospital's employees fail to follow the orders of a patient's private attending physician. Conversely, if a hospital employee finds a private physician's treatment plan to be clearly contraindicated but fails to make a reasonable inquiry of the physician as to the treatment plan, the hospital could also be found liable.
What Is Vicarious Liability?
When a hospital employee's malpractice injures a patient, the hospital itself may be held vicariously liable under the legal doctrine of "respondeat superior." Under this doctrine, an employer may be held liable for the negligent acts of its employee, if the employee was acting within the scope of his or her employment when the negligent act or omission occurred. An example of this is when a patient receives the incorrect dosage of a medication or does not receive the needed diagnostic tests in order to receive proper care. This doctrine is very important to plaintiffs in medical malpractice cases because it helps ensure there will be a financially responsible party to compensate an injured plaintiff.
What are Some Reasons Hospitals have been Found Negligent?
This list names only the most common reasons why patients file negligence claims:
Surgical errors such as amputating the wrong limb
Objects left behind in a patient's body after surgery (e.g., sponges or scalpels)
Failure to properly monitor the patient
Failure to recognize a stroke or heart attack
Failure to diagnose a serious illness
Poor hygiene or sanitation, leading to infections
Ignoring patients when they call for aid
Failure to recognize fetal distress
Committing medication errors
Misreading lab results, X-rays, or CT scans
Failure to obtain informed consent
How Can I Prove My Treatment Was Negligent?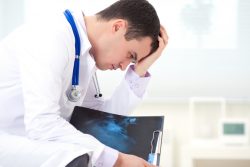 It can be very difficult to prove hospital negligence on your own.  Often the hospital or medical professionals involved are unwilling to admit liability. Bringing a case against a hospital for any of the issues listed above may seem overwhelming given the size of the institution It is important to work with a lawyer who is experienced in these kinds of cases and can do the investigating for you.  You can provide detailed accounts of your experience, statements from witnesses, and key dates and medical appointments.  Although some effort has been made to open the lines of communication between hospitals and patients suffering from negligent care, it is not often an easy task to get the information you and your loved ones need to understand what took place and the course of action you should take moving forward.
Reach out to our Bensalem Hospital Negligence and Medical Malpractice Attorneys Today
After you have been in the hospital, you have enough to manage. At Cohen & Riechelson we will keep you informed and allow you to attend to the physical and emotional challenges ahead, while we navigate the complex litigation process, take on reluctant and often combative hospital staff, and never charge you a cent until you are justly compensated.
For a free comprehensive consultation, contact the Bensalem law offices of Cohen & Riechelson today at (215) 337-4915 or our online form.