Can MRI and CT Scans Fail to Detect Traumatic Brain Injury?
Traumatic Brain Injury Attorneys serving clients throughout Bucks County and Northeast Philadelphia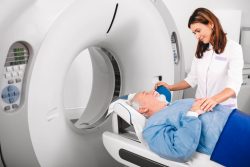 Often, after suffering head trauma in a vehicle accident an individual can develop a variety of physical and mental symptoms. However, in some cases despite patients showing symptoms of traumatic brain injury the MRI or CT scan may show no damage.  This may lead to the doctor at the emergency room not correctly diagnosing you with a brain injury though you may in fact have one.
It is critical to remember that not all TBIs show up in a diagnostic test such as an MRI or CT scan. In fact, fewer than 10% of people with "mild" TBIs show abnormal MRI or CT results. CT scans, in particular, can often fail to accurately show the severity of a TBI.
This happens for many reasons. Primarily because CT scans are relatively poor at identifying soft tissue injuries. Consequently, on average CT scans can fail to identify between 10–20% of abnormalities that can be detected via MRI. Furthermore, TBIs can develop slowly. Brain bleeding at the microscopic level might not appear on a CT scan for hours or even days.
Accuracy of MRI Scans in Determining Brain Injury or Damage Following an Accident
MRI scans aren't 100% accurate, either. Even an MRI scan can fail to show the true extent of nerve fiber damage or other microscopic brain trauma.
Finally, we must remember that an MRI or CT test is only as good as the imaging machine and the radiologist interpreting it. Although modern MRI technology is far more capable of identifying microscopic brain damage, most hospitals do not have these newer, cutting-edge MRI machines. Scans performed on an older machine or when physician do not request special contrast dye, MRI or CT scans might not show nerve fiber trauma and other brain injuries.
What are the symptoms of Traumatic Brain Injury?
Every year, about 1.6 million Americans suffer a TBI. Frequently these injuries frequently occur as a result of car, truck, bus, motorcycle, or other serious motor vehicle accident. However, they can happen as a result of slip and fall accidents or a myriad of other reasons.
TBIs take place when trauma, such as whiplash or hitting your head against an object, causes brain tissue to bruise or tear. This results in bleeding, swelling, and damage to both nerve fibers and brain matter. The true danger is because your brain tissue cannot repair itself, any damaged or dead tissue can lead to permanent dysfunction.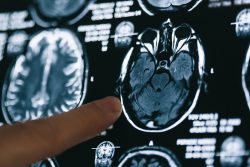 The common symptoms of a traumatic brain injury include:
Memory loss, amnesia or "lost time"
Headache
Vomiting
Loss of consciousness
Personality or mood changes
Problems with attention or concentration
Blurred vision or other vision problems
TBI symptoms often vary widely from case to case since the symptoms depend on the severity and location of the injury in addition to several other factors. Sadly, most doctors, as well as insurance companies, simply rely on the radiologist's written interpretation of the scan. This can lead to those suffering from symptoms of traumatic brain injuries to have their suffering downplayed or simply not believed.
Minor Symptoms and Little Obvious Damage Should Not Stop You From Further Testing or Treatment
It is important to know your own body even if there is no obvious damage shown on MRI or CT scans. Many times doctors will attempt to convince patients that their symptoms are minor and are not worthy of further testing or treatment. However, this can be very dangerous due to the fact that undiagnosed and untreated TBI's can lead to permanent damage, incapacity, and even preventable death.
Though doctors and health care professionals often due the best they can with the tools available to them, they can never know your body or what you are feeling as well as you do.
Get in touch with the skilled Attorneys at CR serving clients throughout Bucks County
Undergoing medical procedures causes stress and affliction as we face them, and when those procedures do not go as expected things get even worse. However, the team of attorneys at CR will work by your side to ease your concerns and help you through the intricacies of the legal process.
At Cohen & Riechelson, our lawyers are passionate about advocating for innocent victims and their families. We have served those injured in Pennsylvania for over four decades. To talk to one of our caring attorneys about the circumstances of your case contact our Bensalem offices anytime at (215) 337-4915 or visit us online to fill out an application.