Should I Settle or go to Trial After a Philly or Bucks County Car Accident?
Car Accident Attorneys Bensalem, Philadelphia, Feasterville, Bristol, and Levittown PA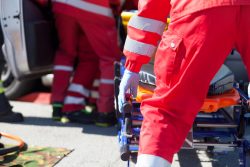 When you've been in an accident in Pennsylvania, be it an auto accident or another type, there are important considerations to take to ensure that your physical body and any possessions involved in the accident, including a car, are properly cared for.  Following an accident, it's important to get medical care right away if necessary. One mustn't wait until injuries appear more predominantly, or decline care because you've not yet received confirmation that an insurance claim has determined fault to be in another's hands, ensuring financial recovery for any loses and medical treatment directly related to the accident.
Medical Care After an Auto Accident Can Add Up
Medical care expenses add up, and a physical injury endured after an accident is only part. ISO, a Verisk Analytics company, reported that the bodily injury liability claims after auto accidents in 2013 were $15,443. Yet the results of an accident often take a harsh emotional toll as well. One of the most stressful emotional components is consideration of how one is going to cover the thousands of dollars in medical expenses incurred as a result of the accident.
Seeking Compensation for Accident Injury: Will the case go to trial in Bucks County PA?
If you've been in an accident, hopefully, the first thing you've done – along with seeking immediate medical attention if necessary – is to file an insurance claim. If the accident was not your fault, you are entitled to financial compensation for any medical expenses that are incurred as a direct result of the accident, for the duration of the time that you undergo the treatment. In addition, the responsible party is responsible for covering the costs of possessions lost in the accident, including the determined damage to an automobile. These costs add up quickly! So how will these costs be compensated? Will you need to go to court to seek recovery of these losses and recoup the rising amounts on the medical bills? Will your personal injury case go to trial?
Cases Settle 9 times out of 10 times
Nine times out of 10, the answer is no, the case will not go to trial in the New Jersey court system for a civil case. Most personal injury claims settle out of court. Of the many reasons for this, one primary reason is that it is usually in the best interest of both parties to settle out of court rather than undergo a drawn-out trial process.
As one would imagine, the defendant's – liable party's – best interests are certainly to settle out of court, because for a trial process, one must pay a legal team out of pocket. Insurance does not cover a personal injury claim taken to court. As a result, the costs associated with a trial, including legal fees, private investigation, expert witness hiring, and other professional contracts add up in cost.
Plaintiffs Best Interest to Settle in Many Cases
Contrary to popular belief, however, a plaintiff's – injured party's – best interests often involve settling out of court. For one thing, the general agreement between a personal injury attorney and their client is a contingency fee arrangement, in which the plaintiff does not pay attorney fees unless they benefit from the results of the settlement. Because a settlement's cost incursions are much lower than that of a trial – absent costs associated with private investigation, expert witness hiring, depositions, etc, as well as the heightened legal fees incurred as a result of a necessary investigation and increased legal counsel – a plaintiff will likely pocket more in reaching a settlement, relative to the recoveries earned in a trial.
Philadelphia Personal Injury Claims Can be Unpredictable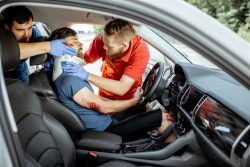 Additionally, it behooves a plaintiff to settle as opposed to take a personal injury claim to trial because juries are unpredictable, and there are no guarantees in place to ensure that the jury will award more money than what would be recovered as a result of a settlement. This in addition to the time saved in settling makes it the most utilized option in personal injury law, and with good reason.
In the case that a defendant does not accept liability or agree to a settlement that is fair, a personal injury attorney will advise that you take the case to trial, so a jury can hear the evidence and make a determination on behalf of justice for both parties.
Contact our Bensalem Motor Vehicle Accident Injury Attorneys Today
If you have been involved in an accident and are seeking recovery for injuries sustained, contact our personal injury law office to speak with an experienced member of our legal team to discuss the next steps to ensure you receive your fair share in a timely manner.
At The Law Office of Cohen & Riechelson, we believe in keeping our clients informed and actively involved throughout the entire claims process, which leads to more favorable outcomes and more satisfied clients. Our team of motor vehicle injury attorneys has experience serving clients in our local Pennsylvania community including Bensalem, Philadelphia, Feasterville, Bristol, and Levittown PA. In our 45 plus years of practicing personal injury law, we have learned how to effectively, efficiently achieve successful resolutions for all manner of motor vehicle personal injury claims.
Contact us online or through our Bensalem offices by calling (215) 337-4915 today to speak with a member of our legal team in a free and confidential consultation regarding your motor vehicle accident and your potential personal injury claim.