Pennsylvania Personal Injury Laws, Liability Rules, & Statutes of Limitations
Representing Injured Victims and their Families in Bucks County and Northeast Philadelphia, Pennsylvania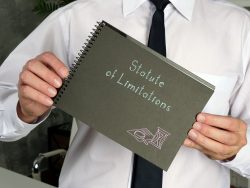 Deciding to file a personal injury lawsuit is not always easy and if you or a loved one has suffered a traumatic injury due to the negligence of someone else, were involved in a slip-and-fall or traffic accident, product liability matter, or any other incident where someone else's conduct caused you harm, you deserve to seek recovery and full compensation as allowed by the law.
Unfortunately, in the most tragic cases, this reckless or even deliberate behavior may result in a wrongful death.  If someone else was at-fault for causing this loss, it is equally reasonable to want justice. Although there is no monetary value that can truly compensate for the life of a loved one, an experienced team of personal injury attorneys can ensure that you receive the resources necessary to cover the significant costs associated with this tragedy.
When it comes to any lawsuit, there are "statutes of limitations" that govern how much time an injured individual has to file a complaint or petition. The attorneys at Cohen & Riechelson can help people who have been injured by the wrongful or negligent actions of others to file their claims within the limitations period so their rights to recovery might be preserved. For over 40 years, our seasoned personal injury attorneys have been dedicated to ensuring that our clients and their families obtain the compensation that they need to recover, as well as the necessary resources to move forward with financial security, despite the impediments that their injuries may cause.
If you sustained a personal injury in a car accident, while at work, or in another realm of your life, and you believe that someone else may be responsible, contact the Bucks County law offices of Cohen & Riechelson online today or at (215) 337-4915. A member of our personal injury team is immediately available to assist you and consultations are always provided free of charge.
What is the Personal Injury Statute of Limitations in Pennsylvania?
Personal injuries can be very serious, and it is important to treat them as such. This means understanding the steps you should take after an accident, such as seeking immediate medical care when possible and filing a personal injury case as soon as you can. Filing as soon as possible help show that these injuries are indeed severe and that you need compensation now.
Under Pennsylvania statute 42 Pa. Cons. Stat. § 5542 you have two years to file a personal injury action to recover damages for your injuries or for the wrongful death of your loved one that results from the wrongful conduct or negligence of someone else.
The clock on the limitations period begins from the date of your injury accident, and you will have two years to file the civil complaint and other required documents to commence your lawsuit. Unless an exception provides you with more time to file, the court will dismiss your claim. In general, if you miss the deadline, your lawsuit will be dismissed and you may be permanently barred from recovering the damages to which you would otherwise be entitled. It will not matter if the defendant's liability is clear, how severe your losses are or how severe your injuries may be.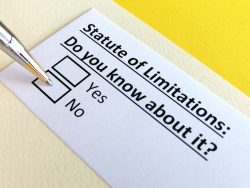 If the deadline is fast approaching or has passed and you have questions about how the Pennsylvania statute of limitations applies to your particular personal injury case, it may be time to discuss your situation with our team of experienced Pennsylvania personal injury attorneys. With an enduring commitment to both personalized service and consummate professionalism, we have earned a distinguished reputation among our peers and the community at large. No matter your situation you don't have to confront it alone.
What are the Exceptions to the Pennsylvania Personal Injury Statute of Limitations?
Although personal injury statute of limitations are strictly enforced in Pennsylvania, there are exceptions that can extend the filing period deadline. Such as if the:
A government entity can include Commonwealth property such as real estate, roads, walkways, dram shops, or state owned stores, among others, and any naturally occurring or dangerous conditions leading to injury or property damage on any property owned by the state of Pennsylvania.
Contact our Bensalem, PA Personal Injury Statute of Limitation Attorneys Today
If you have been the victim of a personal injury accident or lost a loved one due to the negligent actions of another accident, all legal aspects of your physical, financial, and emotional losses must be considered to protect your rights and secure justice.
The personal injury attorneys of Cohen & Riechelson have over four decades of experience serving clients from local Bucks County communities such as Bensalem, Feasterville, Northeast Philadelphia, Penndel, Levittown, Millbrook, and all of Southeastern Pennsylvania. Our firm employs a highly analytical and investigative approach to personal injury cases and will explore all options which might lead to a successful outcome for you and your family. Allow a team of qualified and experienced legal professionals to handle the heavy lifting of your personal injury claim while you focus on recovering from your injuries and getting your personal life back on track.
To learn more about Pennsylvania personal injury statutes of limitations and how they might impact your case, please contact us online or through our Bensalem, PA offices by calling (215) 337-4915 today for a free and confidential consultation.