Filing a Claim for a Sidewalk Slip and Fall in Pennsylvania
Proving Liability for Slip and Fall Accidents on Sidewalks in Bristol, Yardley, Bensalem, Morrisville, and throughout Northeast Philadelphia & Lower Bucks County, PA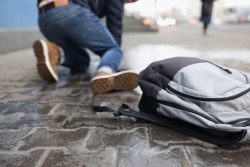 Broken or cracked sidewalks can be a dangerous hazard for anyone.  In Pennsylvania, winter always brings snow which can quickly turn to ice and turn neglected sidewalks into a slippery mess.  No matter the season, a slip and fall due to an unsafe sidewalk can be the reason for a personal injury case. Unmaintained property, whether residential or public, can create a dangerous environment when the sidewalks are not properly kept up.
Common Types of Sidewalk Accidents
The most common types of accidents are trips, slips, falls, or impact injuries due to holes in the pavement.  Loose gravel, wet leaves, or broken concrete can cause someone to slip and fall.  Of course, winter conditions such as snow and ice can make sidewalks a dangerous hazard, even when the sidewalk structure is sound. Severe impact injuries to the ankle or knee can occur when there is a significant gap or hole in the sidewalk, causing someone to land their foot in a way as to cause injury.
Where Do Slip and Falls on Sidewalks Often Happen in PA?
Residential areas with older houses (circa 1960 – 1980) frequently have damaged sidewalks, especially near trees where roots have grown underneath.  Newer residences sometimes have HOA or Home Owner Association which supervises outdoor areas and will call attention to the need for a repair to the sidewalk by the owner.  The HOA can apply heavy fines to the homeowner who does not heed the demand for it to be fixed.
Church steps and sidewalks like the ones at the Arch Street Presbyterian Church can be remarkably slippery early in the morning in the wintertime. School grounds are expansive and require careful attention as the students come and go year after year.  Public parks or gardens have miles of sidewalks that need to be maintained as visitors from all over the country come to see the Liberty Bell and other historic spots in our state.
What Injuries Arise from Sidewalk Accidents?
The most common types of injuries are broken toes, feet, or ankles, sprained ankles, bruises, cuts, and scrapes, and joint dislocation (hip, knee, ankle, elbow, shoulder) are the most common injuries.  However, depending on the incident's circumstances and the injured party's age, other injuries such as a concussion, nerve damage, facial injuries, tooth damage, or spine, back, and neck injuries are also possible.  It is shocking to see how much damage a broken sidewalk can create.
Examples of Negligence Resulting in Sidewalk Accident Injuries
It isn't uncommon to see broken cement or raised parts of a sidewalk in a residential area.  Plants and trees have strong roots, making the sidewalk buckle and creating a tripping hazard.  If someone chooses to go jogging in the evening when it is dark and trips over a broken sidewalk at a pretty good clip, they could become seriously injured. A leaf-covered sidewalk beside the post office on 316 Market St. becomes slick when the leaves are wet, and moss grows between the sidewalk sections.  A neglected, broken sidewalk in a commercial, private, or government area is a danger to pedestrians.
Proving Liability for a Sidewalk Accident in PA
To prove liability, you must know who owns the property.  If the sidewalk belongs to a residential owner, they are most likely at fault for the broken sidewalk.  However, it is essential to look at their lease if they rent.  If the lease agreement states that the owner is responsible for all of the maintenance of the property, then it is their fault the sidewalk wasn't fixed. Tripping and injuring your ankle, knee, and back could cost you a lot in medical bills and missed wages.
If a commercial business such as a store such as Trader Joe's or Wegmans has an uneven sidewalk, causing you to fall forward, you risk breaking your leg, ankle, or arm as you try to catch yourself.  Heaven forbid you be carrying a small child at the time.  They need to be held accountable for your suffering. Again, the store's lease will have to be examined to see if they or the landlord is responsible for the damages.
It might be difficult to establish responsibility for a sidewalk accident. For example, a pedestrian jogs on a new route through a different neighborhood.  She doesn't see the patch of broken sidewalk until it is too late, trips, and ruptures the ACL in her knee.  The sidewalk and its maintenance belonged to a private homeowner. However, the water company had been replacing some pipes and, in the process, tore up a part of the sidewalk, leaving debris everywhere.  The homeowner is required to keep the sidewalk even, but the water company could be held liable because they created the damage, thereby making the sidewalk unsafe. The length of time that transpired between the water company's work and the accident would also need to be determined.  It is doubtful that they would be held liable if the residents had been aware of the problem for several months and had done nothing to remedy it.
Sidewalks belonging to local governments and municipalities are subject to personal injury claims, but they are afforded a certain amount of immunity.  Government agencies can only be sued if a higher level of negligence can be proven. If the agency had an extended period of time well aware of the problem and didn't fix it in a reasonable time frame, proving liability is somewhat easier.
How Comparative Negligence Factors Into These Cases
Simply put, comparative negligence occurs when the injured party is partially at fault for their accident or injury.  If a jury finds you 20% at fault, the initial award they would have given is reduced by 20%.  Pennsylvania law indicates that no award is granted if the plaintiff is found more than 50% liable. Some examples of comparative negligence include pedestrians looking at or talking on their cell phones when they fell, not wearing appropriate footwear for the weather conditions, or walking in areas designated off-limits.
How Insurance Works in Sidewalk Accident Claim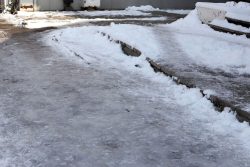 Premises liability insurance for businesses and homeowner's insurance for residence owners can be used to pay for medical bills, lost wages, emotional distress, and pain and suffering.  The trouble is that frequently insurance companies are unwilling to pay for what is being requested.  They will send a lowball offer hoping you will take it and settle the matter.  There are a few essential points to consider here.  First, you have a two-year statute of limitations to file your personal injury case in court. If the defendant is a government office, you have a mere 6 months.  The second is that with an experienced lawyer, your odds of getting a better settlement from the insurance company could increase substantially.
If the home or business owner refuses to provide their insurance information, a letter from your personal injury attorney will usually get the ball rolling.  A claims adjuster from the insurance company will want to interview you.  They usually record the interview to use it as evidence later.  It is vital that you speak with your attorney before making any statements to the insurance company because they may want to trip you up and make it appear that you were at fault. When a settlement cannot be reached, your attorney files your claim with the court to ensure you get a settlement that will pay you for your injuries.
Contact a Personal Injury Attorney to Seek Compensation for Injuries from an Unsafe Sidewalk in PA
The lawyers of Cohen and Riechelson are adept at gathering evidence and negotiating with insurance companies. We will work with you to ensure your rights are protected. We know all the tricks the insurance companies use to pay you the least amount possible.  You need someone who can demonstrate how the home or business owner was at fault, knew about the dangerous conditions, and their failure to act resulted in your injury.
Slip and fall injuries are tricky because immediately after the fall, you may overlook other injuries that come to light some days later.  For example, if you fall on your shoulder, you may notice some neck pain a few days later.  It is essential to take your accident seriously, and we will do just that. We help clients seek compensation for their injuries in Levittown, Croydon, Fairless Hills, Warrington, Morrisville, and across Northeast Philly.
Call us today at (215) 337-4915 or look us up online to make you free, confidential consultation.  We are a passionate, long-standing personal injury law firm, and we want to protect your rights to a healthy recovery.