Suing for Back Injuries from an Accident in PA
Back Injuries can limit the ability to perform key daily activities. When someone else is responsible, it's possible that you can seek compensation for your damages.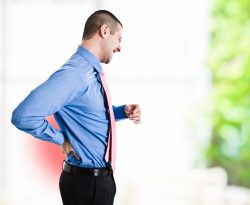 Have you experienced a neck or back injury in Pennsylvania? If it's a serious one, you know the pain can be severe and debilitating. If your back was injured through no fault of your own, our compassionate and broadly experienced personal injury lawyers can help. Our lawyers can examine how the accident happened, who is at fault, and it may be multiple parties, which would increase the compensation we could win for you—and we can pursue the compensation you so rightly deserve for the pain, discomfort, and loss of earnings that you have had to endure. Much more may be compensable if you have a valid cause of action to sue for injuries that should not have happened but for the negligence of someone else.
Common Causes of Back Injuries
In our experience, there are several ways a back injury can occur:
An accident in the workplace, including with a forklift
Physician errors, or those by other healthcare workers
No matter how it happened, the tremendous pain and disability it caused can lead to medical bills that are impossible to pay. Turn to our team of Pennsylvania back-injury lawyers to help you. We will listen to you carefully, prepare your case diligently, file your lawsuit, and work for justice to repay you for the suffering your injury has caused.
What Are Some Common Back Injuries?
Sometimes a back injury is visible, like a cut or bruise. These can be serious and must be treated. But most injuries to the back are not visible—they're internal. Usually, these are the ones that are more serious, take longer to heal, and are the most difficult to treat. Some common injuries to the back include:
A sprain is when ligaments are over-stretched and/or torn.
A strain, when tendons or muscles are over-stretched and/or torn
A rupture of one or more of the discs that lie between your vertebrae.
Sprains and strains are likely to heal within a few weeks if you're careful to get the required rest. You would probably be able to manage the pain with prescriptions and ice or heat. Do whatever your doctor prescribes. Follow his instructions exactly. Otherwise, there might be two outcomes you don't want: either you will aggravate your condition, or, if you file a lawsuit, the other party could claim that you aggravated your injury yourself. You would get less in your settlement as a result.
A more difficult injury to treat would be a fracture of vertebrae. You might need surgery, which would take longer to recover from.
No matter what type of injury you have, our lawyers understand all the various diagnoses of injuries to the back and can leverage that knowledge to build a stronger case for you. Our legal team will fight for the best possible outcome for you when it comes to providing for your future and recovering what you are owed for your past losses due to back trauma.
Managing the Investigation of Your Back Injury Case
You need a law firm that can do this phase of a lawsuit with excellence because it is crucial to success in court. Juries want excellent evidence before they make a decision about what is owed to you. Our skilled back and neck injury lawyers in Pennsylvania know where to look for the best information and how to present it in court so that you can win the compensation you deserve. We know how to investigate your case, gather the evidence that's needed to prove negligence on the other parties' part, and gather evidence of how your injuries have harmed you both financially and physically.
A lawyer working on a case such as a back or neck injury must be responsive to his client's needs. Our Pennsylvania personal injury lawyers will be. And we know that you want the case to be settled as quickly as possible, so we will respond in a timely manner and manage your case efficiently and thoroughly.
Obtaining the Highest Possible Compensation for an Injured Back in PA
We know that even a big settlement can't really make up for the pain that you've been in with your neck or back injury, nor can it make up for the time you lost while trying to recover from the accident.
So we'll help you get the settlement that you truly deserve. The attorneys at Cohen & Riechelson know that you have lost more than just time on your job. We take into account the many more damages you potentially have incurred, such as:
Emotional pain and suffering
Medical expense, both past, and future
The cost of treatments and therapies for pain
Loss of ability to earn wages
Punitive damages against the party that was careless and caused the injury
On top of all that, your loved one may make a claim of loss of consortium.
Contact Northeast Philadelphia Back Injury Lawyers for a Free Review of Your Case Today
Filing a lawsuit is no simple task, especially when it involves showing the court all of the ways in which your back injury has impacted your life. Our lawyers know how to present the facts of your case in a manner that will show courts why you are owed compensation for your injuries. We will demonstrate to the court and the opposing party what happened, how you were harmed, and why you deserve money for your pain, suffering, and financial losses related to your injury.
If you have endured a neck or back injury in Pennsylvania, please don't hesitate to get in contact with our skilled lawyers today. We have helped clients recover compensation from accidents large and small in Horsham, Bristol, Croydon, Buckingham, Levittown, Yardley, and elsewhere in Northeast Philadelphia & Lower Bucks County, Pennsylvania. Call (215) 337-4915 for a free case review and consultation regarding your eligibility to file a back injury lawsuit. We can also be reached by contacting us to schedule a free consultation.