5 Causes of Physician Burnout: The Harmful Negligence of Overworked Doctors
Doctors suffering from burnout more prone to Medical Errors & Negligence Bensalem, Levittown, Feasterville and across Bucks and Philadelphia Counties, PA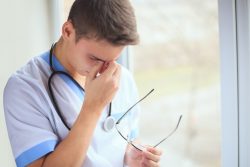 A typical doctor's visit shouldn't cause you to be concerned about the mental health and well-being of your attending physician. Alarmingly though, overworked doctors suffering from burnout are the most common cause for traumatic injuries, permanent disability and medical negligence that can even lead to wrongful death. Patients in Pennsylvania and New Jersey need to consider the dangers of medical misconduct.
Harvard recently issued a report and call to action regarding physician burnout, referring to it as "a public health crisis" that urgently demands attention. It defines this widespread condition – which the World Health Organization refers to as an "occupational phenomena" – as one wherein physicians lose satisfaction and a sense of efficacy in their work, and driven by rapid changes in health care and the medical professional environment.
The medical malpractice and personal injury lawyers of Cohen & Riechelson have been protecting the legal rights of patients since 1972. We have worked to gain a reputation for recovering full and fair compensation for injuries resulting from medical or dental malpractice, nursing home abuse as well as defective medical products for our clients in Pennsylvania towns including Levittown, Northeast Philadelphia, Millbrook, Bensalem, Feasterville, and all of Bucks County. You can rely on our extensive experience to seek a successful verdict or settlement in your medical malpractice personal injury claim.
Contact us online today or call our offices in Pennsylvania at (215) 337-4915 or Trenton, New Jersey at (609) 528-2596, for a free and confidential consultation with a member of our knowledgeably skilled legal team.
Levittown Attorneys Understand Medical Errors and Identify Claims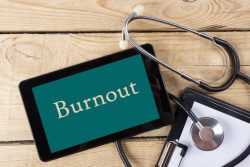 With over 50% of doctor's being affected, the far-reaching epidemic proportions to which physician burnout has negatively impacted and harmed not only the physicians themselves, but their patients via medical malpractice, coworkers, family members, close friends, and healthcare organizations is clear. The Harvard study noted that individual and organizational strategies have been only partially successful in mitigating burnout and in developing resiliency and well-being among physicians.
As healthcare facilities increasingly put profit over patient safety, there is an increased risk of physician burnout due to almost near impossible workloads and scheduling, as well as medical staff shortages. The incidents of medical errors and malpractice suits continue to soar as healthcare facilities put not only the doctors' health and well-being at risk but also patients' lives.
In the most tragic of instances, an error or medical prescription mistake can result in death. In these cases, the loved ones of the deceased may have grounds to file a wrongful death lawsuit on his or her behalf. If you have lost a loved one due to someone else's negligence, contact The Law Offices of Cohen & Riechelson. Our lawyers are prepared to help you seek justice.
Medical Specialities with the Highest Percentages of Physician Burnout
According to an American Medical Association (AMA) article and Medscape survey about burnout and depression, more than 15,000 physicians from 29 specialties were asked about the prevalence of burnout factors and how they affect physicians' lives. The highest percentages occurred among these medical specialties:
Urology: 54%
Neurology: 50%
Nephrology: 49%
Diabetes and endocrinology: 46%
Family medicine: 46%
Radiology: 46%
Physicians with the reported the lowest rates of burnout:
Public health and preventive medicine: 29%.
Ophthalmology: 30%
Orthopedics: 34%
Psychiatry: 35%
Otolaryngology: 35%
General surgery: 35%
Interestingly enough, according to an updox and Medical Economics survey of more than 1,200 medical services providers, more than 92% reported experiencing burnout at some point in their career and 68% said they felt burned out right now.
If you or someone you know has suffered because of errors on the part of your hospital or physician it is recommended that you contact a skilled and experienced medical malpractice attorney as soon as possible.
Organizational Values & Self-Care Strategies in Physician Burnout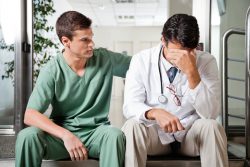 To combat what Forbes also describes as a broken healthcare system, one study noted that aligning personal and organizational values and enabling physicians to devote 20% of their work activities to the part of their medical practice that is especially meaningful to them, were two highly effective strategies.
Although "physician wellness" or "self-care" strategies (i.e., mindfulness or yoga) have been proposed as a response to burnout, approaches such as these are likely to have limited impact since physicians typically do not have time to consistently fit coping strategies such as these into their routine.
Physician Burnout Harms Other Physicians & Medical Professionals
A recent Medical Economics article says that the oath to do no harm, though often thought of in reference to patient medical care, should be extended to the medical co-worker relationship as well. It explains how physician burnout increases the likelihood of an overworked ER physician berating a technician or member of the nursing staff, or a surgeon belittling an intern as they are conducting unrelated but priority hospital administrative tasks. Burnout also increases the opportunities to "scapegoat" each other and patients feeling dumped or being juggled between specialists, medical technicians, and their primary care doctor because each lacks the time to deliver the proper type of care.
Contact Our Feasterville Medical Malpractice Lawyers Today
At The Law Offices of Cohen & Riechelson, our medical malpractice and personal injury attorneys believe the law is a powerful tool that should be used to help give fair compensation to victims who have been injured due to physician burnout and negligence of overworked doctors. We have dedicated the last 40+ years to ensure that our clients recover not only their quality of life but what is rightfully theirs to help make their lives whole again. One of our highly knowledgeable attorneys is prepared to assist you with your accident claim. Contact us online, or by phone anytime at (215) 337-4915 anytime for a free, no-obligation consultation.