Whiplash Injuries in a Philadelphia Auto Accident: How Long Does It Last?
Car Accident and Traumatic Injuries Attorneys Bensalem, Levittown, Feasterville and across Bucks and Philadelphia Counties, PA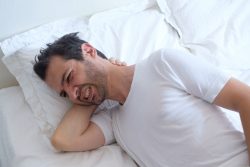 Whiplash is a common injury suffered during an accident. Whiplash occurs when the head is jolted forward and then rapidly backward, or even sideways, often causing tension or tear to the tendons and ligaments of the neck. Symptoms of whiplash usually manifest within 24 hours of the cause.
Whiplash can be caused by rear-end car accidents, domestic violence, and contact sports.
Symptoms of Whiplash
According to the Mayo Clinic, the symptoms of whiplash generally include
Neck pain
Neck or upper back stiffness
Headache
Pain when moving the head, neck, or shoulders
Tenderness in the shoulders, upper back, and arms
Tingling in the arms
Fatigue
Dizziness
Unclear or blurry vision
Tinnitus
Lack of concentration
Loss of or difficulty with memory
Emotional depression
While many of these symptoms may take a number of hours to manifest after the whiplash occurs, they can last for days or even weeks. The National Institute of Neurological Disorders and Stroke notes that while most cases of whiplash heal within a few weeks to three months with the aid of anti-inflammatory drugs and proper rest and exercise, there can be serious long-term and life-changing effects from a whiplash incident. For this reason, a prompt medical examination is essential if you experience any whiplash or other symptoms because the examination can accurately diagnose the acute cause of pain and rule out or identify broken bones or damage to tissues of the neck that must be treated specifically.
Most cases of whiplash heal in a matter of weeks with a regular rest and exercise regimen, but chronic pain as a result of whiplash is a commonality. Proper support of the neck and body after an accident is imperative to full recovery and the prevention of chronic pain as the result of a whiplash injury.
Treatments of Whiplash after Bucks County Car Accident
The United Kingdom National Health Service notes that whiplash recovery is supported in the following ways:
Ample rest for extended periods of time
Moving the neck regularly, in moderation
Anti-inflammatory medications and diet
Sleep positioned on back or side to support aligned positioning
Ice pack to calm neck spasms
Heat pack to calm muscle tension
Refraining from extensive exercise or physically arduous work until the initial healing process is well underway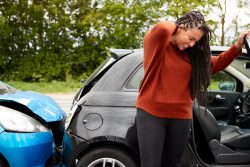 A Soroka University Medical Center study hypothesized that cortisol, or stress, levels might be a causative factor of whiplash following a car accident. While the results of the study have not been posted, there is ample scientific evidence to suggest that lowering stress levels could have a healing effect on muscular tension caused by the fight-or-flight stress response of the body that may aggravate whiplash symptoms and muscular tension around the neck. As such, activities such as yoga (using modifications to support the neck), breathing exercises, and meditation may also be a supportive technique in the healing of whiplash after an injury.
Because of the serious long-term and life-changing effects of whiplash, seek medical care immediately if you have been in an accident in which you suffered whiplash.
Consult with a Qualified Injury Attorney who has handled Whiplash Cases across Bucks and Philadelphia Counties, PA
Furthermore, if your whiplash has already been documented by a medical practitioner, and the whiplash was the result of an accident in New Jersey caused by another's negligence or malice, do not wait to file a personal injury claim. In a no-fault state like New Jersey, it is important to contact your insurance company immediately. Then contact our law office right away to schedule a consultation with our experienced team of personal injury attorneys to learn the next steps for recovering reimbursement for all medical expenses and property losses associated with the accident.
If you're struggling with symptoms related to a whiplash injury we strongly recommend to visit a qualified car accident lawyer about your options for compensation. A lawyer at The Law Office of Cohen & Riechelson will help protect your rights and provide you with honest advice as to whether you may be able to get compensation for your whiplash injuries.
Contact us today for a free initial consultation by dialing (215) 337-4915 or visit our website to fill out an online form.