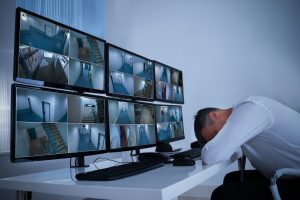 Car accidents, motorcycle accidents, construction accidents as well as many other types of events caused by negligence can be grounds for personal injury claims.  People who are wrongfully injured in Bensalem, Northeast Philadelphia, Feasterville and all over Bucks County have sought and gained legal and fair restitution for injuries suffered because of someone else's carelessness and negligence.
However, what if those who we place in charge of our personal security in places like shopping centers, malls, government buildings, parking lots and other locations, are irresponsible in those duties.  This is a little known type of personal injury claim that can be filed due to poor or negligent security. In 2016, the FBI reported 803,007 assaults across the nation. Proper security measures could have prevented many of them.
All manner of security measures can be deployed; guards, cameras, metal detectors and other screening services in order to safeguard our property and persons in the aforementioned areas. If this is not done to a reasonable standard then those who are injured as a result of this negligence may be able to recover fair compensation by means of a negligent security personal injury claim.
Poor Security Accident Attorneys Northeast Philadelphia PA
When injured during to a robbery, attack, criminal assault including rape on commercial or government property it is advised that you discuss the incident with a skilled and experienced Northeast Philadelphia personal injury attorney to find out if your injuries can legally be attributed to poor or negligent security. It is often the case that many people do not understand what falls within the responsibilities of security personal and thus may not recognize areas where the fault for your injuries may fall on them as well as a perpetrator.
Such examples can include the following among others:
Weapons were smuggled through security checks and caused you injury
Security cameras were not correctly monitored or non-functional
Security personnel were lax in their duties and did not perform adequate patrols and/or monitoring
Security personnel should have been employed on a property but were not
Insufficient lighting led to poor security monitoring
Negligent Security Personal Injury Claims in Bucks County
You and your Bucks County personal injury lawyer will need to prove three key elements in order to make a successful recovery as with any personal injury claim:
Your injures occurred as a result of negligent or inadequate security measures employed by the owner of the premises
Your injuries were sustained on said premises
Your injuries caused damages to you and perhaps your family, possibly including medical costs, loss of income as well as physical and emotional pain and suffering
Though seemingly simple, these elements can be difficult to prove to a legal standard.  An experienced personal injury attorney can help guide you and represent you through the process of proving negligence and suffering as well as acquiring a fair and accurate settlement. A settlement that can go a long way toward getting you whole and getting your life back on track.
Contact Our Levittown Injury Lawyers Today
Business and property owners that do not take the proper steps to secure their premises put innocent lives at risk. If you or someone you love has suffered an assault, traumatic injury, or has died as a result of negligent security, you can obtain justice through a personal injury claim or wrongful death suit. Our attorneys have assisted countless individuals like you in Bucks County, Bensalem, Northeast Philidelphia, Levittown and Feasterville over the last four decades. Please contact us online or give us a call at our Bensalem, PA offices by dialing (215) 337-4915 to speak with one of our qualified personal injury lawyers today in a free and confidential consultation. Let us help you down the path of making it right.