Premises Liability, Property Owners and Poor Security Claims Bucks County PA
Negligence and Inadequate Security Attorneys serving clients in Bensalem, Levittown, Feasterville and across Bucks and Philadelphia Counties, PA
Though many may not be aware, every property owner has a duty to tenants, visitors, and customers to keep their properties safe and secure. When someone is injured as a result of their failure to keep the environment safe and secure for use, property owners can be found liable under premises liability law.
The types of properties that are obligated to be maintained in safe and secure states include:
Apartment complexes and condominiums
Shopping centers and grocery stores
Hotels and motels
Sports arenas and stadiums
Amusement parks
Airports
Negligent and Inadequate Security Issues
Negligent and inadequate security occurs when an owner or third-party security personnel does not provide adequate security and reasonable care for the safety of the users of the property, whether they be tenants, shoppers, students or proprietors of the property. This may range from inadequate lighting or surveillance in a mall parking lot to security guards who fail to perform their duties properly.
Personal Injury Claims Based on Negligent Security
Personal injury claims based on negligent and inadequate security can cover a wide range of negligent actions on the part of the property owner. Some examples include:
Failing to install proper alarms
Failing to monitor security cameras
Improperly trained and supervised staff
Insufficiently lighting parking lots, parking garages or other areas of the property
Failing to install adequate locks on apartment or hotel doors
Showing a lack of care in the hiring of staff or security personnel
Unjustified assaults by security personnel
Insufficient supervision or lifeguards at pools or other bodies of water, leading to a drowning
Security guards' failing to intervene during an assault, mugging, bar fight, or kidnapping
Premises Liability Lawsuit Based on Negligent Security
Though most negligent or inadequate security claims are born from inaction (i.e. a property owner's failure to install sufficient security, a bouncer's failure to step in during a fight, or the failure to properly train and supervise staff) there are cases where direct actions such as assaults by security personnel or bouncers can be the cause of a premises liability and personal injury lawsuit.
Assaults by security personnel can be a major premises liability issue when they result in serious injuries at bars, casinos or nightclubs. It is important to remember that although security personnel is allowed to use a certain amount of force when dealing with unruly, unwanted or belligerent guests, the amount of force must be reasonable and appropriate to the situation.
What are the responsibilities of Property Owners under Premises Liability Law?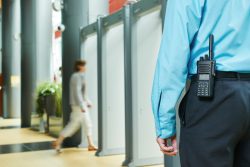 Although property owners are not automatically liable for crimes that occur on their property, when the crime was caused (in whole or partially) by inadequate security measures, the business owner can be found liable under premises liability law. It is the responsibility of the property owner to control the environment and, as much as possible, minimize the risk of criminal activity.
Depending on the situation, owners and possessors of property have clear responsibilities to the people who lawfully (and sometimes unlawfully) enter their property. These responsibilities include:
Properly maintaining the property
Maintaining awareness of any dangerous conditions
Providing adequate warnings to any visitors or tenants of any dangerous conditions or situations
Rectifying a dangerous situation within a timely fashion
The history of the property can be a significant factor in proving negligent and inadequate security. Properties with a high crime rate or in high crime rate areas obligate the owner or possessor to increase security measures. For example, if a property has several assaults or robberies, the landlord has a duty to install security cameras, assure that there is proper lighting or hire additional security personnel to keep tenants or clients safe.
Contact Our Bensalem Premises Liability Attorneys Today
If you or someone you know has been injured or assaulted due to poor or lax security it is recommended to contact an experienced premises liability attorney as soon as possible.
Have you recently been injured because of premises liability injury? At The Law Office of Cohen & Riechelson, attorneys have experience dealing with premises liability cases, like the ones mentioned above. Our bold and strong-minded attorneys will do their best until your case has been efficiently advocated and negotiated.
Let us ally by your side to handle your case. Check our online form or through our Bensalem offices by calling (215) 337-4915 to speak to a member of our legal team in a free and confidential consultation regarding your premises liability accident and your potential personal injury claim.