Using Civil Liability Litigation to Make Schools Safer
Civil Liability Attorneys in Bucks County Pennsylvania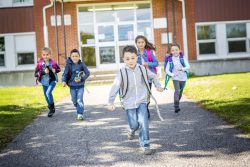 Though there is rightfully much attention paid to the rash of school-shooting that the nation has been experiencing these acts are still very rare. The dangers that most students face when we send them to school are not as dramatic but can still be very damaging. Every year thousands of students are injured during extracurricular activities, while taking school-provided transportation, falling on slippery floors, through accidents in the gym, by collapsing cafeteria tables, and in traffic accidents involving school buses. These injuries can be serious and sometimes fatal. School safety is often pushed forward by insistent parents using civil litigation to hold schools and school staff accountable for incidents that can and should be prevented.
Serving Across Bensalem, Bristol, Buckingham, Philadelphia and Bucks County
At Cohen & Riechelson you will be able to find the support and guidance you seek when going through a personal or family situation due to external circumstances that could have been avoided and where negligence was present. We have served injured individuals and their families in Pennsylvania for more than 40 years offering personalized attention. To discuss the specific circumstances that surround you or a family member, contact our Bensalem offices anytime at (215) 337-4915 or contact us online to schedule a free of charge and confidential consultation.
Key Components of Negligence by Schools Determines Liability in Philadelphia County PA
However, any parent who pursues litigation because of a school-related accident will need a skilled attorney who can prove key components of the laws determining school liability. These include:
Standard of care — All schools are legally obligated to exercise a reasonable standard of care. In other words, they must take all reasonable precautions to assure that students are safe while they are in the care of the institution. Failure to do so puts them in a very actionable position.
Breach of standard of care — A major component of any litigation against an educational institution is proving that the normal standard of care and precaution was not met due to inadequate policies or supervision.
Negligence — Negligence is a major component of any personal injury case. Though teachers and school staff may be overworked, they are still expected to perform their duties when it comes to the education and safety of students.
Substantial injury and/or damages — As with other personal injury cases, substantial injury and/or damage to property must be established. These injuries can be physical or emotional depending on the type of incident.
Parents Fighting to Improve School Safety across Pennsylvania
Ironically it has been litigation brought by parents that have pushed forward school safety and made schools safer places for all students. Dedicated parents who get involved in their schools often do what they can to improve safety in all areas. However, it may sometimes be necessary to reinforce the school's responsibilities or recover damages to help their child recover medically as well as emotionally from unfortunate incidents by way of the civil justice system.
If a child is injured due to the irresponsibility of school administrators, maintenance supervisors, poor equipment design or an irresponsible teacher, a personal injury lawyer can promote the implementation of better precautions with the pursuit of a financial judgment to cover a family's medical and emotional costs.
Parents in Action: Protecting Student Injury Across the Country
In fact, parents have made modern schools much safer by pushing forward several national policies that we may now just take for granted. Among them are:
Improving building and campus security
This has taken the form of ensuring that school property is well lit as well as many schools hiring guards or bringing in school resource police officers.
Devising and practicing emergency action plans
These are often planned to quickly react to and handle:
Disease outbreaks.
Students reported missing.
Lab accidents involving hazardous materials.
The presence of criminals and hostile intruders.
Fire and weather disasters.
The use of protective technology and layouts inside classrooms
Many classrooms are now equipped with an intercom system that connects with Administration or two-way radios.
Teachers are now encouraged to position their desks far from doors giving teachers more time to act against an intruder. Teachers and students in many schools now practice using portable furniture to barricade a room, preventing an attacker from entering.
Involving school counselors and staff in bullying prevention programs
Counselors can implement the PATHS curriculum, a program designed to decrease aggression and behavioral problems in children. Information and activities are provided for both students and parents.
All of these policies and practices have been implemented at the direction of parents who insisted that these actions were necessary not only for the safety of their own children but for the safety of all students.
Get in touch with our Bensalem Personal Injury Lawyers
To ensure that your case follows the appropriate steps and that you are on the right path is essential to hire a knowledgeable and skilled personal injury lawyer. Our personal injury attorneys are here to help you through the whole process and with the hard work of making sure you get what you deserve.
If you or a loved one has suffered an injury due to any of the situations listed above, please contact us today at (215) 337-4915 for a free case evaluation. One of our seasoned attorneys will be ready to provide personal injury legal services.