Major Factors Behind the Wheel in Wrong Way Accidents
Some Prevalent Factors Continuously Contribute to Wrong Way Accidents in Pennsylvania. When these Crashes Occur, Injured Victims Have Legal Options that Should be Explored.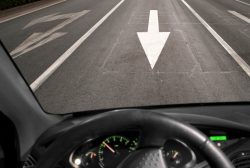 In Pennsylvania, drivers on the road owe each other a certain standard of care to be practiced when they drive. When we drive, we expect others to exercise a certain level of responsibility when they drive because we exercise that same level of responsibility. This amounts to a standard of care practiced by all drivers, otherwise they would possibly be liable for negligence, and they could be sued for any injury they may cause. If the injury caused is a result of the behavior that fell below that level of care expected to be exercised while driving, the driver is liable for negligence.
For example, if a driver starts driving on the wrong side of the road because they are distracted, falling asleep, cannot see, etc. they can cause serious injury to any oncoming traffic and themselves. In the year 2020, the Pennsylvania Department of Transportation recorded that 10% of all motor vehicle accident fatalities resulted from head-on collisions. Head-on collisions also account for 4,780 of all motor vehicle accidents in 2020. Furthermore, drunk driving accounted for 6,565 crashes with 131 of those crashes resulting in a death. Careless driving accounted for 4,545 crashes with 53 of those crashes resulting in death. Distracted driving was chalked up to a scary 11,019 collisions with 43 fatalities. As you can see, wrong-way driving could have been involved in any one of these incidents, and is way more common than you think.
Leading Reasons for Wrong-Way Accidents
There are many reasons underlying a wrong-way driving accident but some of the more common reasons are the following: senior drivers, distracted drivers, unknown whereabouts, driving while drowsy, and driving while intoxicated. According to the National Transportation Safety Board, 15% of wrong-away collisions involved drivers over the age of 70 years old. People over the age of 70 may have neuro-cognitive conditions that may contribute to these accidents, as well as slower reflexes and poor vision, especially at night.
Using a handheld device while driving is a serious contributor to wrong way collisions. However, distracted driving may also result from simple things such as changing the radio station, eating, smoking, or drinking a non-alcoholic beverage. Not knowing where you are driving is another serious contributor to wrong way collisions. This is especially true when the driver is not sure which streets are one-way roads and which roads are not. Also, when you do not know where you are driving, it is hard to discern road signs, lights, and construction zones when you are driving at night.
Driving while you are tired, especially at night, can lead to slower reaction time, and difficulty seeing road signs and lights. Falling asleep behind the wheel is especially irresponsible and can lead to serious injury in driving in the wrong direction. Lastly, and most importantly, when a driver operates a vehicle while under the influence of drugs and/or alcohol, it is easy for them to disregard the actual direction of traffic on a roadway.
All of these scenarios are the most common causes of wrong-way driving. The National Transportation Safety Board found that 78% of wrong-way driving happens at night, which contributes to poor vision and difficulty in judging the speed of vehicles.
What Must Be Proven in a PA Wrong Way Accident Case?
Like every civil case, there are certain elements that must be proven to the court in order to prevail and be rewarded the proper compensation. As previously mentioned, your attorney must prove that the defendant driver must have owed you a duty to drive their vehicle with reasonable care. This duty is owed to drivers, walkers, and anyone else using the roads while exercising the same caution.
Secondly, it must be proven that there was a breach of this duty displaying that the defendant driver did not adhere to this standard of care and in doings so failed to act with reasonable care while driving. Thirdly, the attorney will prove that the defendant's breach of duty caused the accident to take place. Lastly, the breach of duty on the part of the defendant, causing the accident, must be shown to have caused damages suffered by you.
Can You Obtain Damages for Injuries in a Wrong Way Accident?
There are a variety of damages that can be sought in court. Damages suffered by the plaintiff can range in severity both physically and financially. Plaintiffs often suffer emotional stress, which can result in Post-Traumatic Stress Disorder. Plaintiffs suffer pain and suffering and loss of future income. When seeking damages for a wrong way collision, hiring a solid personal injury attorney is absolutely essential for two big reasons. Our seasoned Pennsylvania lawyers frequently handle lawsuits and claims arising from wrong way accidents. We can help the court understand how all the necessary elements of the case have been met, and we can show how these elements led to your damages. With our background and tactical training, our attorneys can display the elements, but more importantly, we can help you decide what the court can actually compensate you for. There may be many deficits that you suffered that you may not realize the defendant is responsible for.
Get Knowledgeable Legal Counsel if You Have been Injured in Wrong Way Accident in Pennsylvania
An attorney at Cohen & Riechelson is the first step in success when it comes to wrong way accident cases. Fortunately, our legal team has fought for wrong way accident victims throughout Pennsylvania for half a century, and we can assist with obtaining just compensation for your injuries and damages. If you or someone close to you experienced harm in a wrong way accident in Bensalem, Newtown, Croydon, Fairless Hill, Horsham, Levittown, and towns throughout Pennsylvania, call (215) 337-4915 for a free case evaluation and discuss your legal avenues toward becoming whole.