Dealing with the Challenges to Sue for Emotional Distress in PA
Emotional Distress Following a Traumatic Event or an Accident Can Have Severely Debilitating Effects on Your Life.
In Pennsylvania personal injury law, emotional distress is an element of injury that is often overlooked. This is because it is difficult to prove that an accident or event created severe emotional distress unless accompanied by a physical manifestation. If you have been injured in an accident due to someone else's negligence, and its impact has caused great emotional distress, you need professional representation by an experienced team of attorneys who handle injury claims on a regular basis. Our team at Cohen & Riechelson has worked for decades to get our clients in Warminster, Levittown, Morrisville, and throughout Northeast Philadelphia, Bucks County, and surrounding areas in Pennsylvania, the full damages they deserve in a personal injury claim, including emotional distress and other non-economic damages. Contact us today to talk with a lawyer in a free consultation at (215) 337-4915 or fill out our contact form. Read on to learn more about how emotional distress figures into an accident injury claim.
Becoming Familiar with Emotional Distress in PA
Emotional distress is a psychological injury that one experiences after an accident, injury, or other trauma. It can include anxiety, depression, insomnia, night terrors, and the emergence of unreasonable fears. Emotional distress is the mental and emotional counterpart of physical injuries that many accident victims experience. In some cases, emotional distress is brought on by an accident, even when there is no physical injury to go along with it. Symptoms of emotional distress are not always easy to identify or physically evident, but that does not mean you are not suffering unduly due to them.
Negligent Infliction of Emotional Distress (NIED)
Negligent infliction of emotional distress (NIED) is a term for an action that, as a byproduct, caused severe emotional trauma. Examples of negligent infliction of emotional distress include a driver causing an accident that injured a victim, leading to their ongoing anxiety. Another example includes a doctor failing to see a cancerous tumor which then leads to the patient falling ill; the doctor has not done their duty as a medical professional and, due to their negligence, has caused both physical and emotional distress. Even witnesses or bystanders of accidents who are not physically harmed in a traumatic event or accident can sue the liable party for negligent infliction of emotional distress in some cases.
Types of Events That Trigger Emotional Distress
Participating in and witnessing traumatic events can trigger emotional distress. Accident victims who are physically and non-physically injured can experience an onset of emotional distress symptoms such as insomnia, heightened stress, anxiety, depression, and nervous attacks. Physical injuries as well as felt close encounters with death through accidents make their victims particularly susceptible to ongoing emotional distress following the trigger. Bystanders and participants of accidents who are not injured also face an onset of emotional distress through the traumatic trigger of witnessing another's injury or brush with death, or feeling it themselves by proxy. A family member or friend who watches their loved one get severely injured or killed in an accident can experience emotional distress afterwards, regardless of the fact that they were not physically impacted.
Factors That Must be Proven in an Emotional Distress Claim in Pennsylvania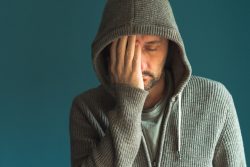 While emotional distress is a serious factor in accident injury claims, it is not easy to prove. In order to prove negligent infliction of emotional distress, one must show evidence that they were a participant in or close to an accident as it occurred, and that the impact of their position in relation to the accident reasonably made a markedly distressing impact on them. Providing expert medical opinion such as that of a mental health provider that they have psychological symptoms associated with the event will be helpful for the claim. If the person was not physically injured in the accident but was a bystander, they must prove proximity to the "zone of impact," either through physical proximity to the trauma, which would have a serious impact on the senses and nervous system; or by close relationship to the victim of physical injury caused by the accident.
Importance of the Demand Letter in Emotional Distress Claims
A demand letter is a legal document that explains the plaintiff's intent to sue for damages, including emotional distress and other pain and suffering, if the issue does not reach a settlement. In emotional distress cases, a demand letter is often necessary to encourage a defendant to settle where they otherwise might not, as litigation costs elevate a defendant's expenses significantly, and the demand letter displays the plaintiff's sense that full damages sought are deserved.
Seek Experienced Counsel from Bensalem Personal Injury Attorneys to File a Claim for Emotional Distress
Our personal injury attorneys at Cohen & Riechelson are here to work on your behalf to gather necessary and abundant, diverse evidence to support your claim of pain and suffering caused by another's negligence if you have been physically injured. Our background in personal injury negotiation and litigation paves the way for our deeper understanding of just what is at stake in your emotional distress claim, and we pride ourselves on successfully representing clients in Croydon, Fairless Hills, Buckingham, Doylestown, Langhorne, and throughout Pennsylvania every day, so they can move on with their life after a traumatic event. Contact us at (215) 337-4915 today to discuss filing a lawsuit against the party who caused your accident and resulting emotional distress as you get back on the way to well-being.