How Contingency Fees Might Help You Manage Legal Expenses
You might have wondered how true it is that lawyers will agree to get paid only if you do, once a legal settlement is finalized.
Service fee arrangements based on "contingency" is a concept that you need to understand clearly to choose whether or not it is advisable for your situation.
Understanding Contingency Fees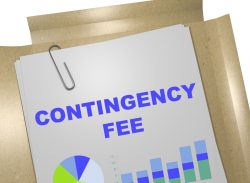 The contingency fee is the percentage subtracted from the monetary compensation you receive to restore personal injury losses, recovery pain and suffering. This means that attorneys who offer this kind of payment agree to receive their payment "contingent" on you actually getting such compensation, instead of the hourly service fee they would usually charge.
The agreed amount between you and your lawyer is known as recovery percentage, and it is based on the following criteria:
The party is liable for litigations costs and the timeline to complete the payment.
Case complexities and potential risks
Contingency Fees According to Case Complications
Attorneys are allowed to charge higher percentages of contingency fees when facing complicated, risky cases, although they avoid running into disproportionate fees. Lawyers can alternatively decide to decrease the contingency fee if the case settlement does not involve major obstacles or does seem to finalize in compensation.
Proper Times to Choose Contingency Fees
Pricey and complicated cases are perhaps the best match for contingency fees, especially if the client cannot afford high attorney fees. Considering that ensuring compensation on personal injury cases is not guaranteed, personal injury attorneys will usually accept to work on a case depending on contingency fees once they have confirmed a way to collect their percentage of the settlement or a backup insurance policy.
Personal injury and workers' compensation cases are the most common civil cases in which lawyers agree to advise and represent a client for a contingency fee.
Some attorneys may also decide to apply contingency fees in wage disputes, class-action lawsuits, bankruptcy, professional malpractice, sexual harassment, employment discrimination, and debt collection cases.
Divorce or criminal cases do not allow contingency fee agreements, as the fee would depend on securing alimony, child support, property, or a divorce settlement.
Would You Still Be Liable for Litigation Costs?
Administrative costs are left as an out-of-pocket expense for clients, in most cases, although the attorney may have established a contingency fee. The only exception to this rule would be a disclaimer on the contingency fee, exonerating the client from any cash expenses.
Administrative or also called litigation costs include: mediation, investigator, travel, messenger, telephone, and postage costs; court fees, filing fees, expert witness services, deposition expenses, medical records, or public document processing fees (to be used as the burden of proof), plus any miscellaneous charges.
The contingency contract must be discussed and reviewed before you commit to it, considering the expenses you will be liable for if the case's outcome is unfavorable.
Pros of Choosing a Contingency Fee
Below are some of the pros or advantages of agreeing on a contingency fee payment:
– Fees do not need to get paid off while working on achieving a case settlement, and bills would also not be issued. Therefore, even clients who come to the case financial struggling would still be able to seek legal advice.
– If the attorney's fee is based exclusively on the amount you receive compensation, they will most likely work very hard on ensuring you are granted a high compensation amount.
–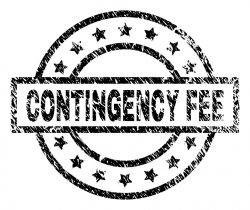 If the case does not happen to resolve in your favor (i.e., you lose the case), you would not be held financially liable for attorney fees either but might still have to pay for litigation fees.
– There is a high possibility of receiving a larger value financial compensation if you decide to hire a personal injury lawyer instead of handling the case on your own and even after subtracting litigation and attorney fees.
Contingency Fee Agreement Basics
Contingency fee contracts must be in written format, signed by both the client and attorney hired, and billing fees under that contract. The agreement must outline the number of attorney fees deducted from whatever final amount is awarded, the percentage of the recovery fee granted to the lawyer, and finally, the method of payment used to pay off the lawyer. Do keep in mind that each state can have a different maximum allowed amounts or caps for contingency fees charged by lawyers.
To learn more about the billing methods used by lawyers, particularly contingency fees as a means to charge for legal services, you may also consult this link.
Contact our Legal Team for a Free Consultation at our Bensalem office.
If you or a loved one are in the midst of considering filing a personal injury claim and need to understand better the pros and cons of committing to a contingency fee agreement, you are entitled to seek the professional advice of an experienced personal injury lawyer to build an agreement that works towards your best interests.
At The Law Office of Cohen & Riechelson, we pridefully represent clients in Croydon, Doylestown, Lower Makefield, and Northeast Philly & Lower Bucks County. Whether you are currently involved in a personal injury claim or only have questions regarding contingency fee-based agreements in Pennsylvania, our attorneys are prepared to offer the information you need now.
Contact us online or call our Bensalem, PA office at (215) 337-4915 today to schedule a free and confidential consultation regarding your individual case.