Game Plan to Seek Compensation After a Sports Injury
Sports Participation, Whether It Is Done for Fitness, Cultural Significance, Or Skill Development, Entails Inherent Risks Such as Head Injuries, Broken Bones, And Strains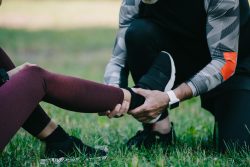 Youth and adults are encouraged to live healthy lifestyles by eating well and exercising. Many prefer playing sports as exercise. For some, playing football, baseball, or soccer in youth or adult recreation leagues is a family tradition. But whether you play sports to keep in shape, make friends, or sharpen your skills, there are obvious risks. Contact sports, especially, risk players' intellectual and physical health with concussions, sprains, fractures, contusions, lacerations, and even heart attacks. Sports injuries result in costly medical bills and wage losses each year due to time off for recovery and medical appointments. Some lead to permanent damage.
Participating in Sports Poses Significant Risks in PA
Despite training, supervision, and waivers with warnings, playing sports can be dangerous. Sports injuries occur for various reasons, including wrong equipment, improper technique, and irresponsible behavior. You risk an injury when you use incorrect techniques, whether you run on your heels, pronate, or wind up to kick a ball with too much hip extension. Overtraining and ramping up physical activity before you are ready to contribute to overuse injuries, tendonitis, and sprains.
Additionally, wearing shoes with insufficient support, running or jumping on hard floors or ground, and overuse injuries from playing the same sport for years result in knee, back, and leg injuries. Not using proper protective equipment, like pads in football or hockey, playing with an injury, and having anatomical features or taking medications that make you prone to specific injuries are sources of sidelined athletes.
Then again, an overly aggressive or enraged player can cause injury by assault or playing on poorly maintained fields or courts, causing sprains and fractures from uneven grass, holes, and loose floorboards in a gymnasium. In general, however, your injuries correlate to the sport you play, your age, and your sex. Not surprisingly, sports like motocross, horse-riding, rugby, hockey, and football are high-intensity, high-injury sports.
Sports Injuries, From Minor Setbacks to Lifelong Challenges
The most common injuries are torn ligaments, broken bones, fractures, dislocations, heat exhaustion, paralysis, head injuries, and strained muscles. Serious injuries, like spinal cord injuries, concussions, traumatic brain injuries, joint and back injuries, and torn muscles and ligaments, can take years to recover from, maybe even a lifetime. But even fractures, shin splints, pulled groins, and tendonitis can set you back in lost time and expenses.
Ensuring Player Safety in School Sports and Private Facilities
Injuries happen at schools, private venues, and sporting events. When you play in a college or high school league, the school or coaches may be responsible for your injury. The school provides equipment, venues, and personnel. The school and staff are responsible for ensuring players do not use outdated, faulty equipment. They must promote player safety by updating supplies, performing safety checks on sports venues, and hiring competent staff.
More importantly, coaches and personal trainers make crucial decisions about injured athletes, such as when a player can return to the field after an injury. Most sports programs have concussion protocols that determine when a player may return to the field after a brutal hit to the head. Failing to take a player out after an injury, encouraging foul play, or pushing a player to perform beyond their capacity are other examples of coaches risking player safety.
Dealing with Negligent Behavior in Sport-Related Activities
When coaches pressure trainers to release players onto the field too soon, or physical trainers make errors in assessing a player's capability to return to the game, negligence is the source of injury. And when it comes to concussion and traumatic brain injury, negligent decisions can be critical. Concussions and traumatic brain injuries can leave a player suffering from memory loss, confusion, migraines, light sensitivity, mood swings, ADD, depression, and other conditions that persist.
But even amateur adult leagues can cause injuries by providing dangerous field conditions. For instance, a recreational center that collects fees for a basketball league must ensure that their basketball courts do not have hazardous cracks in the court, loose floorboards in a gymnasium, or unstable basketball hoops that crash down on players. However, most recreational leagues have players sign waivers that release the league from liability for injuries resulting from engaging in specific sporting activities. Nevertheless, damages resulting from activities not covered in the waiver may not preclude an action against a negligent actor.
Sometimes, officials, coaches, and spectators cause player injuries. Officials who allow dangerous players to violate game rules or assault other players may be responsible for the association that provides the officials for player injuries. Even coaches, teammates, and spectators may assault and injure players during or after a game. These behaviors may be deemed willful misconduct actionable in a court of law.
Who Bears Responsibility for Injuries While Participating in Sports?
Who is liable for an athlete's injuries can be a complicated question. Private organizations, clubs, and schools are responsible for their negligence. However, you may not sue public schools and entities considered governmental bodies except under narrow exceptions. Sovereign immunity protects Pennsylvania governmental entities from liability for sporting events on public schools or entities.
While it is true that there are inherent risks in playing sports. It is common for soccer players to twist their ankles or suffer concussions when two players attempt to head the ball simultaneously. The players assume the risks of the game. However, injuries due to another's negligence or recklessness are avoidable. Coaches, staff, organizations, and fellow players owe duties to players to avoid unnecessary risks to their health and wellbeing. They must follow injury protocols to protect players from reinjury or worsened injuries. Also, those overseeing youth are responsible for educating players on how to avoid harming themselves and others.
The Role of a Pennsylvania Sports Injury Lawyer in Your Case
By law, you have the right to compensation from those who breach their duty of care to protect you from avoidable harm. Our firm's Pennsylvania personal injury attorneys can help you assess who or which entity owed you a duty they breached. When you get hurt during a sporting event, explain what happened, who was present, and whether you signed a waiver and release of liability. Our knowledgeable personal injury lawyers can review any documents you signed and advise whether you have a claim.
Determining who is responsible is another task for our attorneys. For example, when your injury arises from a company soccer game, your employer may be liable for your damage. Your recourse may be to file a worker's compensation claim. On the other hand, when a coach or player punches you, they may be personally liable for their reckless, even criminal, conduct. Otherwise, you may file a claim against an organization or school, even when you signed a waiver. Negligent or reckless behavior or conditions may render a waiver useless for the venue or organization's protection from liability, depending on what occurred to cause your injury.
Trust our Bucks County Sports Injury Attorneys to Identify Liability and Seek Compensation if You Have Been Injured in a Sporting Event
Our Pennsylvania injury attorneys at Cohen and Riechelson can investigate organizational rules, gather documents, and interview witnesses to support a compensation claim. Those who cause your harm are responsible for the damages arising from your sports injuries, such as your medical bills, physical therapy costs, lost wages due to recovery and medical visits, and future financial losses. You can also claim compensation for the pain and suffering you endured from the injury. With the help of our team of experienced Pennsylvania personal injury attorneys, you can get support on your road to recovery in Doylestown, Newtown, Bristol, Fairless Hills, Levittown, Yardley, and across Bucks County, Northeast Philly, and throughout the state. Contact us at (215) 337-4915 today to discuss your injury claim.