Debunking Common Tort Reform Myths
Tort Reform and Personal Injury Cases Bucks County PA
Serving Clients Across Northeast Philadelphia, Levittown, Bensalem,  Penndel, and Bucks County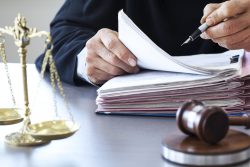 Lawyers and the reputation of the litigation process are often plagued by negative beliefs based on societal misconceptions and perceived understanding of the system that may not be based on facts. The myth that lawsuits are out of control and have some level of responsibility for many societal issues is pervasive. The tragedy is that public policy decisions are often made based on these myths while ignoring the very real necessity for those who have suffered personal injuries to be able to make their lives whole again through just compensation.
At Cohen & Riechelson we want to be by your side when you need an honest and responsible attorney to provide guidance and support in your specific situation. Our lawyers are passionate about advocating for innocent victims and their families. We have served those injured in Pennsylvania for over four decades and are committed to providing personalized service and zealous advocacy for each and every client who walks through our doors. To discuss the circumstances of your case with a member of our knowledgeable personal injury team, contact our Bensalem offices anytime at (215) 337-4915 or contact us online to schedule a free and confidential consultation.
Tort Cases and Personal Injury Lawyers Bensalem PA
Tort reform is the only way to keep lawsuits from killing small businesses: However, many small business owners would disagree as they consistently rank lawsuits very low on their list of concerns. In truth, it is large corporations fighting for tort reform in order to help shield themselves from financial accountability for any negligence. Compensating those injured by their negligence or defective products can eat into their profits. They have gone a long way and spent countless millions of dollars lobbying politicians in order to make it as difficult as possible for the injured to receive the compensation they deserve.
The courts are overflowing with frivolous lawsuits: The truth is that tort cases comprise a mere 4.4 percent of state court filings.
Furthermore, the number of cases filed has been in steady decline. Between 1999 and 2008, the number of tort filings in state courts declined by more than 25%. The number of tort trials at the state level has decreased also. Moreover, in the largest counties in America, tort trials decreased by 31.8% between 1992 and 2001. Between the years 1985 and 2003, the number of federal tort cases resolved in federal district courts also dropped by a whopping 79%.
Large increases in insurance rates are the result of lawsuits: It is true that insurance premiums are rising. However, according to several studies, their profits have risen to all-time levels as premiums have increased, according to VeryWellHealth.com. The insurance industry has remained amazingly profitable for its shareholders.
Charities are receiving far fewer volunteers out of fear of lawsuits: The truth is The Volunteer Protection Act of 1997 provides immunity for volunteers of nonprofits.
Why are Personal Injury Claims Necessary?
Though it is somewhat rare for someone to be seriously injured due to the negligence of another it happens much more often than many would think. Individuals end up victims due to negligence in many different circumstances including automobile accidents, a slip & falls, a workplace accident, or by the use of a defective product. If you have to face any of these situations after being seriously injured, you can expect to have substantial medical costs, and in many cases, loss of revenue due to being unable to work for either a short or long period of time. The financial strain can be almost unimaginable not to mention the pain and suffering caused by your injuries.
For these and many reasons, the law allows an injured individual or individuals to seek just legal compensation from the party responsible for their injuries. In most cases, these judgments are designed to help to get the injured individual as close to the life they had before the injury but in some cases, it is designed to punish the person or entity so that they will end dangerous behavior that may be a risk to others in the future.
OUR REPUTATION IS OUR GREATEST ASSET
"I honestly cannot give a single bad review for Phil Cohen and this team! I have used his expertise for a few cases now and have been repeatedly thrilled with the results. Phil was very patient and informative and settled my cases in a satisfactory time frame. I will always come to these guys first!" – Rebecca, Client
Contact our Bucks County Accident and Injury Lawyers
If you or someone you know has suffered a personal injury caused by the negligent or deliberately harmful act of another, working with an experienced personal injury attorney is the best way to ensure you have the opportunity to recover the financial compensation you need for medical expenses, lost wages, rehabilitation costs, pain and suffering, as well as other damages. Confusion and fear are common after any accident. Because most of us don't know the law, we may not even know that we have the right to be compensated for our injuries.  Contacting an experienced personal injury lawyer as soon as possible is highly recommended.
If you suffered a traumatic injury at work, driving your car, or any another circumstance, and you believe that someone else may be responsible for your damage, contact the Bucks County law offices of Cohen & Riechelson today at (215) 337-4915. A member of our qualified personal injury team will assist you shortly to schedule a free of charge consultation.