Can I File A Personal Injury Claim For An Uber Or Lyft Rideshare Accident?
Rideshare drivers have little oversight from companies like Uber and Lyft and often little to no added driver training.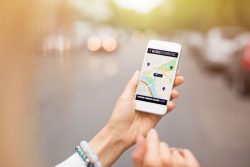 The MIT Technology Review says that rideshare services like Uber and Lyft have caused an increase in total car crash deaths in the US. Ridesharing services like Uber, Lyft, Blacklane, Didi, Ola, and others have never been more popular as an alternative to taxis. Whether you're trying to avoid the stress of navigating traffic or getting a ride because you've had a few drinks, or bought more than expected while shopping, services like these can be incredibly convenient. However, taking a Lyft or Uber does not necessarily mean that you will not be involved in a traffic accident. Traffic accidents, as a whole, are on the rise in Pennsylvania and New Jersey. The growing popularity of ridesharing services simply adds to the traffic and congestion on the state roads. If you or someone you love were injured in a ridesharing accident you may be entitled to compensation.
In many cases, these drivers may be susceptible to getting into a motor vehicle accident with other drivers or pedestrians. Ridesharing service companies may try to avoid paying any damages by arguing that the accident was caused because of their driver's misconduct. In these situations, you may be required to file a personal injury claim against the rideshare driver first.
Rideshare drivers have little oversight from companies like Uber and Lyft and often little to no added driver training. They are just regular drivers using their personal vehicles to take other people to their destinations. While rideshare companies do require drivers to periodically have their vehicles inspected, they perform very little oversight over the drivers. As "independent contractors" this can make life extremely complicated when an accident occurs.
Contact the personal injury attorneys at Cohen & Riechelson to find out how we can help you fight for the money you deserve. We have offices in Trenton, New Jersey, as well as in Philadelphia and Bensalem. Due to the current "shelter-in-place" orders, our attorneys can arrange a safe, secure, confidential, and convenient virtual consultation utilizing technology such as Skype, Zoom or Google Hangouts to support your legal needs. Our seasoned auto accident injury attorneys have dedicated their careers to thwarting the efforts of these interests, placing the power back in the hands of those who deserve to be compensated for their physical, emotional, and financial losses.
Common Traumatic Injuries Suffered in Mercer County, NJ Ridesharing Accidents
The skilled team of traumatic injury attorneys at Cohen & Riechelson have extensive experience representing clients who have sustained injuries such as:
Back and neck injuries
Burns
Scarring and disfigurement
Eye injuries
Knee injuries
In the most tragic of instances, a traumatic injury can result in death. In these cases, the loved ones of the deceased may have grounds to file a wrongful death lawsuit on his or her behalf. If you have lost a loved one due to someone else's negligence, contact the law offices of Cohen & Riechelson. Our lawyers are prepared to help you seek justice.
Bensalem, PA Rideshare Accident Injury Lawyers Define Distracted Driving
In Pennsylvania, it is strictly forbidden to text and drive. This ban includes the use of any "interactive wireless communication devices" to send, write, or read any type of text-based communications such as instant messages, text messages, emails, and internet browsing. Unfortunately, many drivers choose to recklessly ignore this regulation and use their mobile devices for functions other than phone calls while operating vehicles.
Other common forms of distracted driving as defined by PennDOT, may be:
Interaction with other passengers
Reading and/or writing
Eating, drinking or smoking
Searching for objects or using other objects
Rubbernecking
Fiddling with radios, NAV systems, CD players or other heads up displays
Philadelphia, PA Personal Injury Lawyers Prevent Insurance Companies from Taking Advantage
Do NOT any sign Insurance Liability Release or Medical Authorization Forms and NEVER accept any settlement offers from an insurance company without first consulting with your personal injury attorney. Their assessments of damages are notoriously under-valued and you may receive less than you are entitled to. They will know how to take advantage of a difficult situation and get the result that is in their best interest and limit the amount of money you walk away with.
Contact our Bucks County, PA Rideshare Accident Personal Injury Attorneys Today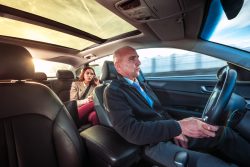 When a rideshare accident leads to an injury, it can have a devastating effect on the lives of those impacted. The inability to work, costly and time-consuming medical procedures and rehabilitation, and the psychological trauma which can accompany an injury are all difficult to bear. Thankfully, with the help of our personal injury attorneys, you and your family may be able to recover full and fair compensation for those and other considerations surrounding your injuries.
At The Law Office of Cohen & Riechelson, we believe in keeping our clients informed and involved throughout the claims process, which we find leads to more favorable outcomes and more satisfied clients. In our 45 plus years of practicing personal injury law, we have learned how to effectively, efficiently, and inexpensively find successful resolutions for all manner of motor vehicle personal injury claims.
Contact us online or call us today at (215) 337-4915 in Bucks County, PA, or (609) 528-2596 in Trenton, NJ to speak with a member of our legal team in a free and confidential consultation regarding your motor vehicle accident and your potential personal injury claim.