Bicycle Rider Injured due to Road Rage in Bucks and Philadelphia County PA
As a bicycle rider, you are exposed to greater injury than car drivers because you ride unprotected.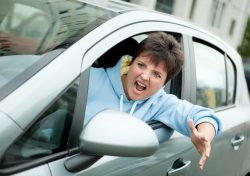 Becoming the victim of road rage can be a scary moment. Many drivers do not know the rules of the road when it comes to sharing the streets and avenues with bicycles. Oftentimes, drivers become impatient and commit acts of road rage to bicycle riders with no provocation whatsoever.
You might wonder if road rage is a crime. In fact, in Pennsylvania, road rage is both a criminal offense and a civil offense. Road rage may be charged as reckless driving, an offense punishable by a suspended license, and/or a fine. It can also be a criminal offense for a charge of aggravated assault by a vehicle,  a third-degree felony.
As the victim of road rage, you have rights. The person who victimized you should be held accountable for breaking the law and causing you injury. Your Philadelphia personal injury attorneys at Cohen & Riechelson are available to explain your options and help you obtain the compensation you deserve.
WHAT IS ROAD RAGE?
In contrast to aggressive driving, which is a moving violation, road rage incidents occur when aggressive driving transforms into a much more serious conflict.  The usual situation for a road rage incident is when a driver perceives another as driving carelessly, aggressively, or simply being in the way. This driver may become angry and resort to a violent act to make his or her displeasure known. In some cases, the driver may use his or her vehicle as a weapon by driving at the other vehicle or in this case, the bicyclist. In the most extreme circumstances, the driver may brandish or use a weapon. If an individual is killed due to road rage, the incident may result in vehicular homicide charges.
CAN I SUE A DRIVER WHO WAS NOT CRIMINALLY CHARGED?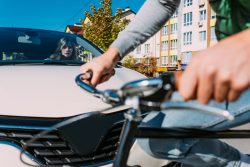 Suing someone for road rage does not rely upon whether the state chooses to seek criminal charges against the wrongdoer. Anybody can bring a common claim for street rage whether or not the state processes criminal allegations. The guidelines for demonstrating a criminal case are not the same as the norms for demonstrating a cause for a civil case. In fact, what you have to prove in a civil case and in a criminal case is different. An accomplished lawyer can assist you with understanding whether you have a case for road rage and what you may receive in damages. You can sue when you are harmed by any action done deliberately to hurt or intimidate you. Obviously, road rage is more than carelessness – it is purposeful wrongdoing. You can sue the driver and your damages can include everything from lost wages, emotional distress, and physical injuries. Even attorney fees and punitive damages could be a part of the settlement.
WHAT HAS TO BE PROVEN IN A ROAD RAGE LAWSUIT?
Those injured in aggressive driving and road rage accidents must prove that the defendant was negligent.  This is often the underlying legal theory used in car accident cases. To prove negligence, four elements must be met:
Duty – The driver had a lawful obligation to be cautious. Other obligations include driving at a sensible speed according to climate and road conditions and keeping their vehicle in good condition.
Breach – The driver was not cautious and therefore did not complete their obligation. In forceful driving or road rage cases, the driver's careless, aggressive conduct, such as speeding or running a vehicle off the street, would be considered a breach of expected conduct.
Causation – The other party was the actual and legal cause of the accident. For example, if the cyclist was all over the road and was hit by a vehicle, causation by the driver is not proven.  However, if the cyclist was in the right lane and the driver attempted to turn right encroaching on the cyclist's space, there would be cause to claim the driver of the vehicle was clearly at fault.
Damages – The offended party endured real injury or loss of income on account of the driver's carelessness. Harmed offended parties should keep records, for example, photos of their wounds, hospital reports, clinical receipts, medical clinic charges, police reports, and property harm along with a calculation of lost wages.
Contact our Bucks County, PA Bicycle Accident Attorneys Today
At the Law Office of Cohen & Rielchelson, we believe in working with our clients and keeping them involved in the claims process.  We have found that by keeping them in the loop, their outcomes are more successful, and they are more satisfied.  Our team of motor vehicle attorneys has experience in Northeast Philadelphia including Bensalem, Levittown, Penndel, Feasterville, Millbrook, and all of Bucks County.
With more than 45 years of practicing personal injury law, our efficient, effective, and inexpensive services result in successful resolutions for all kinds of motor vehicle personal injury claims.
Contact us online or call our Bensalem offices at (215) 337-4915 today to speak with a member of our legal team in a free and confidential consultation.