Seeking Compensation for Explosion Accidents in Pennsylvania
Getting Injured in an Explosion Accident Can Cause Devastating Effects with Profound Day-to-Day Consequences. A Northeast Philadelphia Explosion Accident Lawyer can Help You Seek Compensation from those Responsible.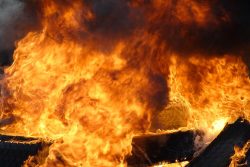 Explosions are not uncommon, but they can cause an uncommon amount of mayhem, to life, limb and property. If you've been injured in this sort of unfortunate event in Pennsylvania, you might be entitled to recoup your financial losses. But this task will probably be much more successful if you hire a committed injury attorney, like the ones at Cohen & Riechelson, who are experienced in pursuing explosion injury cases.
Top Causes of Explosion Accidents in PA
Explosions frequently happen in places that handle chemicals or other volatile substances, such as chemical factories, gas stations, or areas close to gas lines. A few common causes of explosion accidents that could be applicable are:
Gas leaks: Accidental or intentional gas leaks from pipelines, gas cylinders, or storage tanks can lead to explosions.
Electrical fires: Short circuits or overheating electrical equipment can cause sparks or flames that ignite gas, fuel, or other flammable materials.
Chemical reactions: Mixing incompatible chemicals or improper handling of hazardous substances can cause explosions and fires.
Industrial accidents: Malfunctioning machinery, faulty equipment maintenance, or human error in industrial plants can lead to explosions.
Terrorism: Acts of terrorism involving explosives can cause significant damage and loss of life.
It's essential to note that these are not the only causes of explosion accidents, and each incident has its unique circumstances that need to be thoroughly investigated.
Locations Most Prone to Have an Explosion Event
Some of the most common places for explosion accidents are:
Industrial settings: Explosions can occur in factories, refineries, chemical plants, and other industrial settings where hazardous materials are present.
Oil and gas industry: The oil and gas industry is particularly prone to explosions due to the highly flammable nature of the materials being processed.
Mining operations: Mines can have explosive gases or dust, which could lead to accidents.
Transportation: Explosions can occur during transportation of hazardous materials via trucks, trains, or other vehicles.
Construction sites: Combustible materials such as fuel, gas, and chemicals pose a risk of explosion at construction sites.
Laboratories: Laboratories where experiments are conducted with volatile substances such as chemicals and gases pose a risk of explosion.
Common Types of Injuries in Fires and Explosion Accidents
Explosions often produce intense heat that can lead to severe burns. The severity of burns can vary depending on the location and proximity of the victim to the explosion. Blast waves generated by explosions can cause changes in air pressure that affect the brain. This can result in a traumatic brain injury that can cause dizziness, headaches, and changes in cognitive function. Explosions can release gases, dust, and other harmful airborne particles that can cause respiratory injuries such as lung damage, asthma, or pneumothorax. Loud noise generated during explosions can cause hearing loss or tinnitus. Explosions can create metal fragments, shards, and debris that can cause puncture wounds or lacerations. Victims can also suffer bone fractures or dislocations from being thrown or hit by the force of the explosion.
Finding who is Liable for an Explosion Accident in Pennsylvania
Liability in explosion accidents can be complicated and dependent on the specific circumstances of the accident. In general, liability may be determined by identifying who was responsible for causing or contributing to the explosion. If a party failed to take reasonable steps to prevent the explosion, they could be found liable for any resulting damage. If the explosion was caused by a faulty product, such as a defective gas tank or faulty wiring, the manufacturer or seller of the product might be held responsible. Property owners may be held accountable if their property was not maintained safely or if hazards were not addressed that led to an explosion. If the explosion was caused intentionally, such as through arson, the person responsible could face criminal charges and be held liable for any resulting damage. Ultimately, determining liability in an explosion will depend on the specific facts and circumstances of each case. It is advisable to consult with a legal professional in such cases.
Figuring out who's at fault is probably not going to be easy, but it's crucial to a successful personal injury case. You will need to gather evidence that demonstrates what happened. It might have been an equipment malfunction or negligence on the part of a worker. You will need to keep thorough and accurate records of all that you observed on that day. Try to get the witnesses' names and contact info. The lawyers at Cohen & Riechelson would follow up with each of them to get their statement, thoroughly investigate what happened, pinpoint who is liable and can be held responsible, and connect your injuries and damages to the explosion caused by the negligent party.
Options if You Have Been Hurt in an Explosion at Work
If you are injured in an explosion at your workplace or any place else, you should immediately seek medical attention. At work, report the incident to your supervisor and ensure that they file a report with the appropriate authorities. Your employer may be liable for your injuries and may also be required to provide compensation for any lost wages or medical expenses. No matter where the accident happens, it is important to keep records of all the treatment you receive and any expenses you incur. You may also want to consult with a lawyer who specializes in workplace injury cases to help ensure your rights are protected.
What About Explosions in Other Places?
Any place that stores explosive materials, such as a material supplier or a repair facility. There may be a contractor, construction company, property owner, or heavy equipment manufacturer at fault.
Contact Explosion Accident Lawyers for a Free Review of Your Case in Bucks County, Philadelphia, and Northeast Philly, PA
A good Pennsylvania explosion injury lawyer can help to figure out who was liable and who is responsible to give you financial restitution for medical bills, lost wages due to time away from work, the cost of physical therapy, and all the other expenses involved in a case like this. The ways our accomplished team of personal injury/workers' compensation lawyers can help you are based on commonly observed scenarios.
For instance, our personal injury/workers' compensation lawyers can represent you in court and negotiate with insurance companies to ensure that you receive fair compensation for your injuries, lost wages, and other damages. We are dedicated to personal injury law and workers' compensation, so we can provide valuable guidance, explain your legal rights and options, and offer advice on the best course of action. If you've been injured at work or due to someone else's negligence, our lawyers can investigate the incident, collect evidence, and build a strong case to support your claim. Filing a personal injury or workers' compensation claim involves filling out paperwork, submitting documents to the appropriate parties, and meeting strict deadlines. Our law firm can handle all of these tasks on your behalf and ensure that everything is done correctly and on time. Suffering a personal injury or work-related injury can be stressful and overwhelming. Hiring our explosion accident lawyers can give you peace of mind knowing that you have a legal professional advocating for your rights and interests.
Call the skilled and experienced injury lawyers at Cohen & Riechelson today for a free consultation. We can assess your case, investigate, and present a strong case to insurance companies or a court in Langhorne, Bristol, Croydon, Levittown, Yardley, Fairless Hills, Bensalem, Feasterville, and elsewhere in Northeast Philadelphia, Lower Bucks County, and Philadelphia, Pennsylvania. We don't recommend that you try to pursue your case on your own. You need the skills of the attorneys at our office on your side if you want to ensure just compensation. For a free case review, reach us at (215) 337-4915 or fill out our contact form.