Running a Red Light in Pennsylvania: Running a Big Risk
Running a red light exposes other drivers, pedestrians, and people in the vicinity to potentially severe injuries in an accident.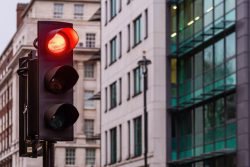 When a citizen obtains their Pennsylvania driver's license, they are expected to follow traffic regulations designed to ensure that everyone on the road – motorists, passengers, bicyclists, and pedestrians – remain safe. Unfortunately, with the rise of distracted driving in Pennsylvania, more people are getting into auto accidents as a result of unsafe driving. One particularly dangerous traffic infraction that has potentially tragic consequences is running a red light. Read on to learn more about how red light accidents can affect you, why it is so important to drive defensively and with complete focus, and what you can do to secure compensation when a negligent driver runs a red light and injures you.
What is Considered Running a Red Light in PA?
A vehicle that has entered into the intersection at any time after the light has turned red is guilty of committing a traffic infraction.
Typical Reasons People Run Red Lights
Most people run red lights because they are in a hurry or are feeling impatient, but running a red light can also occur as a result of negligence while driving, emergencies, an attempt to "beat the yellow" and cross the line before the light turns red, and other causes.
Some Recent Red Light Statistics in PA
According to the Insurance Institute for Highway Safety (IIHS), 846 people were killed in 2019 in the United States due to someone running a red light. In the same year, around 143,000 people were injured due to red light running.
Pennsylvania has less recent but far more startling statistics. According to the Pennsylvania Department of Transportation, in 2016, 808 people were killed in the state alone due to someone running a red light. In addition to those killed, about 137,000 people were injured due to red light running. The National Coalition for Safer Roads called Philadelphia one of the most dangerous cities for red light running, based on 2004-2016 traffic statistics.
Types of Injuries Caused by Running a Red Light
In the IIHS report outlining the staggering number of deaths in 2019 as a result of red light running, the report highlighted that over half of the deaths were to passengers, bicyclists, and pedestrians, and not the driver of the motor vehicle. This fact demonstrates the immense danger to unsuspecting bystanders that can exist when someone runs a red light.
Head, neck, and spinal injuries; broken bones; nerve damage; traumatic brain injuries; burns; and internal organ injuries are all examples of serious injuries that can occur as the result of someone running a red light.
Consequences of Running a Red light in Bucks County, PA
The consequences for running a red light are diverse and potentially tragic. The obvious answer is that death is among the possible consequences of running a red light, for the driver, as well as for passengers, cyclists, and pedestrians. In addition to injury, there are penalties for getting caught running a red light.
Running a red light in Pennsylvania is known as a summary offense. Depending on the conditions in which the red light was run, penalties can be as minor as $25 or lead to jail time.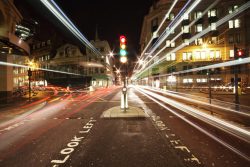 In addition to there being a fine for running a red light, the traffic infraction sometimes leads to points being added to a Pennsylvania driver's license. The accumulation of too many points in a short period of time can cause a driver to lose their driving privileges. In Philadelphia and most other areas in Pennsylvania, red light cameras capture photos of people committing red light traffic infractions. A driver caught by cameras is generally charged $100, though no points are added to their driver's license.
Again, depending on the circumstances of the infraction, the consequences can be as mild as those named above or much more serious. In some cases, running a red light can become part of a reckless driving charge. Penalties for a reckless driving offense involving running a red light are generally three months in jail and a $200 fine, as well as the loss of driving privileges for six months. If someone is killed as a result of a driver running a red light, they will be charged with vehicular manslaughter. This third-degree felony charge could result in as many as seven years behind bars and a $15,000 fine.
On top of the criminal and motor vehicle penalties for running a red light, the offending driver may be liable for a victim's injuries if they caused an accident that injured someone else in the course of their offense. 
Let our Skilled Accident Lawyers Help with Suing a Negligent Driver who Caused Your Injuries by Running a Red Light in PA
Our Team of Personal Injury Lawyers will help you prepare a claim to obtain compensation for your injuries from a red light accident. It's important to look for experienced attorneys, such as those at our firm, that will help you from the moment you call us until we reach a final resolution of your injury claim.
If you have been hurt due to someone's negligent driving and running a red light, rest assured that our firm has supported clients across Croydon, Yardley, Bucks County, Tacony, Bristol, and surrounding areas throughout Pennsylvania in securing the financial resources they need after traumatic injuries. We at Cohen & Riechelson understand the importance of adequately filing and handling every aspect of your personal injury claim.
Reach out to our legal team at (215) 337-4915 for a free consultation or to schedule a meeting to go over the details of your case.