Popular Myths & Misinterpretations about Personal Injury Lawsuits
Having the Wrong Information Can Lead to Making the Wrong Decisions or Missing an Opportunity to Get the True Financial Award for Your Injuries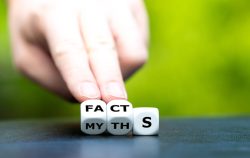 When you or a loved one are injured in an accident as a result of someone else's negligence, you are thrown into a stressful situation that you did not ask for or anticipate. Unfortunately, part of the stress can come from your efforts to be made whole again for your injuries and the damages you sustained.
The first step in mitigating this stress and taking back control of the situation is to be accurately aware of your options for recourse. Many individuals have misconceptions about what is involved in recovering the compensation they are entitled to following an accident and, as a result, they may fail to be made whole for the damages they sustained.
In this article, we will explore some popular myths and misinterpretations regarding personal injury lawsuits, so that you and your loved ones can make an empowered decision about the best path forward.
Myth #1: If Your Insurance Company is Involved, You Do Not Need a Lawyer
Even if your insurance company is involved, that does not mean that they will effectively advocate on your behalf so that you recover the full amount of compensation you are entitled to. While you are their customer, an insurance company is mainly motivated by paying out as little money as possible on a claim.
This means that while they may be motivated to push payment onto the insurance company of the other party involved in the accident or that individual themselves, they are not necessarily motivated to help you recover the maximum amount of compensation for your injuries and related damages.
On the other hand, a personal injury lawyer brings a completely different focus to helping you recover financially from an accident. An attorney has a legal fiduciary duty to serve your best interests in a case and to place your interests before their own.
In addition, personal injury lawyers work on a contingency fee basis. This means that your lawyer will only get paid if you win your case in a settlement or a court judgment. A contingency fee is based on a percentage of the amount of money you receive; therefore, even though your attorney's fiduciary duty is paramount, they are also equally motivated as you to maximize the amount of compensation you receive.
Myth #2: You Will Never be Successful in a Lawsuit Against a Large Company
There are other areas of law in which the financial resources that the opposing party has to invest in litigation can be an advantage to that party and a valid concern of an individual thinking about filing a lawsuit against a large company.
However, if you are injured in a slip and fall or otherwise sustain an injury or property damage as a result of a dangerous condition in a store, parking lot, or another place of business, the seemingly endless legal resources available to that company should not dissuade you from pursuing compensation for your damages.
As mentioned above, personal injury lawyers work on contingency fees. As such, before taking your case, your lawyer will vet the strength of your claim and likelihood of success. They will only take your case if they believe the time required of them to negotiate your claim, "work the case up" (hire experts to testify, depose witnesses, and prepare for trial), and litigate the case will be a worthwhile time investment in light of the award you are likely to receive.
Therefore, as a result of this fee structure, you too will have a legal team that is as devoted to pursuing your case as the large company you file a claim against.
Myth #3: My Medical Records Are Enough Proof of My Injuries
In a personal injury claim, proving that you sustained an injury does not alone meet your legal burden to establish that you are entitled to compensation from the other party. You must also prove that the other party deviated from the standard of care they owed to you and that this deviation or breach of duty was the cause in fact of your injuries.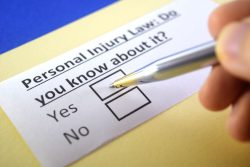 For example, if you are injured in a motor vehicle accident, you must prove by a preponderance of the evidence (which means that it was more likely than not) that the other driver failed to act as a reasonable prudent person under the circumstances and that this failure, rather than your actions or some other intervening event, was the actual cause of your injuries.
It is common in a personal injury case for a plaintiff to obtain a medical opinion report from their treating physician and/or an independent medical examiner, in which the expert states their opinion that the defendant's action or inaction was the direct cause of your injuries, need for past, current, and future medical treatment, temporary or permanent disability, lost wages, and loss of earning capacity, if applicable.
Talk to Our Team of Lawyers to Debunk Personal Injury Misconceptions and Get Top Compensation for Your Injuries in Pennsylvania
If you have sustained injuries due to the negligence of someone else, we hope this information helps to dispel some of the myths you may have heard about personal injury claims. You deserve to be made whole for your damages.
From beginning to end, our skilled Pennsylvania Personal Injury Lawyers adopt a personal approach. Don't take a chance on making the wrong choice having the wrong information. Our success in previous cases is based on our ability to listen to our clients. When you work with us, we'll answer your unique concerns and queries, as well as carefully plan for the best possible outcome and develop a tailored strategy to help you reach your objectives. For a complimentary review of your case, contact our team of skilled and experienced personal injury lawyers today.
Call (215) 337-4915 or fill out the online contact form for a free consultation about your claim if you have been injured and believe you are entitled to compensation. We can assist you or a loved one in Buckingham, Langhorne, Fairless Hills, Doylestown, and throughout Northeast Philadelphia & Lower Bucks County, Pennsylvania.