Rear-end car accident injury client receives compensation with CR by their side
On September 29, 2020, a Federal Court in the Eastern District of Pennsylvania found in favor of the positions advocated by lawyers for Cohen & Riechelson.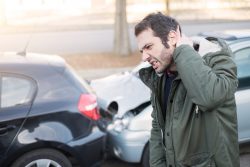 After Imelda Arevalo was injured in a rear-end car accident while she was a passenger in a friend's vehicle, she sought payment of medical bills and uninsured motorist benefits from the friend's insurance company, Omni Insurance.  Omni Insurance, a part of Good to Go Insurance Company umbrella of insurance companies, refused to pay outstanding medical bills and provide uninsured compensation for her injuries.
Within days of the insurance company's refusal to pay for Ms. Arevalo's medical bills, Cohen & Riechelson took action against the insurance company in Federal Court.  In an eleven-page opinion in the matter of Arevalo v. Omni Insurance Company, et al., the Federal Court stated why they agreed with the position taken by Cohen & Riechelson on behalf of Ms. Arevalo and ordered that Omni Insurance is required to pay Ms. Arevalo's medical bills and provide her with uninsured motorist benefits.
With the ruling firmly establishing that Omni Insurance is legal obligated to pay for Ms. Arevalo's medical bills and provide her with uninsured motorist benefits, the matter advances to address the Bad Faith Claim asserted against Omni Insurance, American Independence Insurance Company, and Good to Go Insurance in wrongfully denying benefits.
Contact our Bensalem Personal Injury Attorneys Today
With looming medical bills and the uphill battle of recovery ahead,  at Cohen & Riechelson, we do not burden you with yet another financial responsibility during this trying time. We abide by a contingency model, which essentially means that we work for you for free until you receive compensation. Our skilled legal professionals have been serving clients throughout Bucks County and Northeast Philadelphia for over 40 years with centrally-located offices in Bensalem.
We are committed to providing unparalleled advocacy, advisement, and assistance to our clients while confronting those who would seek to deter you as aggressive, unwavering champions of your interests.
To schedule a confidential case assessment with our firm today, call our Bensalem offices at (215) 337-4915 today to speak with a member of our legal team in a free and confidential consultation.