Injuries Related to Airbag Defects and Malfunctions
While Airbags are Meant to Safeguard Against Car Crashes, Injuries May Still Occur Due to Malfunction, Defects, or Negligence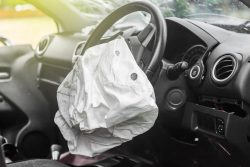 Since the introduction of automobile airbags in the 1980s, the National Highway Traffic Safety Administration (NHTSA) estimates that these safety devices have saved the lives of over 50,000 people who would have likely died in a motor vehicle accident without the protection of the airbag. The Insurance Institute for Highway Safety (IIHS) estimates that airbags reduce the risk of a driver dying in a frontal crash by 29%.
However, despite their undeniable contribution to motor vehicle safety, airbags themselves can often cause injuries to drivers and passengers when deployed. Those who are injured by airbags might be entitled to compensation for their injuries, especially if the injury was caused due to a design or manufacturing defect.
Airbag Safety Mechanisms in Action on PA Roadways
We have all seen an image of an airbag bursting forth from a driver's steering wheel, inflating into a large, white cushion in almost a split second. Some of you may have experienced the deployment of an airbag personally. These safety features are triggered by sensors that detect when a vehicle rapidly decelerates or when an impact collision occurs.
The airbag, which is not inflated inside its internal compartment, is filled with nitrogen oxide when the sensor is triggered, causing the airbag to fill up with the chemical, deploy, and act as a safety cushion to protect the driver from hitting the windshield, dashboard, or the steering wheel and suffering serious injuries or death.
Characteristic Injuries Resulting from Airbags Deployment
Airbag injuries can range from minor abrasions or serious internal injuries. They are typically caused due to the force of the airbag's deployment. The height, weight, and position of the driver can be influencing factors, as they can impact where the airbag hits the individual's body.
When an airbag hits an individual too forcefully for their size or position or because the airbag deployed too forcefully in general, it can cause contusions, abrasions, internal injuries, and broken bones. In some cases, an airbag could also cause eye injuries due to irritation or impact.
Sometimes, a serious malfunction or defect in an airbag can result in life-altering or fatal injuries. In one particularly tragic case, a Pittsburgh teen was killed in a 2016 motor vehicle accident after her 2001 Honda Accord, containing a Takata airbag inflator exploded, sending metal parts flying into the car, which ultimately killed her.
Learn the Various Reasons Why Airbag Accidents Happen in Pennsylvania
Airbag injuries can be caused by product design flaws, manufacturing errors, or the airbag hitting a person who is under the recommended size to sit in a seat in which an airbag could be deployed.
An airbag that deploys with excessive force or inflates unevenly may contain a design flaw that renders the airbag unsafe, even if it is properly manufactured and installed. It is also possible for a manufacturing error to occur while the airbag, inflator, sensor, or other related parts are being produced.
Even if an airbag and its accompanying parts are designed and manufactured properly, if the parts are not installed properly, then an installation error can cause the airbag to not deploy correctly, or the inflator or other parts to malfunction and comprise the function or effectiveness of the airbag, as well as potentially cause injuries to the driver or passenger directly.
Forms of Liability From Airbag Malfunctioning or Negligence in PA
When someone is injured by an airbag, they may be able to recover compensation for their injuries if their injuries were the result of someone else's negligence or a product defect.
Design defects and manufacturing errors are subject to strict liability for any injuries they directly cause under products liability law. This means that the injured party (the plaintiff) does not need to show that the company who designed or manufactured the product acted negligently or failed to act with reasonable care. The plaintiff must simply show that a design defect existed that made the product unreasonable safe or that the product lacked adequate safety warnings. Similarly, if the injury was caused by a manufacturing defect, the plaintiff does not need to show that the manufacturer failed to act with the requisite level of care, but rather that a defect existed and that defect was the direct and proximate cause of the plaintiff's injury. This strict liability standard makes it easier for plaintiff's to recover compensation and puts more pressure on product manufacturers to ensure that their products are safe.
If a mechanic is negligent in repairing an airbag system and their negligence causes injury to someone, then they may be held responsible for the resulting damages through a negligence claim. To succeed in a negligence claim, the injured party must prove that the mechanic failed to exercise reasonably prudent care for a mechanic of their skill and experience and that this failure was the direct and proximate cause of their injuries.
Risks Associated with the Use of Chemicals in Airbags Systems
Airbags are often inflated by a chemical reaction that fills the bag with ammonium nitrate. However, several problems with this chemical compound are known and associated with safety concerns. In hot and humid climates, ammonium nitrate degrades with time, increasing the odds of airbag malfunction and, in turn, the likelihood of injury to drivers and passengers.
Ammonium nitrate can also increase the risk of fragmentation or sharp metal pieces being propelled into the passenger area when an airbag is deployed. A potentially safer alternative to ammonium nitrate is guanidine nitrate, and manufacturers are increasingly exploring this alternative and others to improve airbag safety and effectiveness.
Be a Step Ahead to Prevent Airbag Injuries
One of the best ways to prevent airbag injuries is to ensure that the individual seating in a seat supplied with an airbag is of the minimum recommended height to ride in the front seat. The Center for Disease Control (CDC) recommends that children should be at least 4 foot 9 and 13 years old to ride in a seat with an airbag.
If your vehicle has been recalled or the airbag system of your vehicle has been recalled, it is important to contact the manufacturer immediately. When a recall is issued, it means there is a known design flaw or manufacturing defect, which could potentially cause you or your passengers to be injured.
Steps to Take After Experiencing an Airbag Injury in Pennsylvania
If you or a loved one have been injured by an airbag, it is important to ascertain what exactly led to the injury. Was the design of the airbag systems itself unsafe? Did a problem happen during the manufacturing process that caused the airbag to be defective? Was anyone negligent in causing the injuries? The answers to these questions are generally very difficult to determine on your own and often require the inspection and opinion of experts.
Once the more specific cause of the airbag-induced injuries is determined, you will need to send a demand for compensation to the responsible party or file a lawsuit against them in court. Many of the likely causes of action relating to airbag injuries involve strict product liability, which is a very complex area of law. To prove your case, you will probably need expert reports and testimony.
Connect with a Northeast Philadelphia Personal Injury Lawyer to Seek Compensation for Your Airbag Accident in Pennsylvania
While all of the above may seem complicated and overwhelming, if you have been injured by an airbag, all you need to do is contact an experienced personal injury lawyer at Cohen & Riechelson, who will handle all of the rest for you. Our personal injury lawyers will examine the facts of your case and determine whether you have a viable claim for compensation and who that claim should be against. We will also find and coordinate any expert witnesses needed to support your claim and collect all of the other evidence necessary.
Our team of accomplished personal injury lawyers works on a contingency fee basis, which means that you will not owe any legal fees upfront or if you do not win your case. You will only owe a small portion of the compensation you are awarded for legal fees if you win your case.
For more information or a complimentary review of your case, please contact us today. Our team serves the entirety of Pennsylvania, including in areas such as Doylestown, Warminster, Langhorne, Buckingham, Warrington, Yardley, Newtown, Northampton, Bucks County, throughout Northeast Philadelphia and the state of PA. Contact our law firm at (215) 337-4915 or complete our online form to set up a free consultation today.