Holding Accountability for Slip and Fall Injuries at Grocery Stores
Can You Seek Compensation if a Grocery Store was Negligent in Causing Your Slip and Fall Injury in Pennsylvania?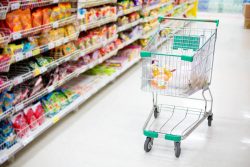 You're out of milk, so you go to the store. It's an outing you've taken hundreds of times, and you don't expect this one to be any different. But while you're headed down the dairy aisle, you slip in a pool of spilled liquid, fall to the floor, and – crack! – break your wrist. What?! All this for milk? And what was that pool doing there? Unfortunately, this is not an uncommon event. While public businesses are required to keep up their premises so that their clients stay safe, sometimes they fail to do so, resulting in injury. When you've injured yourself on a business's property, you may have a claim. In order to ensure that you're sufficiently compensated for the costs of your injury and recovery, it's important to contact a personal injury attorney. We pride ourselves on successfully representing slip and fall victims across Pennsylvania and Northeast Philly. Contact a member of our team at (215) 337-4915 and learn more about whether you have a case.
How do Grocery Store Slip and Fall Accidents Occur in Pennsylvania?
Most slip and fall accidents in grocery stores are caused by wet surfaces, including those that are the result of spills as well as those that have been recently mopped and have not had proper time to dry. Additionally, uneven surfaces including potholes in the parking lot cause a great deal of danger and result in slip and fall injuries. Poor lighting, falling products, improperly treated areas of ice and snow, and improper cleaning such as excessive use of floor wax are also frequent causes of slips and falls by customers that cause injury.
Common Slip and Fall Injuries that Happen in PA Supermarkets
The severity of slip and fall injuries varies vastly, depending on the call and the way in which the person falls. Common injuries from slip and fall accidents in grocery stores are bruises, fractured or broken bones, pulled muscles, back injuries, head and neck injuries, and even traumatic brain injuries from hitting one's head.
After being injured in a grocery store slip and fall accident, the most important thing to do is seek immediate medical attention. Once you have taken initial steps to ensure that your injuries are being treated, contact a personal injury lawyer to determine whether you have a claim against the grocery store at which you were injured.
Who Can be Held Accountable for a Grocery Store Slip-and-Fall Accident?
Grocery stores are subject to what is called premises liability. This means that the store has the reasonable responsibility to keep public spaces free of dangerous conditions. The grocer will be held liable if it is proven that their negligence caused the injury. In order to win a premises liability injury claim, the victim must prove that the business had a duty to maintain their space for the safety of their customers, that they had not fulfilled this duty, and that the victim was injured as a direct result of this negligence.
Despite premises liability, however, a business is not always responsible for the injury accident. For example, Philadelphia law upholds an Open and Obvious Doctrine. According to this doctrine, a customer is responsible for maintaining their safety by staying away from any open and obviously hazardous conditions. Falling after climbing up a pallet jack to reach an out-of-reach item or slipping in a dark employee's only area may be actions that do not have a firm footing in a premises liability lawsuit.
Learning From Foster v. Costco: Store Premises Liability Case
In Foster v. Costco Wholesale Corp., this battle between premises liability and the Open and Obvious Doctrine played out. Companies have a "general duty of reasonable care" to customers. In Foster v. Costco, a customer tripped and fell over a pallet that was in the aisle. The district court ruled in favor of Costco, noting that the pallet represented an open and obvious danger and, as such, the wholesaler was not responsible for injuries incurred by it. Upon appeal to the Nevada Supreme Court, the ruling was overturned, noting that, regardless of a danger being open and obvious, a business has an expanded general duty of reasonable care to attend to dangers that are hazardous.
Retain a Yardley Attorney to Sue a Supermarket for Injuries from Slipping and Falling
There is a fine line in Philadelphia law between what is the duty of the landowner or business operator and what is the risk assumed by a customer. Because there are thousands of dollars in medical expenses, out-of-pocket costs, lost wages, therapy expenses, and non-economic costs like pain and suffering that a victim incurs as a result of a slip and fall accident, you need to have an experienced personal injury lawyer on your side to make sure that you recover damages for the injury caused by a business's negligence. We represent victims in Bristol, Newtown, Yardley, Fairless Hills, Doylestown, Levittown, and across Northeast Philly in recovering damages and moving swiftly on the road to recovery. Contact us at (215) 337-4915 today to discuss your injury claim.