Financial Recovery from Car Accidents in Pennsylvania
Read on to learn more about common expenses following a car accident and how to get back on track.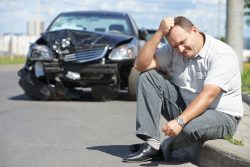 Regardless of how safe a driver you are, car accidents happen. In the United States, around six million car accidents occur per year, and almost 100 daily deaths are caused by accidents around the country. In Philadelphia alone, upwards of 125,267 car accidents were reported during 2019, according to the Philadelphia Department of Transportation. An auto accident can take many tolls, from physical to emotional to financial. Unexpected expenses related to the accident itself and recovery from it can wreak financial havoc and leave you feeling disempowered to continue moving towards your financial goals and dreams after an accident. Read on to learn more about common expenses following a car accident and how to get back on track.
What are some common expenses following an accident?
After a car accident, the most pressing expenses related to medical bills. If you or another party in the accident has been injured, medical expenses can pile up, and their long-term presence can create a huge financial drain. In addition to immediate medical bills such as ambulance payments, surgeries, and follow-up doctors' visits, there are the lost wages you incur by not being able to work while you recover from your injuries. Add to those expenses and lost wages the cost of fixing your car, and you could be looking at a money pit.
How is fault determined in a car accident, and how does it affect what I owe?
When determining how much of a financial burden you will take on following a car accident, it is important to know about your state's traffic systems. Pennsylvania operates under the system of comparative negligence. This means that the degrees of fault of each driver are taken into consideration when determining how much each party will have to pay when it comes to medical expenses and property damage caused by the accident. In some cases, it is quite easy to determine who was responsible for the accident. Their insurance will be responsible for covering the costs and expenses related to the accident for the victims. In other cases, the line between 'responsible party' and 'victim' is less clear. In these cases, comparative negligence is calculated.
Pennsylvania Statute Section 7102 – Title 42, which mentions comparative negligence, states that in all actions brought in an attempt to recover damages for negligence that resulted in death or injury to people or property, the fact that the plaintiff may be guilty of negligence also does not prohibit recovery by the plaintiff in cases where the negligence was not greater than the causal negligence of the defendant. However, any damages that may have been sustained by the plaintiff are lowered in proportion to the amount of negligence attributed to the plaintiff.  As such, determination of comparative negligence occurs on a case-by-case basis. As a general rule, you can only recover damages for an accident if you were less than 50 percent responsible for causing the accident.
What is a No-Fault state?
Pennsylvania is also a no-fault state, which means that when an accident occurs, one's own auto insurance provider covers the initial medical expenses, lost wages, and auto-repair costs, regardless of who was responsible. Over the course of the claims process, fault is determined on a percentile basis.
Insurers investigate the following information to determine the percentage of fault in an accident:
the contents of the police report, including witness statements
all additional evidence and documentation from the scene, including skid marks, debris, or other evidence that could point to what happened
applicable traffic laws from the scene of the accident, to help determine whether there was a failure by any of the involved parties to obey traffic laws, leading to the car accident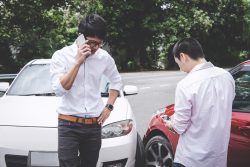 Insurers use this information to gather a clearer sense of what happened. Each party's insurer is looking to find evidence of the other party's partial fault. As such, a representative of the other party's insurance provider may contact you to ask you questions about the accident. It is imperative that you do not speak to another's insurance agent, as it is their job to try to catch you in a statement that claims your partial fault or releases their client from fault. All communication between insurance companies should happen through an accident attorney. For this reason, having the support of a skilled and experienced personal injury attorney is essential to protecting your privacy and rights and ensuring that you receive your fair share in an auto accident for which the other party was completely or partially responsible.
To ensure that you navigate the accident claims process effectively and receive your fair share of damages in an accident, you must seek the support of a qualified attorney.
Contact our Car Accident Attorneys for a free consultation
If you have been in a car accident with another driver, or involved in a multiple-vehicle auto accident, we are on your side.
At Cohen & Riechelson, we successfully represent clients in Bucks County and Northeast Philadelphia.
To schedule a confidential case assessment with our firm today, call our Bensalem offices at (215) 337-4915 today to speak with a member of our legal team in a free and confidential consultation.