Fatal Accident, 2 Killed when SUV landed on vehicle in Southwest Philadelphia
Adults Killed, and Children Injured After SUV Loses Control In Southwest Philadelphia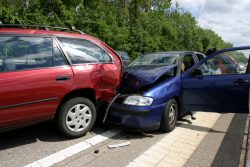 Sadly, two people are reported to have died and eight others injured, including children, after an SUV landed on a car in Southwest Philadelphia. The crash apparently occurred on the 3300 block of South 61st Street around 2:30 p.m. on June 1, 2020, in Philadelphia.
Investigators have disclosed that a Chevy Tahoe was traveling at a high rate of speed when the driver lost control.  The Tahoe flipped over several times and struck a black Hyundai. Witnesses reported that the passengers in the SUV were ejected. Five of the passengers ejected from the vehicle were children and were taken to the hospital for treatment.
The three occupants in the black Hyundai were also taken to the hospital for treatment as well.
While the police are reportedly still investigating the motor vehicle accident, the driver, a man in his early 30's, as well as a passenger, a woman in her early 30's, were both pronounced dead at the scene. Five children between the ages of 8 and 14, were all injured and taken to the hospital. Four of the children suffered minor to moderate injuries while one of the children may have suffered major injuries, police have stated.
We pray for recovery for the victims of the accident and for those that lost a family member.
According to the Pennsylvania Department of Transportation, Philadelphia had between 10,700 and 15,100 automobile accidents over a ten-year period.  The total number of motor vehicle accidents involving speed, motorcycles, and DUI has been reduced over the past ten years.
Fortunately, the number of fatal motor vehicle accidents in Philadelphia have also declined over the past ten years.
If you are a victim of a motor vehicle accident, we at Cohen & Riechelson can assist you and protect your rights.  We have a team of experienced legal counsels that are familiar with the roadblocks that insurance road will create and how to maximized recovery for your injuries.
Contact Our Bensalem Auto Accident Attorneys Today
Contact us online or over the phone by calling (215) 337-4915 to speak with a member of our personal injury legal team at our Bensalem offices. We will be standing by to discuss your accident and injuries in a free and confidential consultation today.