Are Trespassers Able to File Personal Injury Claims in Bucks County, PA?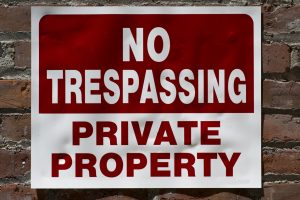 A famous Pennsylvania personal injury case involved a burglar, Terrence Dickinson, successfully suing homeowners after he became trapped in their garage without food or water. Dickinson survived on dog food and Pepsi for over a week before the homeowners returned from a trip. However, this case is not a typical example of trespassers' rights in PA. In most cases, property owners are not responsible for maintaining a safe and secure environment for uninvited guests. Complications such as whether the trespasser was discovered or undiscovered, the presence of a third party, and more can all create legally complex personal injury claims when a trespasser becomes injured.
Today, our personal injury claims attorneys will review state and federal trespassing laws regarding personal injury claims, when trespassers may successfully file personal injury claims, and what property owners can do to protect themselves.
Levittown, PA Trespasser Personal Injury Claims Attorneys
Our Levittown personal injury attorneys understand that no two cases are exactly alike. Pennsylvania PI statutes can be complex and quite frankly, confusing to understand. There are two basic scenarios from which many other possibilities can come when it comes to personal injury cases filed by trespassers:
The trespasser was "discovered" – in other words, the property owner was aware that a trespasser was on his or her property. If this is the case, the property owner has the duty to warn the trespasser of any impending or current danger. This is known as the "duty of ordinary care to warn of danger". As a quick example, if a trespasser was about to step off of a cliff and the property owner knew about it, the property owner would have a responsibility to warn the trespasser.
The trespasser was "undiscovered" – there are also cases where the property owner was unaware of the trespasser's presence until after the incidence. This does not require any actions on the part of the property owner, but does require that they refrain from intentionally harmful or dangerous activities which may lead to an injury.
Property Owners' Rights in Bucks County
On top of these two very basic premises, there are a litany of other factors and complications which may play a role in your Bucks County personal injury claim. Whether you were injured as an intruder or you are wanting to defend your legal rights as a property owner, understanding the following concepts can be useful:
Comparative Negligence – in many personal injury cases involving trespassing, both parties may be found to be partially at fault. This may still allow the less at fault party to sue the at fault party for financial damages.
Landowners are NOT required to provide a safe and secure environment – there is no obligation on the part of landowners to keep their property hazard free. This is true so long as the property owner does not intentionally or maliciously create a dangerous situation to harm others.
Trespassing is a crime – Pursuant to Pennsylvania Code Title 18, Chapter 35, Section 3503 – Burglary and…Criminal trespass, trespassing charges may range from a misdemeanor to a second degree felony. While criminal cases are not directly linked to civil cases, the result of a criminal case may have an impact on your personal injury claim.
Questions about Trespasser Personal Injury Law? Contact our Bensalem Personal Injury Attorneys Today
The personal injury attorneys of Cohen & Riechelson have over four decades of experience serving clients from Bucks County towns such as Bensalem, Northeast Philadelphia, Levittown, Feasterville, Millbrook, Penndel, and across all of Southeastern Pennsylvania. Since opening our doors in 1972, we have seen just about everything when it comes to personal injury claims. If your case involves legally complex issues involving trespassing, or other criminal components, our firm is more than qualified to handle your case.
To learn more about how trespassing may play a role in your personal injury case, please call our Bensalem, PA offices at (215) 337-4915 or contact us online today for a free and confidential consultation.