Accidents Caused by Failing to Obey Stop Signs in Pennsylvania
Personal Injury Lawyers Orienting on How to File an Injury Claim after a Stop Sign Accident in Philadelphia, Yardley, Bensalem, Newton, and across Pennsylvania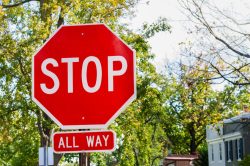 From the time that we are children before we even learn to read, we learn that the octagonal red sign means, very clearly, stop. Pennsylvanians practice abiding by this law as soon as they get their driver's license. So why, then, do we need a refresher on Pennsylvania's stop sign laws? Well, stop sign infractions are the cause of a startling 70 percent of intersection accidents in the United States, and as drivers get more distracted on the road, it is essential that we return to the basics to ensure that we drive defensively and impeccably. As common an occurrence as they are, stop sign-directed intersections are a precarious crossing. Today, our personal injury lawyers explain Pennsylvania's stop sign laws and how to prevent an accident at a stop sign-directed intersection. In addition, you'll learn about how a personal injury lawyer can help you if you are the victim of an injury accident that occurs because someone disobeys stop sign laws.
Stop Signs and Pennsylvania Law
Stop signs, according to the Pennsylvania Department of Transportation (PennDOT), are regulatory signs. Failure to obey regulatory signs represents a breach of the law. According to PennDOT, when you come to a stop sign, you must "stop completely, check for pedestrians and cross-traffic to clear the intersection before you go again. Slowing down without coming to a full stop is illegal."
Failure to come to a complete stop, called a "rolling stop," could result in up to three points on your license and a fine.
The Pennsylvania General Assembly expands on the specifics of the law, noting that a driver must come to a full stop at the marked line on the roadway where the stop sign is; and, if there is no line, stop before a crosswalk on the near side of the intersection. If, after completely stopping and allowing pedestrians to cross, they cannot see oncoming traffic, they may move forward and yield to oncoming traffic that may provide a hazard before continuing.
Recurrent Types of Accidents Caused by Ignoring a Stop Sign
The most common accidents that occur as a result of stop sign violations are angular collisions, otherwise known as 't-bone accidents,' according to a study of accidents in four major cities by the National Institutes of Health. Angular collisions are collisions in which two cars coming from perpendicular directions hit one another, changing the direction of at least one of the autos. Another common accident is one caused by a car's failure to yield, which can end up in a rear-ending accident or collision with a pedestrian or other car.
Injuries Resulting From Running a Stop Sign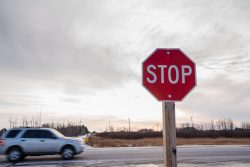 Injuries caused by stop sign infraction accidents can be tragic. In the case of t-bones, the majority of the impact is sustained by the car that is hit. Such an impact collision can result in major head trauma, spinal injuries, and broken bones, among other injuries. Rear-ending accidents can cause whiplash and injuries to the vertebrae of the spine.
Call our Northeast Philly Personal Injury Lawyers to Help You File a Claim if You Were Injured in an Accident Caused by Someone Running a Stop Sign
If you are the victim of an auto accident caused by someone who ran a stop sign, the first thing to do is to seek medical attention immediately. After ensuring that you are physically safe, contact a personal injury lawyer to help you in filing a claim and personal injury lawsuit. You deserve financial compensation for damages resulting from the accident, including medical expenses related to the injury, property damage, lost wages, out-of-pocket costs related to the injury, and even long-term pain and suffering. A skilled personal injury lawyer is committed to ensuring that you are fully and fairly compensated while you focus on your recovery.
If you were injured by a negligent or reckless action of someone that ran a stop sign, you have the option to talk to a personal injury lawyer and go over different scenarios to file an injury claim. The experienced lawyers at our Philadelphia Personal Injury Law Firm can help fight for the compensation you deserve for your property damages or, even worse, severe physical injuries. We understand how important it is to get you back on your feet and into the fullness of your life.
Contact us at (215) 337-4915 for injury guidance and representation in Newtown, Fairless Hill, Bensalem, Yardley, Horsham, and towns throughout Pennsylvania. We provide a free consultation to discuss your claim and a review of your case free of charge.